What to do on Saturday in New York City: 50 great ideas
Explore outdoor markets, see Broadway shows on the cheap, and discover other ideas for what to do on Saturday.
By Time Out editors Fri Jan 11 2013
What to do on Saturday in New York City: 50 great ideas
31. Uncover NYC's musical past with Rock Junket
31
Uncover NYC's musical past with Rock Junket
Music industry vet Bobby Pinn takes you through New York's rock & roll glory days—or what's left of them, anyway—on his music-themed Rock Junket tours. The East Village Rock 'n' Punk tour stops at music landmarks, including the apartment fronts from Led Zeppelin's Physical Graffiti cover and the club where the Velvet Underground made its NYC debut. 212-209-3370, rockjunket.com. $35.
Mon–Fri at 1pm, Sat at 11am
Every Saturday at 12:15 and 3pm, this education center's high-def theater hosts gratis screenings of classics and new hits. With only 73 tickets available for each show, you'll want to call to reserve yours two weeks before the film is scheduled. Free.
550 Madison Ave, Sony Plaza, (at 56th St)
12:15, 3pm
More info
33
Paint, booze, repeat
Find out whether alcohol is a creative boon or bomb for you at the Painting Lounge's regular BYOB workshops. Inspired by the masters, these no-pressure classes invite attendees to re-create some of art history's greatest hits. Past facsimiles have included Monet's The Cliff, Etretat, Sunset; Van Gogh's The Starry Night; and Lichtenstein's Drowning Girl. 212-518-1803, paintinglounge.com. $50–$65, includes painting materials.
438 Union Ave between Devoe St and Metropolitan Ave, Williamsburg, Brooklyn
Various times
The BBP project has transformed a chunk of the Brooklyn waterfront into a nearly 85-acre expanse. Several sections house unique attractions such as Jane's Carousel, a restored 1920s merry-go-round, and riverside esplanades with gorgeous Manhattan views. Its latest addition, Pier 5, designed specifically for "active recreation"—sporting leagues and events—further cements the space as the city's premier urban playground.
East River from Jay St at John St to Atlantic Ave at Furman St, Brooklyn Heights and Dumbo, Brooklyn
More info
Galapagos Art Space reclaims the circus at this weekly cabaret night, which features an array of burlesque artists, chanteurs and chanteuses, aerialists, trapeze swingers, cabaret acts, vaudevillians and more blowing your mind with their sundry talents. Galapagos's 1,600-square-foot indoor lake contributes to the surreal mystique. $20.
This late-night competition pairs up-and-coming playwrights with members of the Bats, the Flea's resident acting company, to create a series of original episodic works. The pieces are pitted against one another to gain the audience's favor, with the winning productions returning for the next installment. Your ticket is only $10, and it comes with a free beer to boot. Visit theflea.org for more information.
Flea Theater, 41 White St, (between Broadway and Church St)
Thu–Sat 11, dates vary
More info
37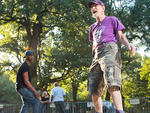 Roller-skate in Central Park
In the heart of the park, under a grove of blossoming cherry trees, you'll find the Central Park Dance Skaters Association's skate circle. Come early April, you can bring your own quads and bust a move with people of all ages to disco classics, contemporary hits, throwback R&B, house and dance music spun by a rotating roster of local DJs. If you're not a skater, there's space to dance without colliding with those on wheels or you can just watch the old hands do their thing. Visit cpdsa.org for details. centralparknyc.org
Skate circle at midpark, enter at Central Park West and W 72nd St or Fifth Ave and E 72nd St
The glittery strains of glam, punk and good ol' rock & roll androgynously waft their way through the Grand Victory as Twig the Wonderkid and his pals spin tunes by the likes of David Bowie, Queen and the New York Dolls; you can also catch live bands like the Brats and Semi-Precious Weapons, or late-night cabaret acts. Show up between 11pm and midnight, and you'll be rewarded with a PBR open bar—just the thing to make you feel great about that big red lightning bolt you drew on your face. glamdammit.com. $5.
The Grand Victory, 45 Grand St, (between Driggs Ave and Roebling St)
First Sat of the month at 11pm
More info
This expansive, wonderlandesque Asian-meets-European spa in College Point, Queens, has taken on near-legendary status in NYC. It's partly thanks to its quirky layout and partly because it attracts a diverse following, from frat boys to families and everyone in between. On its first floor are separate nude bathing and showering areas for men and women. To meander through the rest of the complex, you'll don special—and super comfy—"uniforms." On the second and third floors, you'll find a coed, year-round outdoor water park (bathing suits compulsory) with all manner of heated jets, whirlpools and showers. Inside, there are seven themed saunas; one might have healing minerals in it, while another may feature colored lighting (you select the therapeutic illumination yourself). Bring some friends and make a day of it; once you pay the entry rate, you can have a crazy adventure while snacking on dumplings ($10) and corn ($3) from the on-site food court, or you can go for a shiatsu massage (60mins $75, 90mins $130) and simple scrub (40mins $80), followed by a delicious meal ($12–$20) in the third-floor Korean restaurant. All-day admission Mon–Fri $35; Sat, Sun $45.
131-10 11th Ave, (at 131st St), 11356
Daily 6am–midnight
More info
Even the greenest cowpokes and cowgirls are welcome to take a twirl on the floor at this beginner-friendly country & western hoedown. The gay party begins with an hour-long lesson to help newbies get up to speed with basic two-step and line dances, including the Georgia Winder and the Bayou City Twister. Dancing shoes with smooth (preferably leather) soles are recommended, so leave your sneakers—and your spurs—at home. bigappleranch.com. $10.
Dance Manhattan Studios, 39 W 19th St, fifth floor, (between Fifth and Sixth Aves)
Sat 8pm–1am
More info
---
You might also like
---