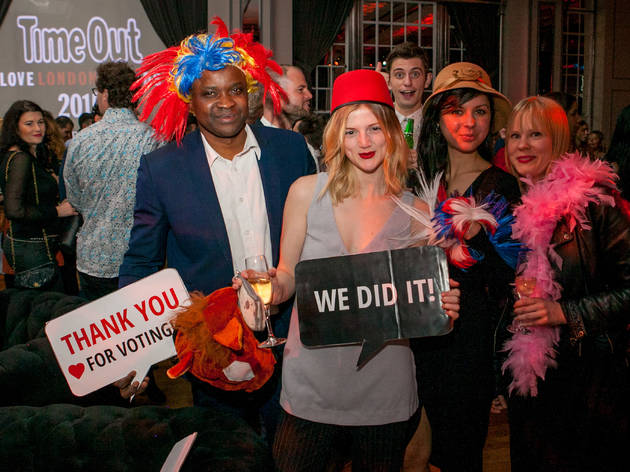 Time Out Love London Awards 2015: The Big Reveal
Posted: Tuesday November 17 2015, 12:30pm
Last night Time Out hosted the winners of the 2015 Love London Awards at The Bloomsbury Ballroom, revealing for the first time the capital's most loved venues. The awards champion independent local businesses in all corners of the capital.
Now in its second year, the Awards prove just how passionate Londoners are about their postcodes. Londoners cast close to 75,000 votes to discover the city's most loved pub, restaurant, café, shop and cultural hotspot.
The overall winners in each category were awarded with a trophy, presented by Time Out CEO Noel Penzer at last night's celebration of London's top neighbourhood venues:

The Kenton in Hackney won the hotly contested accolade of best boozer, drawing a crowd of loyal locals to an interior that mixes candlelit antiques and modern curiosities, a well-deserved win given the venue's offering of craft beers, weekly quiz night and weekend DJs.
Street food may come and go but Cay Tre, a Vietnamese that prides itself on using all fresh (ideally local) ingredients with impeccable provenance, won the highly regarded best London restaurant award.
Far from a greasy spoon, the boldly named Love and Scandal topped Londoner's vote for best cafés. A lovely little shabby-chic spot situated behind Waterloo station it serves fry-ups alongside sweets such as alluringly pink beetroot cookies.
If you ever needed proof that Londoners are barking mad, Bow Wow Covent Garden came top in the shops category – selling accessories and canine fancy dress costumes for pampered pooches.
Last but not least in a city known for housing culture vultures, the Art House, a two-screen independent venue in a former Salvation Army Hall, was voted the top local venue for cultural learning. The cinema was voted London's best cinema by Time Out readers for the second year running, as a firm favourite with locals from Crouch End and the surrounding area.
Congratulations to all the Love London Awards 2015 winners! Visit www.timeout.com/lovelondon to see the full list.
A huge thank you to the Mayor of London and Rightmove for supporting Time Out's Love London Awards 2015. Also to Hire Space, The London Cabaret Club, The Bloomsbury Ballroom, Seasoned, Lanson, Harry Bromptons and Gino Gelato for supporting the Winners event.