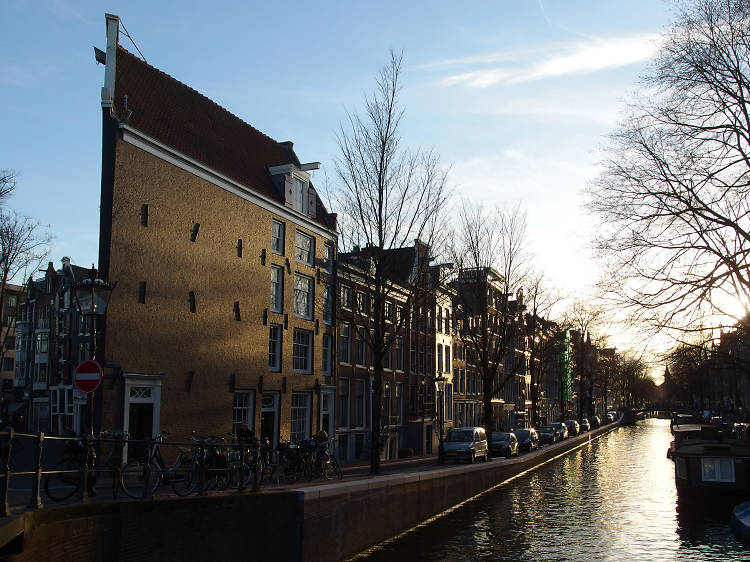 Photograph: Guilhem Vellut / Flickr
Originally built in the 17th century to house immigrants and the working class, this area has since been transformed into the city's most expensive neighbourhood. Jordaan brims with elegant townhouses and spacious apartments and is dotted with art galleries, expensive boutiques and classy restaurants. But it's not all extravagance and luxury; there are plenty of charming little stores and restaurants attracting younger crowds who live a little further west. If a sedate pace and upscale lifestyle are what you crave, this is the place to be.
EAT
Stamppot is the closest thing the Dutch have to a national dish, and Moeders, a quirky restaurant adorned with photos of customers' actual mothers, is the place to try it. The combination of mashed potato, cabbage, bacon and sausage makes for quite a plateful, and while there's plenty of other hearty, traditional grub on offer here, all portions are huge so make sure you bring an appetite.
DRINK
A multi-storey car park might not seem the best spot for a bar, but Waterkant proves otherwise. Best enjoyed in warmer weather, they have a glorious, spacious terrace lit up with fairy lights. By day, it's the perfect place to watch canal traffic sail serenely by, but it gets boisterous at night as a hip young crowd comes to the party.
DO
The Anne Frank Museum is a moving yet sombre testament to the horrors of the Second World War and the indomitable human instinct for survival. The 17th-century canal house where her family lived and worked – and later hid – has been beautifully preserved, and alongside the 'secret annexe' that Anne called home for two years, there's now an informative museum and educational centre. Tickets can only be bought online and in advance.
STAY
Few hotels in Amsterdam can match the glitz and prestige of the Pulitzer. Spread across an intricate maze of 25 canal houses, the luxurious rooms and suites are both ultra-modern and comfy. The on-site restaurant, Jansz, is one of the city's best, but if you want to get out and about, make use of their concierge or book a tour in the hotel's own classic wooden boat from 1909.
If you only do one thing…
Winkel 43, a lively café at the top of Jordaan, is famous for its divine apple pie. The chefs have perfected the contrast between the rich, crumbly crust and chunks of succulent apple, and with hefty slices served with a dollop of cream, there's nowhere better to sample this decadent Dutch delight.