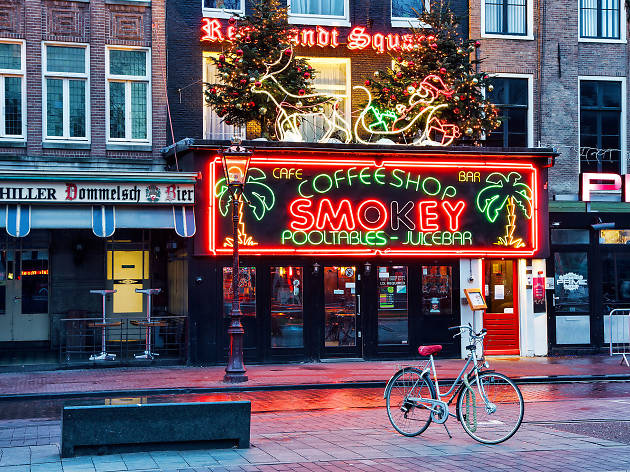 The 14 best coffeeshops in Amsterdam
Welcome to Europe's weed capital. Get involved and find the finest gear at one of the best coffeeshops in Amsterdam
The casual visitor to Amsterdam would do well to know their coffeeshops from their cafés. The purchase and consumption of cannabis has been legal in the latter since 1976, and they remain a huge tourist attraction – making Amsterdam quite easily the weed capital of Europe. There are more than 100 licensed coffeeshops dotted all over the city, meaning you're never far away from a joint or space cake should the urge arise.
There are, however, a few quirks and rules that newcomers should be aware of. Smoking tobacco is no longer allowed in public spaces in the Netherlands so, somewhat perversely, you can only smoke 'pure' weed (some Amsterdam coffeeshops now have sealed smoking rooms). They're forbidden from selling alcohol or any other drugs – so, magic mushrooms are no longer available – and while they do often have coffee, it's usually very average. Many coffeeshops are somewhat bland and uninspiring, but a few work hard to cultivate a convivial, fun atmosphere and stick out from the crowd. Here, then, are the best places to get your smoke on while you're in town.
RECOMMENDED: Full guide to the best restaurants in Amsterdam
Best coffeeshops in Amsterdam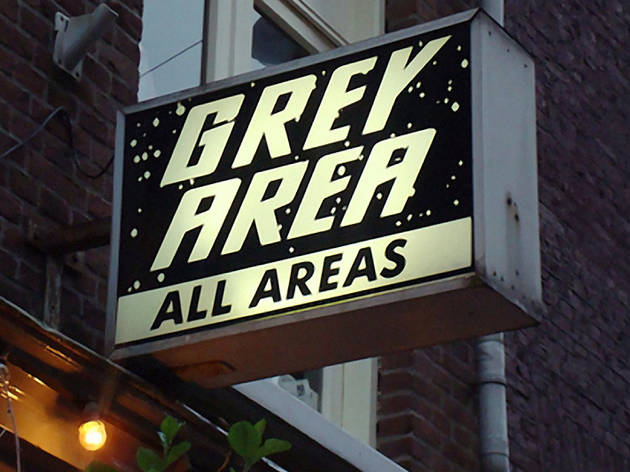 This iconic hangout has been patronised by many cannabis-conscious celebrities over the years, including eminent stoners like Snoop Dogg and Willie Nelson. Held in high esteem by consumers the world over, Grey Area's reputation is definitely well deserved – it has an extensive selection of award-winning cannabis and a back-to-basics vibe that lets its gear speak for itself. Word to the wise: don't expect much leg room in Grey Area. It's notoriously small.
Photograph: Courtesy Yelp/Renee C.
One of the most well-respected cannabis dispensaries in Amsterdam, this award-winning coffeeshop balances quirky aesthetics with first-rate weed and service. Set inside the ground floor of a 16th-century building, Barney's Coffeeshop is laid out like an old-time apothecary, creating a picture-perfect backdrop for smoking sessions. As its menu is centred around prized strains, the weed at Barney's Coffeeshop is slightly more expensive than elsewhere in the city but well worth the extra cash.
Make sure to look down when you enter this one-of-a-kind coffeeshop, as its floor features a large aquarium filled with exotic fish. Aside from its watery centrepiece, Green House United boasts around 10 smaller and larger tables surrounded by stools and long, comfy benches. Its stripped-back layout is a perfect match for the mellow vibe, creating a welcoming space where customers can relax with a spliff – while ogling the fish below.
A mainstay of Amsterdam's coffeeshop scene, Original Dampkring epitomises the friendlier side of cannabis culture. Famous for its sculpted wooden décor, knowledgeable staff and on-point cannabis selection, the venue has plenty to offer both seasoned and novice stoners. There's enough space for groups of four or five in Original Dampkring's smoking lounge but, given the spot's enduring popularity, expect a short wait for seats during peak hours.
Photograph: Courtesy CC/flickr/Daniel Farrell
Founded way back in 1974, when cannabis was still illegal, The Bulldog The First is the longest-running coffeeshop in the city. The whole place serves as a monument to weed culture and its smoking lounge features heaps of memorabilia from the heyday of Amsterdam's underground coffeeshops. World-famous and located in the heart of the Red Light District, The Bulldog The First tends to receive a lot of footfall, especially at the weekend.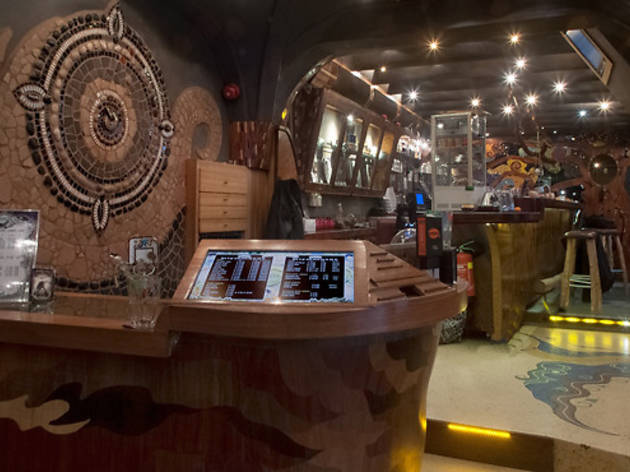 This super-central yet secluded coffeeshop stands on a small alleyway due south of Dam Square. Given its spacious layout, Abraxas feels considerably larger than most other coffeeshops in the centre, giving patrons space to breathe (or spark up). The two-level smoking lounge is fitted with carved wooden furniture and mystical motifs, plus a couple of desktop computers hooked up to the web.
Photograph: Courtesy Yelp/Barbie S.
Far removed from the bustle of the inner city, this friendly neighbourhood coffeeshop mainly caters to a local clientele but still welcomes the occasional traveller. Just across the road from Oosterpark, the coffeeshop boasts a large, partly underground smoking lounge complete with comfy leather-bound benches. There's also a decent-sized terrace upstairs, equipped with outdoor seating, tables and parasols (or umbrellas, depending on the weather).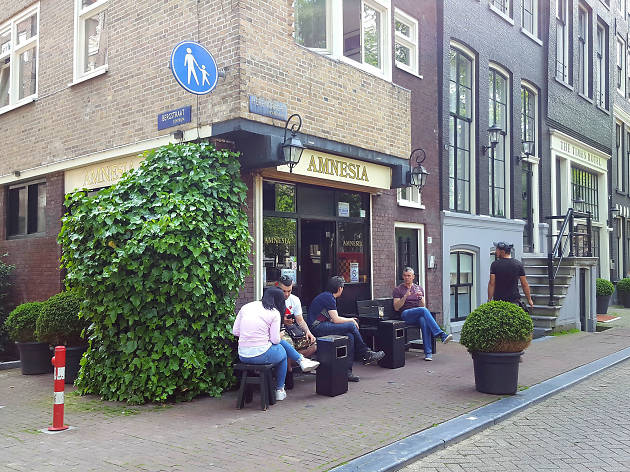 Photograph: Dominic Milton Trott / Flickr
Swanky décor, plump cushions and deep red walls make Amnesia a haven for locals in search of a quiet, relaxing toke. Their pre-rolled joints and space cakes are excellent – if a little strong – and the staff are friendly and knowledgeable. A range of milkshakes, smoothies and fruit juices keep punters hydrated, and in summer there's a sweet little terrace overlooking the canal.
Photograph: Courtesy Yelp/Mariela D.
It'd be pretty difficult to miss this perennially popular coffeeshop: the neon-drenched entrance and booming sound system would catch anyone's eye. Sure, it's designed to appeal to tourists of a certain kind but, if you're looking to party or meet other cannabis aficionados, this is a very good place to start. The cavernous smoking lounge ranks among the city's largest, home as it is to three full-sized pool tables and ample seating space.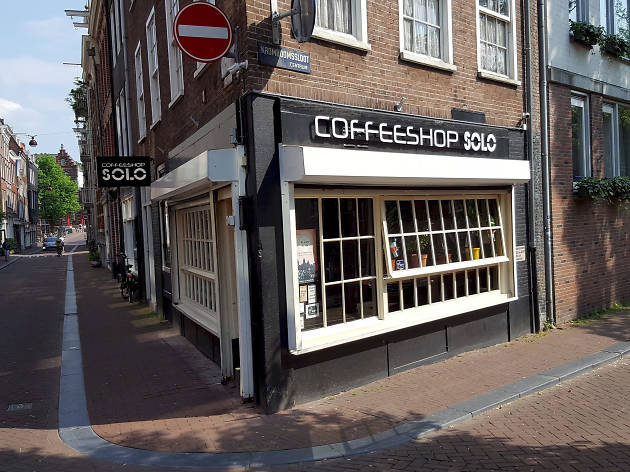 Photograph: Dominic Milton Trott / Flickr
Tucked behind Dam Square in a quiet residential area, this difficult-to-find coffeeshop has all the trappings of a hidden gem. With dark-wooden chairs, tables and barstools spread throughout the smoking lounge, Solo Coffeeshop kind of resembles an old-school Dutch pub, minus the bronze beer fonts. Unlike other spots in the centre, it rarely gets too crowded in here, making Coffeeshop Solo an ideal hangout for stoners who value their personal space.
Boho-chic in all the right ways, this homely coffeeshop draws in smokers and non-smokers alike, due to its artsy vibes and living room-like atmosphere. There's plenty of space to just chill out: walk through the roomy, art-filled smoking lounge or the sun-soaked terrace and find yourself a comfy spot to while away hours in. This is also one of the quieter coffeeshops in the city, partly due to its location in de Pijp, a picturesque neighbourhood on the southern side of Amsterdam's canal belt.
Housed in an old stable with historic ties to Amsterdam's fire department, this down-to-earth coffeeshop could easily be mistaken for a neighbourhood café, given its welcoming ambience and unassuming location. Catering to stoners who prefer quality over quantity, Paradox usually stocks around seven strains of weed alongside six types of hashish. The coffeeshop is well-known for its space cakes, too. They're laced with a full gram of weed.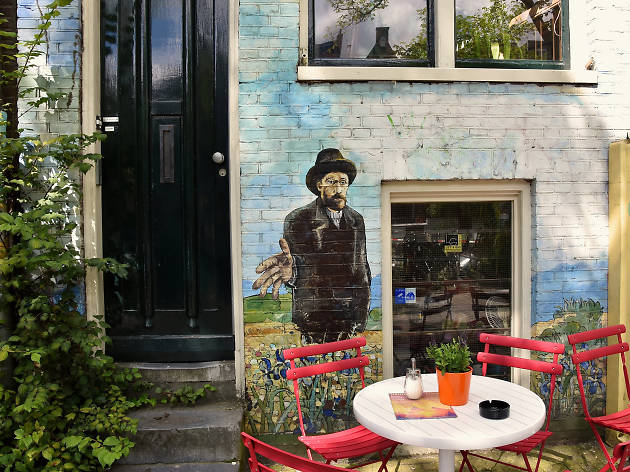 Photograph: FaceMePLS / Flickr
This cosy family-run place has a New Age vibe thanks to a plethora of plants, an indoor waterfall and a 'crystal garden'. Naturally, the buds are all bio, and they also have an assortment of bongs, vaporisers and waterpipes. Sandwiches and toasties are on hand for anyone with the munchies, and the upstairs space – normally drenched in sunlight – is a beautiful spot for canalside people-watching.
Photograph: Courtesy Yelp/Kristin P.
A little off the beaten track, Blue Bird is the kind of low-key spot that's frequented by locals and tourists alike. Expect funky jungle-themed décor throughout the coffeeshop's two-tier smoking lounge, plus a couple of trippy motifs depicting exotic birds all around. Aside from its smokable menu, Blue Bird serves a small selection of hot and cold snacks, including homemade Dutch pancakes topped with whipped cream that are perfect for when the munchies come a-knocking.
Bad case of the munchies?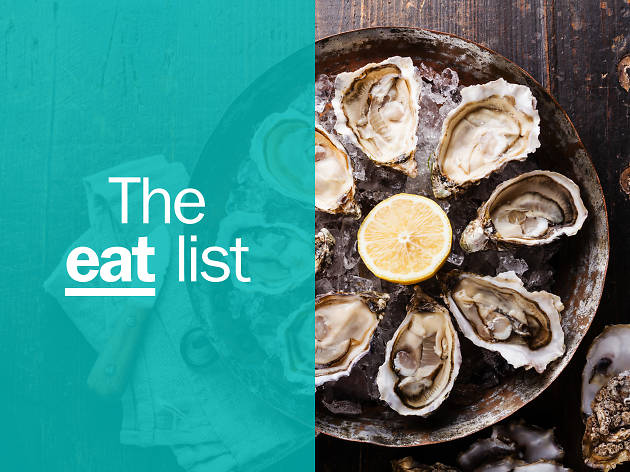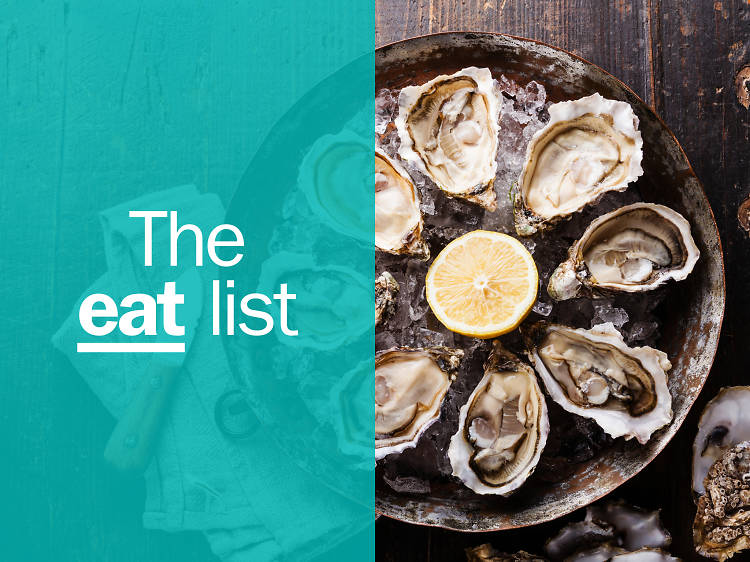 Though Amsterdam doesn't have a particularly distinguished culinary past, the current food scene could rival almost any city in Europe for gastronomic fun and flair. Over the past 15 years or so, an inventive wave of Dutch chefs have been updating the classics and mixing things up in the kitchen.
WithLocals Universal Widget
Best selling Time Out Offers