Heads up! We're working hard to be accurate – but these are unusual times, so please always check before heading out.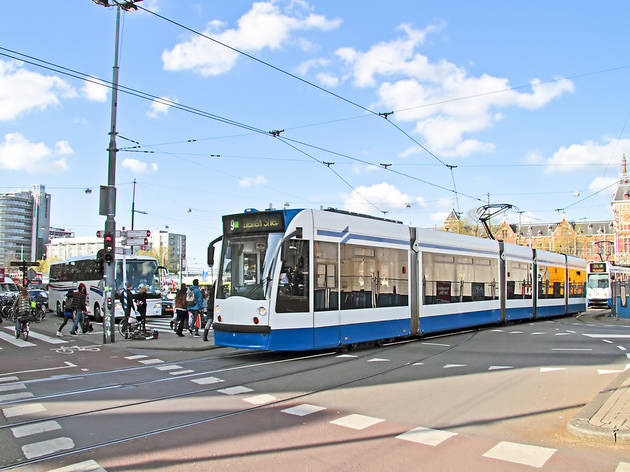 Getting around Amsterdam
Bikes, trams and water taxis… transport in Amsterdam is fun!
Whether you're visiting for the great shops and markets, stunning music and nightlife or the city's best restaurants, finding your way around Amsterdam is very easy: there are efficient, cheap and integrated trams, metros and buses, and in the centre most places can be reached on foot. Locals tend to get around by bike, and there are also boats and water taxis. Public transport provision for those with disabilities, however, is dire.
Public transport in Amsterdam
GVB
Stationsplein CS, Old Centre: New Side (0900 8011 premium rate/en.gvb.nl). Tram 1, 2, 4, 5, 9, 13, 16, 17, 24, 25, 26. Open Phone enquiries 9am-7pm Mon-Sat. In person 9am-7pm Mon-Sat.

The GVB runs Amsterdam's Metro, bus and tram services, and can also provide detailed information and departure and arrival times on all of them, as well as sell tickets.

Fares & tickets
An OV-chipkaart ('chip card') system operates across trams, buses and metros. An OV-chipkaart has a one-time cost of €7.50 and can be purchased at ticket vending machines at stations, various tobacco specialty shops, at many supermarkets and at GVB Tickets & Info. The card is valid for four to five years. You can load the card in the ticket vending machine, paying with cash or a cash card, and use it immediately. You can also load the card in a yellow add value machine you'll find at tobacco specialty shops and various other shops. An unlimited 24-hour chip cards for one day cost €7.50. You can also buy unlimited 48-, 72-, 96-, 120-, 144- and 168-hour cards (ranging from €12 to €32). With any type of OV-chipkaart, you have to check in or check out when boarding or disembarking a tram, bus or metro, using the card readers in the trams and buses, at the entryway to metro stations or on the metro platform. Hold your card in front of the reader and wait for a beep and green light to flash. Follow the same procedure on the way out.

I Amsterdam City Card
An alternative to the OV-chipkaart is the I Amsterdam City Card, which includes unlimited use of the public transport system and free entrance to 38 museums and attractions. It can be purchased it at several shops and newsagents across Amsterdam, or at one of the Amsterdam Tourist Offices. Cost: €42 (24 hours), €52 (48 hours) or €62 72 hours). Don't even think about travelling without a ticket: inspectors make regular checks, and passengers without tickets are hit with €35 on-the-spot fines.
Trams & buses
Trams run from 6am Mon-Fri, 6.30am Sat and 7.30am Sun. Night buses (numbered 348 to 369) take over later (1am-5am daily; 1am-6.30am Fri, Sat) and all go to Centraal Station, except 369 (Station Sloterdijk - Schiphol Airport).
Night bus stops are indicated by a black square with the bus number printed on it. During off-peak hours and at quiet stops, stick out your arm to let the driver know you want to get on. Signs at tram and bus stops show the name of the stop and line number, and boards indicate the full route.
Other road users must remember that a tram will only stop if absolutely necessary. Cyclists should listen for tram warning bells and cross tramlines at an angle that avoids the front wheel getting stuck. Motorists should avoid blocking tramlines: cars are allowed to venture on to them only if turning right.
Metro
The Metro uses the same ticket system as trams and buses (see above) and serves suburbs to the south and east. Three separate lines 51, 53 and 54, terminate at Centraal Station (sometimes abbreviated as CS), while line 50 connects West with South-East. Metro trains run from 6am Mon-Fri (6.30am Sat, 7.30am Sun) to around 12.15am on a daily basis.
Taxis in Amsterdam
Most taxis are operated by the central office TCA. They're hard to hail on the street, but ranks are found around the city; most central are the ones at Centraal Station, by the bus station at the junction of Kinkerstraat and Marnixstraat, on Rembrandtplein and Leidseplein. Cabs can be ordered on 777 7777. Wheelchairs will only be carried in taxis if folded.

Getting a taxi in Amsterdam is relatively straightforward, but check that the meter starts at the minimum charge (€2.80). Even short journeys are expensive: it costs €2.03 per kilometre) and ask the rough cost of the journey before setting out. You can also ask for a flat rate. If you feel as though you have been ripped off (cases are relatively rare), ask for a receipt and contact the TCA (650 6506, 24 hours) or the police.
Cycling in Amsterdam
There are bike lanes on most roads, marked by white lines and bike symbols. Never leave a bike unlocked, and use two locks. Most bikes have pedal-backwards brakes (as opposed to handlebar-mounted), which take some getting used to. There are plenty of places to rent bikes, for about €10 a day, but the following two places are friendly and recommended. Note that a passport and/or credit card is required.
Rental
Frederic Rentabike
Brouwersgracht 78, Jordaan (www.frederic.nl/624 5509). A 7-minute walk west of Central Station. Open 9am-5.30pm daily.
Frederic also rents out houseboats, apartments and guestrooms.
StarBikes Rental
De Ruyterkade 127, The Waterfront (www.starbikesrental.com/ 620 3215). A 5-minute walk east of Centraal Station. Open 8am-7pm daily; 9am-7pm Sat, Sun.
StarBikes also has a nice café overlooking the waters of the IJ.
Driving in Amsterdam
If you absolutely must bring a car to the Netherlands, join a national motoring organisation beforehand. This should then issue you with booklets that explain what to do in the event of a breakdown in Europe. To drive a car within the Netherlands, you need a valid national driving licence, although ANWB (see below) and many car hire firms favour photocard licences (Brits need the paper version as well for this to be legal; the photocard takes a couple of weeks to come through if you're applying from scratch). You'll need proof that the vehicle has passed a road safety test in its country of origin, as well as an international identification disk, a registration certificate and relevant insurance documents.
Car hire
Local car hire (autoverhuur) firms generally expect drivers to be over 21 with at least a year's experience, and a valid national driving licence (with photo) and passport. All require a credit card deposit.
Diks Autoverhuur
662 3366/www.diks.net
Hertz
612 2441/www.hertz.nl

Parking
Parking is a nightmare: the centre is metered from 9am until at least 7pm (midnight in many places), setting you back up to €5 an hour; ticketing is very common. Parking passes for daytime (9am-7pm, €30; 24 hours, €45) and weekly passes (9am-7pm, €180; 24 hours, €270) can be bought at Cition service points or online via www.cition.nl or at parking ticket machines (day passes only). Bear in mind that after controlled hours, parking at meters across the city is completely free, and prices can vary between neighbourhoods.
Car parks
Car parks are indicated by a white 'P' on a blue square sign. ANWB Parking Amsterdam Centraal (Prins Hendrikkade 20A in the Old Centre, 638 5330) is open 24 hours daily and charges €5 per hour, or €55 per day. Some nearby hotels offer a 10% discount on parking here. Europarking (Marnixstraat 250, 0900 446 6880 premium rate) in Oud-West is slightly cheaper, charging €2 per 26 minutes or a part thereof, or €40 per day, but is only open 6.30am Mon-Wed; 6.30am-midnight Thur; 24 hours Fri -Sun. Both accept payment by credit card. You can also consider Park and Rides (see www.bereikbaaramsterdam.nl for the locations) which are €8/day. When leaving your car, empty it of valuables: cars with foreign number plates are particularly vulnerable to break-ins.
Fines
Fines are €49.60 plus the price of one hour of parking in that section of town and can be paid within 48 hours at one of two service points: Daniel Goedkoopstraat 7-9 (open 7am-11pm daily, also acts as car pound) and DeClercqstraat 42-44 (open 8am-4.30pm Mon-Sat). If you suspect your car has been towed away, call 251 2121.
Petrol
There are 24-hour petrol stations (tankstations) at Gooiseweg 10, Sarphatistraat 225, Marnixstraat 250 and Spaarndammerdijk 218.
Water transport in Amsterdam
Amsterdam is best seen from the water. Sure, there are canal cruises, but they don't offer the freedom to do your own exploring. You can try to bond with a local boat owner; otherwise your options are limited to the pedal-powered canal bike or pedalo. Upon rental, don't ignore the introductory rundown of the rules of the water (put at its most basic: stick to the right and be very wary of canal cruisers, who always assume that size makes right).
Pedaloes
Canal Bike
Weteringschans 24, Southern Canal Belt (626 5574/www.canal.nl). Open Summer 10am-6pm daily at Leidseplein, Rijksmuseum, Westerkerk and corner Keizersgracht/Leidsestraat. Winter 10am-5pm daily at Leidseplein, Rijksmuseum and Westerkerk.

Canal buses
Canal Bus
Weteringschans 26, Southern Canal Belt (623 9886/www.canal.nl). Tram 7, 10, 16, 24, 25. Open 9am-7pm daily.


Water taxis
Water Taxi Centrale
Prins Hendrikkade 25, Old Centre: New Side (Jetty of the boating company Lovers) (535 6363/www.water-taxi.nl). Tram 1, 2, 4, 5, 9, 13, 16, 17, 24, 25, 26. Open 8am-midnight daily.
More information on Amsterdam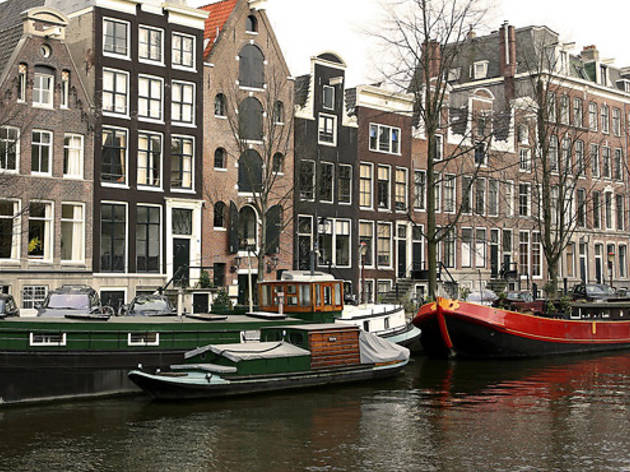 Visiting Amsterdam? Here's where you'll find all of the essential information you have to know before exploring the best things to do in the city, from work restrictions to religion, drug laws and etiquette to the age restrictions in the finest Amsterdam bars and pubs.