Amsterdam essentials: information for visitors
From age requirements to work restrictions, follow our A-to-Z guide to getting by in the Dutch capital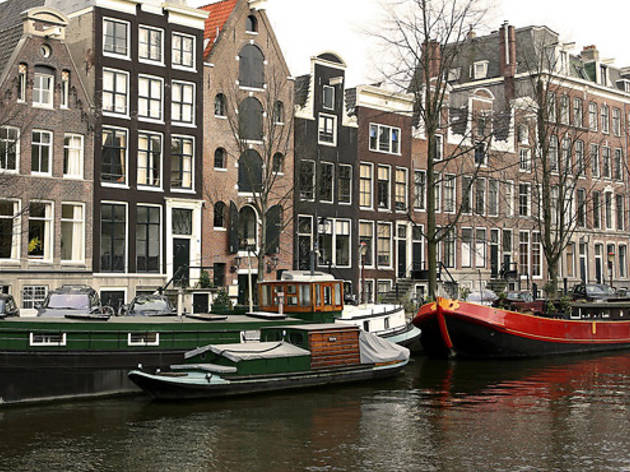 Essential Amsterdam information
In the Netherlands, only those over the age of 16 can purchase alcohol (over 18 for spirits), while you have to be 16 to buy cigarettes (18 to smoke dope). Driving is limited to over-18s.
Amsterdam's reputation as a relaxed city is well-founded, as anyone will find out after even the shortest of wanders around the famous Red Light District. However, not everything goes. Smoking dope is not accepted everywhere: locals have a relaxed attitude, but use your discretion. And while most of its restaurants don't have dress codes, many nightclubs ban sportswear and trainers.
The construction of a new Metro line linking north and south Amsterdam is indicative of the city's status as a big business centre. The south of Amsterdam is where most of the action is, with corporate hotels rubbing shoulders with the World Trade Center and the RAI convention centre.

See more about Amsterdam's business venues and services
Contraception and abortion
Dikke Maatjes
Postbus 15456, 1001 ML (www.dikkemaatjes.nl).
'Dikke Maatjes' means 'close friends', although its literal translation is 'fat friends'. And that's what this gay club is for: chubbies and admirers.


Mama Cash

PO Box 15686, 1001 ND (689 3634/fax 683 4647/www.mamacash.nl).
Open
9am-5pm Mon-Fri.
Helps to fund women's groups and women-run businesses, and has sponsored countless lesbian organisations and events.


Netherbears

Postbus 15495, 1001 ML (www.netherbears.nl).
A hairy men's club. Check website.


Sportclub Tijgertje

Postbus 10521, 1001 EM (06 1024 9026/www.tijgertje.nl). Tijgertje organises a wide variety of sports activities, from yoga to wrestling, for gays and lesbians.
If you are you entering the Netherlands from another EU country, you may import goods that are for your own use. You are not liable for the payment of import tax. If you enter the country from a non-EU country however, the following limits apply:

• 1 litre of spirits or 2 litres of sparkling wine or 2 litres of fortified wine, such as sherry or port or a proportional assortment of these products and 4 litres of non-sparkling wine and 16 litres of beer;
• 200 cigarettes or 250 grams of smoking tobacco or 100 cigarillos or 50 cigars or a proportional assortment of these products;
• other goods to the value of €430.
For more information go to the English website of the tax authorities
www.belastingdienst.nl
For a dentist (tandarts), call 0900 821 2230. Operators can put you in touch with your nearest dentist; lines are open 24 hours. Alternatively, make an appointment at one of the clinics listed below.

AOC
Wilhelmina Gasthuisplein 167, Oud West (616 1234). Tram 1, 2, 3, 5, 6, 12. Open 9am-5pm Mon-Fri.
AOC offers emergency dental treatment and a recorded service : if you call 686 1109, they will inform you where a walk-in clinic in your area will be open at 11.30am and 9.30pm that day.

TBB
570 9595/0900 821 2230.
A 24-hour service that can refer callers to a dentist. Bear in mind that calls are charged at a premium rate.

Prescriptions
All chemists (drogists) sell toiletries and non-prescription drugs and are usually open between 9.30am and 5.30pm, Monday to Saturday. For prescription drugs, go to a pharmacy (apotheek), usually open from 9.30am to 5.30pm, Monday to Friday. Outside these hours, phone Afdeling Inlichtingen Apotheken (694 87 09).
Disabled access and facilities
The most obvious difficulty people with mobility problems face here is negotiating the winding cobbled streets of the older areas. Poorly maintained pavements are widespread, and steep canal house steps can present problems. But the pragmatic Dutch can generally solve any problems quickly.
Most large museums have facilities for disabled users but little for the partially sighted and hard of hearing. Most cinemas and theatres have an enlightened attitude and are accessible. However, it's advisable to check in advance.
The Metro is accessible to wheelchair users who 'have normal arm function'. There is a taxi service for wheelchair users (see Taxis). Most Trams are inaccessible to wheelchair users due to their steps. The AUB (various outlets; www.aub.nl) and the Amsterdam Tourist Board has brochures on accommodation, restaurants, museums, tourist attractions and boat excursions with facilities for the disabled.
Unlike elsewhere in the Netherlands, it is not necessary to present a certificate of residence in order to be able to enter a coffeeshop. The locals have a relaxed attitude to soft drugs, but smoking isn't acceptable everywhere, so use discretion. Outside Amsterdam, public consumption of cannabis is largely unacceptable.
Foreigners found with harder drugs should expect to face prosecution from the authorities.

See our guide to Amsterdam's drug laws and etiquette

The voltage here is 220, 50-cycle AC and compatible with British equipment, but because the Netherlands uses two-pin continental plugs you'll need an adaptor. American visitors may need a transformer.
American Consulate General
Museumplein 19, 1071 DJ (575 5330/amsterdam.usconsulate.gov). Tram 2, 3, 5, 12, 16, 24/bus 170.
Open
US citizens services
8.30-11.30am Mon-Fri.
Immigrant visas
1.30-3pm.
Australian Embassy
Carnegielaan 4, 2517 KH, The Hague (070 310 8200/0800 0224 794 Australian citizen emergency phone/www.netherlands.embassy.gov.au). Open 8.30am-5pm Mon-Fri. Visa and immigration info 9am-noon Mon-Fri.
British Consulate General
Koningslaan 44, 1075 AE (676 4343/ www.britain.nl). Tram 2. Open Passport and consular services 9am-1pm Mon, Tues, Thurs & Fri. Phone enquiries 9am-1pm & 2-4.30pm Mon-Fri.
British Embassy
Lange Voorhout 10, 2514 ED, The Hague (070 427 0427/www.britain.nl). Open 9am-5.30pm Mon-Fri.
For visa and tourist information, contact the Consulate (see above).

Canadian Embassy
Sophialaan 7, 2514 JP, The Hague (070 311 1600/www.canada.nl). Open 9am-1pm, 2-5.30pm Mon-Fri. Consular and passport section 10am-1pm, 2-4.30pm Mon-Fri.
Irish Embassy
Dr Kuyperstraat 9, 2514 BA, The Hague (070 363 0993/www.irishembassy.nl). Open 10am-12.30pm, 2.30-5pm Mon-Fri. Visa enquiries 10am-12.30pm Mon-Fri.
New Zealand Embassy
Eisenhowerlaan 77N, 2517 KK The Hague (070 346 9324/www.nzembassy.comVisit: http://www.immigration.govt.nz/). Open 9am-12.30pm, 1.30-5.30pm Mon-Fri.
Emergency services and police
In an emergency, call 112, free from any phone (mobiles included), and specify police, ambulance or fire service.
In the case of minor accidents, you can just turn up at the outpatient departments of the following city hospitals (ziekenhuis). All are open 24 hours a day, seven days a week.
Academisch Medisch Centrum
Meibergdreef 9, Zuid (566 9111/first aid 566 2222). Metro Holendrecht.
Boven IJ Ziekenhuis
Statenjachtstraat 1, Noord (634 6346/first aid 634 6200). Bus 34, 36, 37, 125, 245, 363, 392.
Onze Lieve Vrouwe Gasthuis
's Gravesandeplein 16, Oost (599 9111/ first aid 599 3016). Tram 3, 7/bus 37/Metro Weesperplein or Wibautstraat.
St Lucas Andreas Ziekenhuis
Jan Tooropstraat 164, West (510 8911/ first aid 510 8164). Tram 13/bus 64/metro Jan van Galenstraat.
VU Ziekenhuis
De Boelelaan 1117, Zuid (444 4444/first aid 444 3636). Tram 16, 24/Metro Amstelveenseweg/ bus 62, 142, 170, 171, 172, 176, 310.

Police stations
Dutch police (www.politie.nl, some English), are under no obligation to grant a phone call to those they detain – they can hold people for up to six hours for questioning if the alleged crime is not serious, 24 hours for major matters – but they'll phone the relevant consulate on behalf of a foreign detainee.
Hoofdbureau van Politie (Police Headquarters)
Elandsgracht 117, the Jordaan (0900 8844). Tram 7, 10. Open 24hrs daily.
Amsterdam Tourist Assistance Service (ATAS)
Nieuwezijds Voorburgwal 104-108 (625 3246). Tram 1, 2, 5, 6, 13, 17. Open 10am-10pm daily.
Alcoholics Anonymous
625 6057/www.aa-netherlands.org. Open 24hr answerphone.
A lengthy but highly informative message in English/Dutch details times and dates of meetings, and contact numbers for counsellors. The website is in English and you can locate meetings per day or per town.
Narcotics Anonymous
06 2234 1050/www.na-holland.nl. Open 24hr answerphone in English/Dutch with contact numbers of counsellors.
Telephone Helpline Amsterdam
675 7575. Open 24hrs daily.
A counselling service – similar to the Samaritans in the UK and Lifeline in the US – for anyone with emotional problems, run by volunteers. English isn't always understood at first, but keep trying and someone will help you.
Everyone is required to carry some sort of identification, especially when opening accounts at banks or other financial institutions, job seeking, applying for benefits, if found on public transport without a ticket, when going to a professional football match or if caught riding a bicycle without a light.
EU countries have reciprocal medical arrangements with the Netherlands; citizens of all other countries should take out insurance before their visit.
All global ISPs have a presence here (check websites for numbers). Most hotels are well equipped, with dataports in the rooms, terminals in the lobby, or Wi-Fi throughout. Many cafes and restaurants have Wi-Fi – just ask for their security code.

Internet Café
Martelaarsgracht 11, Old Centre: New Side (no phone/www.internetcafe.nl). Tram 4, 9, 16, 20, 24, 25. Open 9am-1am Mon-Thur, Sun; 9am-3am Fri, Sat. Rates from €1/30min. Credit No credit cards.
There is a staffed left-luggage counter at Schiphol Airport (795 2843/www.schiphol.nl) where you can store luggage for up to one month, open daily from 6am to 10pm (€7 per item for 24 hours and €6 per item for each day thereafter). It also has automated lockers, accessible 24 hours daily (from €6 per 24hrs). There are more lockers in the arrival and departure halls, and central Amsterdam has plenty of lockers at Centraal Station, with 24-hour access (they charge from €3.70 for 24hrs).
You'll need to show proof of residence in Amsterdam and ID to join a library (bibliotheek) and borrow books.
Centrale Bibliotheek
Oosterdokseiland 587, Old Center (523 0900/www.oba.nl). Tram 1, 2, 5. Open 1-9pm Mon; 10am-9pm Tue-Thur; 10am-7pm Fri; 10am-5pm Sat; Oct-Mar also 10am-5pm Sun.
Set to open its doors at time of going to press, this huge buildingwill be the largest public library in Europe, complete with countless mod cons. Anyone can use the main public library for reference purposes. There's also a variety of English-language books.
A cross that Amsterdammers sometimes have to bear is the rabid – and often stoned – ravings of visitors who are so bowled over by Amsterdam's mellow vibe that they want to move here. One word: don't. If you feel this urge overcoming you, read the Irvine Welsh novels Filth and Porno.
Report lost property to the police immediately. If you lose your passport, inform your embassy or consulate as well. For things lost at the Hoek van Holland ferry terminal or Schiphol Airport, contact the company you're travelling with.
Centraal Station
Stationsplein 15, Old Centre: Old Side (0900 321 2100 premium rate/www.ns.nl). Tram 1, 2, 4, 5, 9, 13, 16, 17, 24, 25, 26. Open 24 hours; between 1pm and 5.30pm access only through the eastern entrance.
Items found on trains are kept for four days at the office on the east side of the station (0900 321 2100 premium rate), after which they are forwarded to Centraal Bureau Gevonden Voorwerpen (Central Lost Property Office), 2e Daalsedijk 4, 3551 EJ Utrecht (www.nshispeed.nl, 8am-5pm Mon-Fri), where they are stored for three months. Fill in the "tracing" form on the website and have them posted (collecting them personally is not possible) for €15 and upwards.
GVB Lost Property
Arlandaweg 100, (0900 8011/460 6060). Tram 12. Open 9am-6.30pm Mon-Fri.
Wait at least a day or two before you call and describe what you lost on the bus, metro or tram. If your property has been found, you can pick it up at the GVB head office at Arlandaweg. If you have lost your keys, you don't have to call ahead.
Municipality Lost Property
Korte Leidsedwarsstraat 52 (14 020). Tram 1, 2, 5, 7, 10. OpenIn person 9am-4pm Mon-Fri. By phone noon-4pm Mon-Fri.
If you have lost your passport or ID card, check the local police station.

Since January 2002 the Dutch currency has been the Euro.
Banks
Banks are open 9am-5pm, Mon-Fri. Bars are open at various times throughout the day and close at about 1am Mon-Thur, Sun; 2am or 3am Fri, Sat. Shops are open 1-6pm Mon (although many stay closed on this day); 10am-6pm Tue-Fri (some until 9pm Thur); 9am-5pm Sat.
Credit cards
Credit cards are widely used. The majority of restaurants will take at least one type of card; they're less popular in bars and shops, so always carry some cash. Chip and pin is more and more prevalent.
Tax
Sales tax (aka VAT) – 21 per cent on most items, six per cent on goods such as books and food, more on alcohol, tobacco and petrol – will be included in the prices quoted in shops.
Following a reorganisation of the postal services, all but one of the post offices in Amsterdam have been closed. Instead, many tobacco specialist shops, supermarkets and book shops offer postal services. Look for the orange illuminated sign with the PostNL logo. The postal information line is available on 0900 0990 premium rate. The one remaining old-fashioned post office stands at Singel 250, Old Centre: New Side It's open 7.30am-6.30 pm Mon-Fri; 7.30am-5pm Sat.
Catholic



St John and St Ursula

Begijnhof 30, Old Centre: New Side (622 1918/www.begijnhofamsterdam.nl). Tram 1, 2, 4, 5, 16, 24, 25.
Open
Chapel
1-6.30pm Mon; 9am-6.30pm Tue-Fri; 9am-6pm Sat, Sun.
Adoration of the Eucharist
4-5pm, 5.30-6.30pm Mon-Fri; 5-6pm Sat, Sun.
Services
9am, 5pm Mon-Fri, 9am Sat; 10am (in Dutch), 11.15am (in French) Sun. Phone for details.
Check out the Begijnhof Shop tourist information and also religious books and souvenirs.


Dutch Reformed Church

Oude Kerk
Oudekerksplein, Old Centre: Old Side (625 8284/www.oudekerk.nl). Tram 4, 9, 16, 24, 25. Open 11am-5pm Mon-Sat; 1-5pm Sun. Services in Dutch 11am Sun.
Based at the stunning Oude Kerk (Old Church).


Jewish

Liberal Jewish Community Amsterdam
Jacob Soetendorpstraat 8, Zuid (540 0120/office rabbinate 540 0136/www.ljgamsterdam.nl). Tram 4. Open Rabbi's office call for appointment. Services 8pm Fri; 10am Sat.
Orthodox Jewish Community Amsterdam
Van der Boechorststraat 26, Zuid (646 0046/www.nihs.nl). Bus 69, 169. Open 9am-5pm Mon-Fri by appointment only.
Information on orthodox synagogues and Jewish facilities. Website also has English content, including a list of places where you can buy and eat kosher.


Muslim

THAIBA Islamic Cultural Centre
Kraaiennest 125, Zuid (698 2526). Metro Gaasperplas.
Phone for details of mosques, prayer times and cultural activities.


Reformed Church

English Reformed Church
Begijnhof 48, Old Centre: New Side (624 9665/www.ercadam.nl). Tram 1, 2, 4, 5, 9, 16, 24, 25. Services in English 10.30am Sun.
The main place of worship for the local English-speaking community.
Amsterdam is a relatively safe city, but that's not to say you shouldn't take care. The Red Light District is rather rife with undesirables who, if not violent, are expert pickpockets; do be vigilant, most especially on or around bridges, and try to avoid making eye contact with anyone who looks like they may be up to no good.
Telephones and dialling codes
To call within the city, you don't need the area code of 020: just dial the seven-digit number. To phone Amsterdam from elsewhere in the Netherlands, add 020 at the beginning of the listed number. Numbers in the Netherlands outside Amsterdam are listed with their code attached.
In addition to the standard city codes, three other types of numbers appear from time to time in this book. 0800 numbers are freephone numbers; those prefixed 0900 are charged at premium rates; and 06 numbers are for mobile phones.

Dialling and codes
From the Netherlands
Dial the following code, then the number you're calling:
To Australia 00 61.
To Irish Republic 00 353.
To UK 00 44, plus number (drop first '0' from area code).
To USA & Canada 00 1.
To the Netherlands
Dial the relevant international access code listed below, then the Dutch country code 31, then the number; drop the first '0' of the area code, so for Amsterdam use 20 rather than 020. To call 06 (mobile) numbers from abroad, there is no city code: just drop the first '0' from the 06 and dial the number as it appears after. However, 0800 (freephone) and 0900 (premium rate) numbers cannot be reached from abroad.
From Australia 00 11.
From Irish Republic 00.
From UK 00.
From USA 011.
Amsterdam is an hour ahead of Greenwich Mean Time (GMT). All clocks on Central European Time (CET) now go back and forward on the same dates as GMT.
Service charges are included in hotel, taxi, bar, café and restaurant bills. However, it's polite to round up to the closest euro for small bills or the nearest five for larger sums, although tipping 10 per cent is becoming more common (leave the extra in change rather than filling in the credit card slip). In taxis, most people tip 10 per cent.
For men there are the classic green metal urinals and some weekend conveniences over at places like Leidseplein. For the ladies, it's a sadder story: public loos are rare, and you may also be forced to buy something in a bar or café. Note that urinating into canals is now an offence.
I Amsterdam Tourist Information Centres
Stationsplein 10, Old Centre: New Side (702 6000/www.iamsterdam.com). Tram 1, 2, 4, 5, 9, 13, 16, 17, 24, 25, 26. Open 9am-5pm Mon-Sat; 10am-5pm Sun.
The main tourist office stands right outside Centraal Station. English-speaking staff provide up-to-date information on transport, entertainment and day-trips. They can also arrange hotel bookings (for a fee), and excursions or car hire for free. Brochures detail walks and cycling tourss; maps and a listings magazine are also available. The information line has an English-language service.
Other locations: Leidseplein 1 (10am-5pm daily); Schiphol Airport, arrivals hall 2 (7am-10pm daily).
EU citizens do not require a visa; citizens of the US, Canada, Australia and New Zealand need a valid passport for stays of up to three months. Otherwise, apply for a tourist visa. EU nationals with a resident's permit can work here; for non-EU citizens, it's hard to get a visa without a job in place.
EU nationals with a residents' permit can work here; non-EU citizens will find it difficult to get a visa without a job in place. Jobs are hard to come by; more so with no visa.
More information on Amsterdam
Whether you're visiting for the great shops and markets, stunning music and nightlife or the city's best restaurants, finding your way around Amsterdam is very easy: there are efficient, cheap and integrated trams, metros and buses, and in the centre most places can be reached on foot. Locals tend to get around by bike, and there are also boats and water taxis. Public transport provision for those with disabilities, however, is dire.