12 awesome things to do in Annapolis
Annapolis, Maryland's capital, boasts a ton of history, green spaces and a whole lot of fun things to do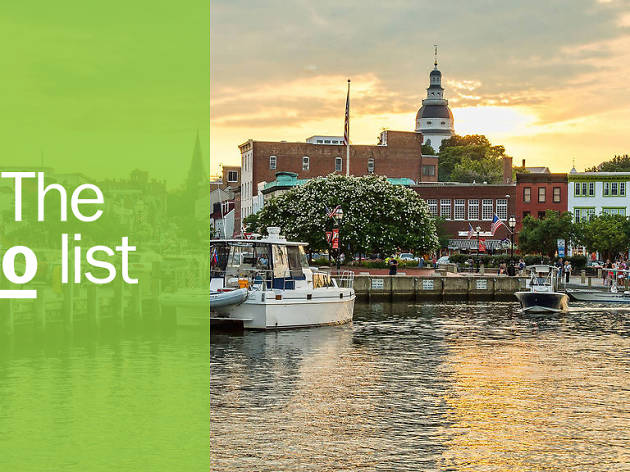 A legendary colonial city overlooking Maryland's most famous estuary, Annapolis has gone by many names. The Puritans called it Providence. In British times, it was known as the "Athens of America," renowned for its culture and intellect. Finally, the 18th-century Chesapeake shipping hub was rechristened Annapolis in honor of the future Queen of Great Britain.
Home to world-class museums, drool-worthy micro-breweries, delicious restaurants and the famous Naval Academy, the cutting-edge city is still making waves in the culture and intellect departments. The picturesque waterfront city is not only Maryland's capital—it's also known as the sailing capital of America. Take a walk through town and notice the many impressive maritime artifacts, tour colonial and African American heritage sites, and spot cadets strolling down cobblestoned streets in their iconic, spotless uniforms. It's time to check out all that the legendary city has to offer and you should start with this list of oh-so-amazing things to do in Annapolis.
Done something on this list and loved it? Share it with the hashtag #TimeOutDoList and tag @TimeOutEverywhere.
Find out more about how Time Out selects the very best things to do all over the world.
Best things to do in Annapolis
1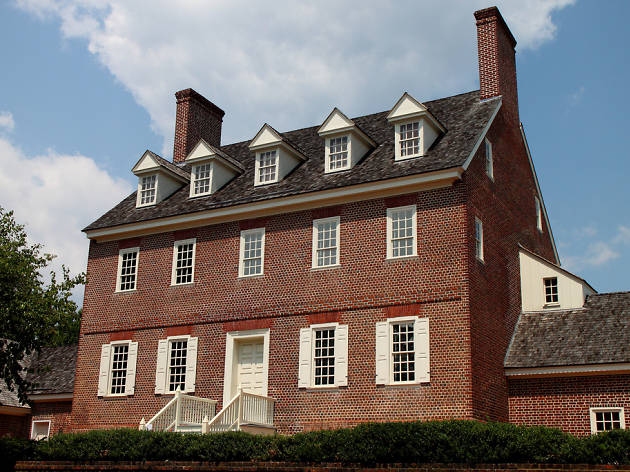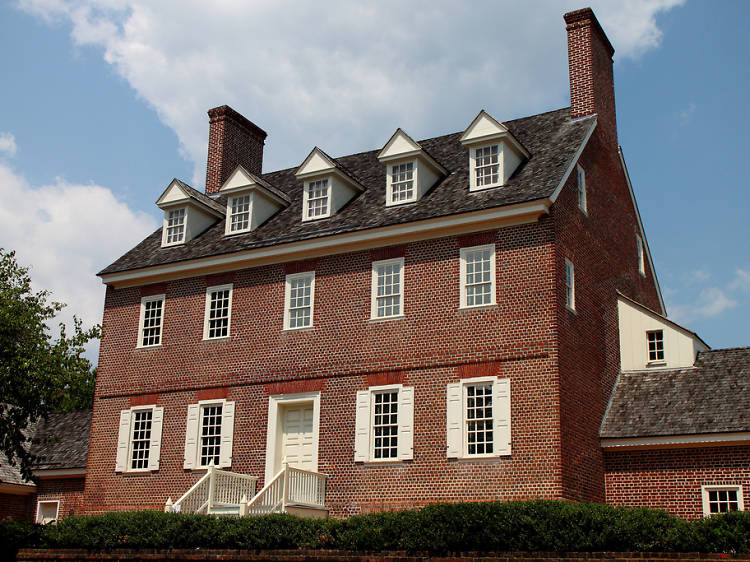 Photograph: Courtesy CC/Flickr/Mr.Tin DC
What is it: The richly opulent, painstakingly restored estate of William Paca, a hotshot Annapolis lawyer who was one of four Maryland delegates to sign the Declaration of Independence.
Why go: The 18th century Georgian mansion, with its time-warp period furnishings and sprawling, terraced garden, will have you groaning with envy. But the site also spotlights the unsavory inner workings of upper-crust Maryland households, powered by steady supplies of slave labor.
2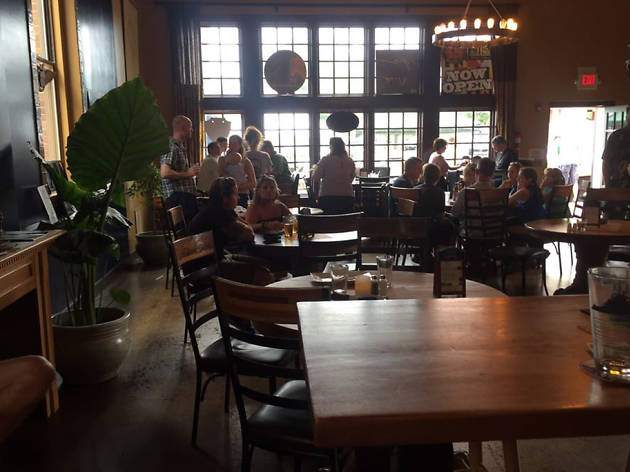 Photograph: Courtesy Yelp/Josie S.
What is it: A family-run brewery serving frothy glasses of local and house-made beers on tap, plus surf and turf pub fare. Playfully named brews—try a Crab Shanty Pale Ale or Waterman's Soul IPA—give shoutouts to the Chesapeake Bay.
Why go: This downtown watering hole does the Maryland craft beer game right. Go for the locally made microbrews, stay for the creamy crab dip or lump crab-topped pub burger. They even host neighborhood art crawls.
3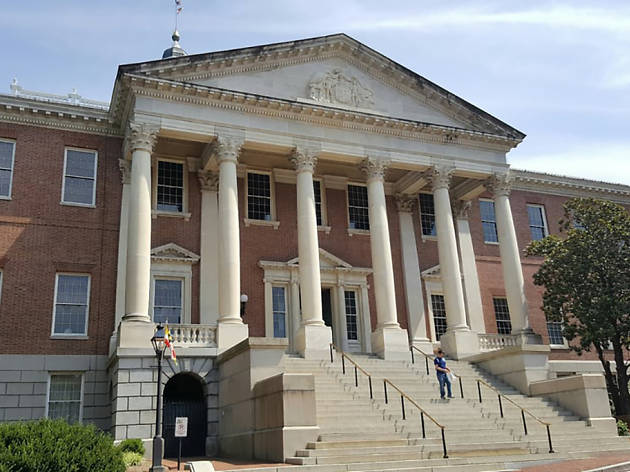 Photograph: Courtesy Yelp/Heather M.
What is it: Listen up, US history buffs: this must-see landmark is not only where the Treaty of Paris was signed in 1783—ending the Revolutionary War—but it's also the oldest state capitol still in use.
Why go: You can learn about three centuries of legislative history on a free self-guided tour. Also peek at the Maryland senate chamber (unless it's in use!) and see the spot where George Washington famously resigned from the Continental Army.
4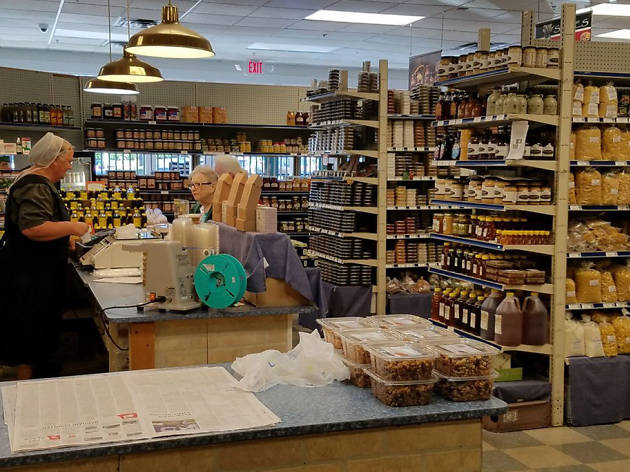 Photograph: Courtesy Yelp/Rhonda H.
Pennsylvania Dutch Farmers' Market
What is it: One of Annapolis's quirkiest hotspots, this massive indoor food emporium—locally referred to as the "Amish Market"—boasts finger-licking goodies like custard-topped doughnuts, stuffed breakfast pretzels and peanut butter milkshakes.
Why go: Whether you're looking for fresh fruits and veggies or a full meal—the market offers piping hot cafeteria-style options—these friendly, Amish-staffed food stalls feature some of the tastiest treats in town.
5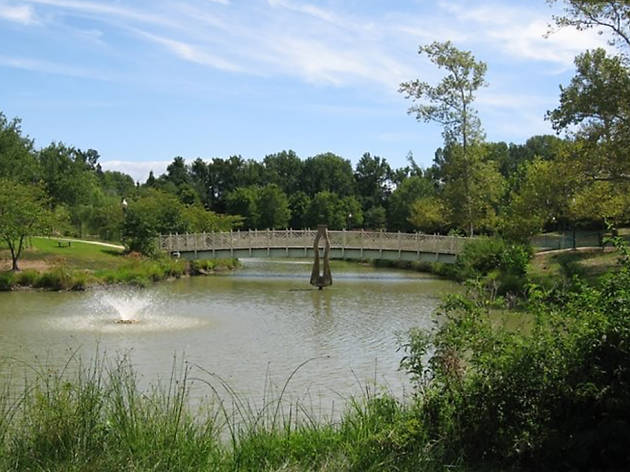 Photograph: Courtesy Yelp/Patrick H.
What is it: The city's quaint cobblestoned streets might earn the most accolades, but Annapolis boasts a bevy of natural standouts as well. This lush, waterside abode will give you ample opportunity to appreciate the city's overlooked greenery.
Why go: Surrounded by the scenic South River and serene Harness Creek, this peaceful, sprawling park makes for a spectacular setting. Hit a shady forest trail or hop on a bike to cruise the full paved loop, where you'll enjoy the best water views around town.
6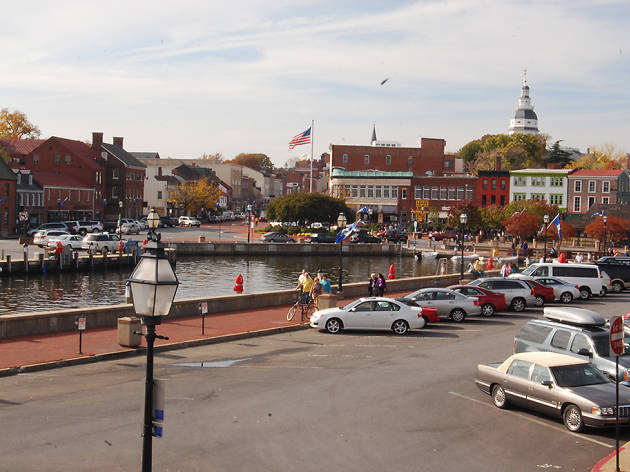 Photograph: Courtesy CC/Flickr/Ben Eriksen
What is it: The cheeky name for the city's historic waterfront district, Ego Alley refers to the owners of high-priced boats who regularly hit the harbor to float—and gloat—along the docks.
Why go: This is the perfect spot for an evening stroll. Settle in for some serious ship-watching. Itching to hit the water yourself? You can even arrange a tour on a traditional Schooner—or hop on a water taxi for a more budget-friendly ride.
7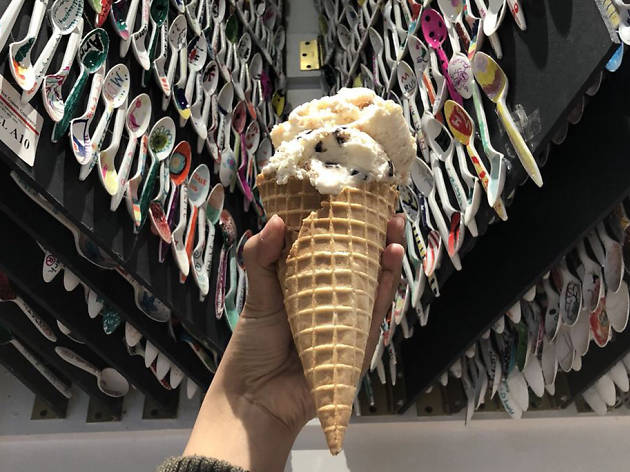 Photograph: Courtesy Yelp/Kevin L.
Annapolis Ice Cream Company
What is it: An Annapolis institution, this jam-packed dessert joint takes its cups and cones very seriously—as it should. Consistently voted the city's best ice cream parlor, the local landmark has a pitch-perfect reputation to uphold.
Why go: If you like your sweet treats without artificial colors or preservatives, then brave the line and grab yourself a homemade scoop. You'll find a rotating list of farm-fresh flavors, from traditional standbys to zany new favorites.
8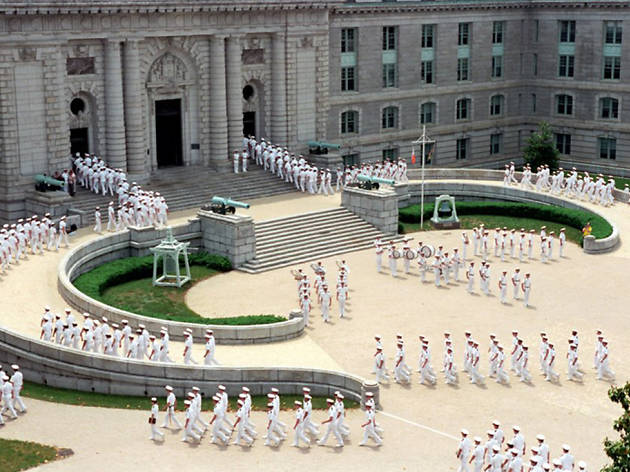 Photograph: Courtesy Yelp/United States Naval Academy
United States Naval Academy
What is it: This blockbuster attraction has been training naval officers since 1845. Home to over 4,000 students, the academy is a living piece of Maryland history that offers plenty of activities and sights to visitors as well.
Why go: An on-site museum boasts two floors of rare naval artifacts, priceless maritime paintings and the largest collection of 17th and 18th century ship models in North America. Dine like a sailor at several restaurants, including the history-filled Naval Academy Club.
9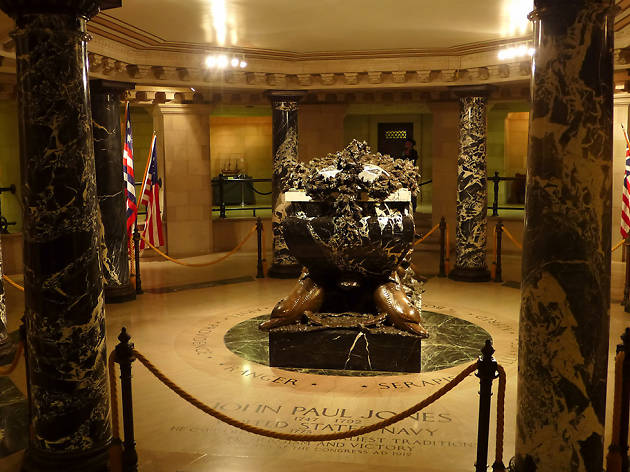 Photograph: Courtesy CC/Flickr/slashvee
What is it: The ornate sarcophagus of revolutionary war hero John Paul Jones, located in the chapel of the Naval Academy. A fierce seafarer, yet civil to a fault, Jones coined the famous battle cry: "Sir, I have not yet begun to fight!"
Why go: Jones' missing remains were discovered in France and transferred to Annapolis after a whole century of searching. The somber and slightly spooky spot merits a visit for persistence alone. The aquatic-themed tomb, featuring ornate, cresting dolphins, is a delightful bonus.
10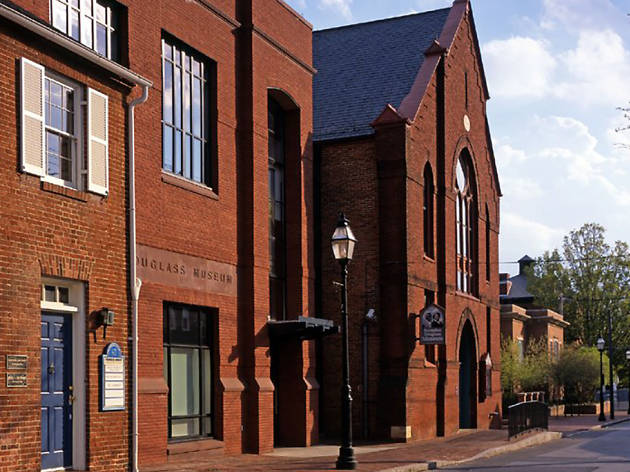 Photograph: Courtesy Yelp/Banneker-Douglass Museum
What is it: Maryland's official museum of African American heritage, housed in a landmarked 19th century church. The name lionizes two titans of the abolitionist movement, Frederick Douglass and Benjamin Banneker.
Why go: Along with temporary shows, a permanent exhibit chronicles the important contributions of African Americans in Maryland. Get a look at sobering artifacts from the city's darkest chapters, including slave market ads and reward posters for runaways.
11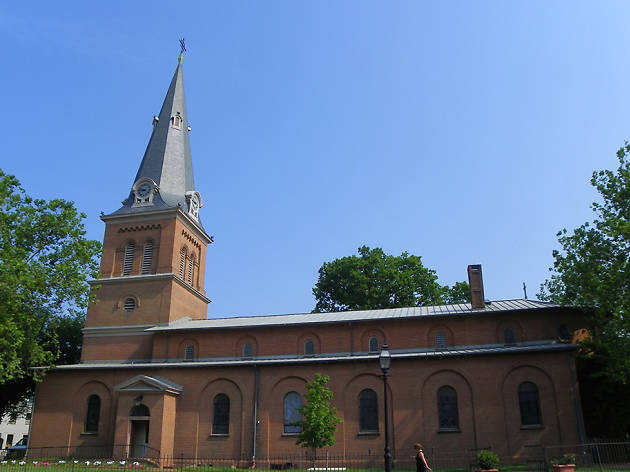 Photograph: Courtesy CC/Flickr/J. Stephen Conn
What is it: The very first church in Annapolis, whose parish was founded way back in 1692. The current building, still an impressive century-and-a-half old, hosts weekly Episcopalian services every Sunday.
Why go: Open to visitors, the history-filled church might seem humbler than the city's other landmarked buildings, but the simple decor belies a few key details. Don't miss the knockout stained glass windows—designed by Tiffany's—or the charming wooden pews, all bonafide antiques.
12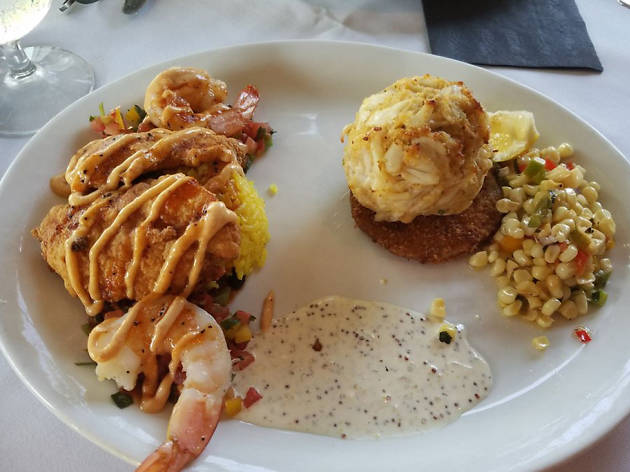 Photograph: Courtesy Yelp/Rhonda W.
O'Leary's Seafood Restaurant
What is it: An Eastport mainstay, this splurge-worthy, fine dining joint combines inventive, mouth-watering seafood plates with unpretentious bistro decor—it's housed in a century-old crab shack. You'll have no trouble finding the place. Just look for the electric blue, timber-framed bungalow.
Why go: No true Annapolis experience is complete without a taste of crab cakes and this 35-year-old local institution boasts some of the best. Also expect craft cocktails, a slam-dunk brunch menu and a signature take on Maryland's state fish, crispy rockfish.
Hungry for the best restaurants in Annapolis?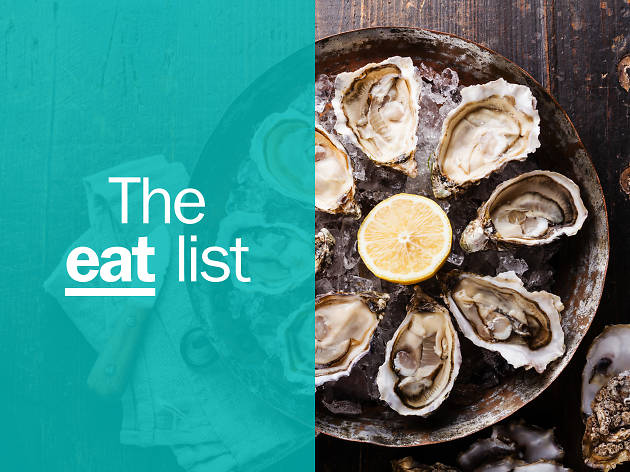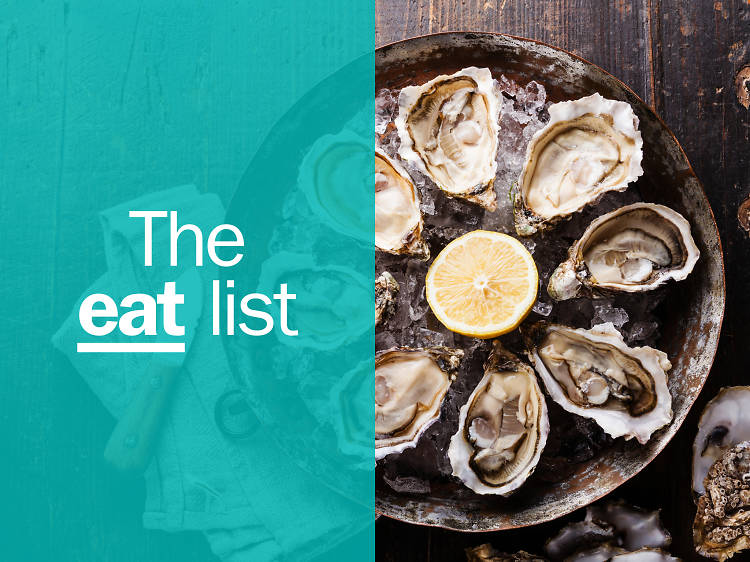 As business has boomed, sleek, farm-to-table hipster favorites have joined time-honored seafood stalwarts, making for a vibrant array of choices that is sure to suit any palate.