The 14 best dance clubs in Austin
Have fun at the best dance clubs in Austin, where DJs play top pop, house and hip hop music all night long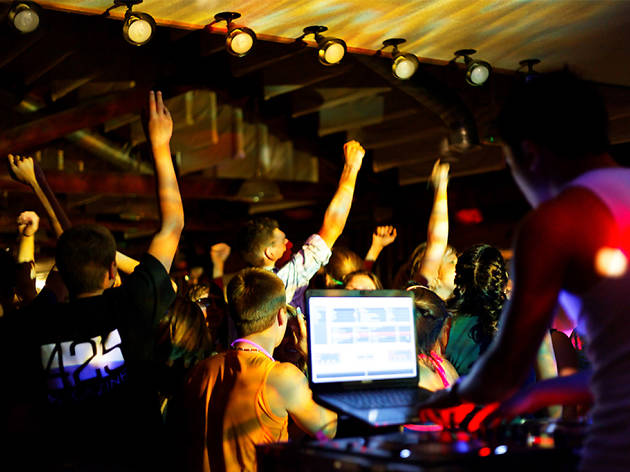 We dare say that there is nothing as fun as dancing the night away to top pop, house, EDM and hip hop music (consuming every single one of the best tacos in Austin is a close second). At the best dance clubs in Austin, both locals and tourists enjoy unabashed fun, courtesy of top DJs and, of course, the best cocktails in Austin. Are you more of a jazz fan? You might want to check out the best venues for live music in Austin instead.
Best dance clubs in Austin
With major shows almost every night between Thursday and Saturday, Kingdom has become a major player in the electronic dance music scene. Expert DJs play with fog, lasers, house, trance and dubstep until 4am. Bonus info: The staff will only serve you water and Red Bull after 2am.
Nightlife, Clubs
Swedish Hill Historic District
This cavernous Red River staple hosts specialty dance nights all week (think Tuesgayz, Grits N Gravy Thursdays, Footloose Fridays and New Noise Saturdays). This isn't a spot for the faint of heart: the music is loud and the dance floor is crowded… but feel free to escape to the spacious patio when in need of some fresh air.
Nightlife, Clubs
Swedish Hill Historic District
This little—and we do mean little—club on the corner of 7th and Red River has been dropping DEM beats for over 15 years. Boasting lasers as the only source of light, a perennially filled dance floor and a graffiti-covered lounge in the back, the space hosts different DJ residencies and special events weekly.
Nightlife, Clubs
Swedish Hill Historic District
A self-proclaimed haven from the everyday, Elysium hosts all kinds of alternative music events focusing on synth-pop, new wave, post punk, goth, industrial, indie dance, K-pop and everything in between. The spot has been around since 2001 and, though we're sure that even minor renovations might do the place some good, there is something to be said about the allure of an old-time favorite.
One of Austin's LGBT clubs on Fourth Street, head to Rain for Martini Mondays, Drag Class Tuesdays, Super Bush Wednesdays, Down & Dirty Thursdays or any other one of their special events nights—fueled by drinks, dancing and lots of Gaga.
Flickering lamps, steampunk decor and a giant wraparound bar characterize this large dance club on Sixth Street. Available for rent, the venue boasts a state of the art sound system and hosts its own DJ and live band during nightly events.
A relatively new addition to the local scene, Sellers offers cleverly named craft cocktails, in-house infusions and a large dance floor with DJ. But don't expect this to be your hard-driving EDM scene. Think of it more as a spot where you can kick back with some friends while enjoying a nice drink to some familiar tunes. The '70s chic furnishings and large wooden bar lend the spot a classy yet funky feel.
This two-story LGBT club in the middle of downtown is all flashing lights, loud music and dance party. Like many other spots in town, Highland hosts specialty nights (Texas Hold 'Em, Drag Bingo, Noche Latinos) so make sure to check the calendar before heading here. Simply looking to enjoy a cocktail while breathing in Austin's air? Head to the spacious outdoor patio and claim one of the cushioned seats.
Every night of the week is different here. Originally modeled after a New Orleans speakeasy (which clearly influenced the drink menu), the space functions as a laid-back lounge on some nights and a haven for uninterrupted dancing on other nights. Either way, expect to have a very good time.
Show more
Behind the turntable
Sound guys, take note: These women don't need to be told how to plug in a turntable.