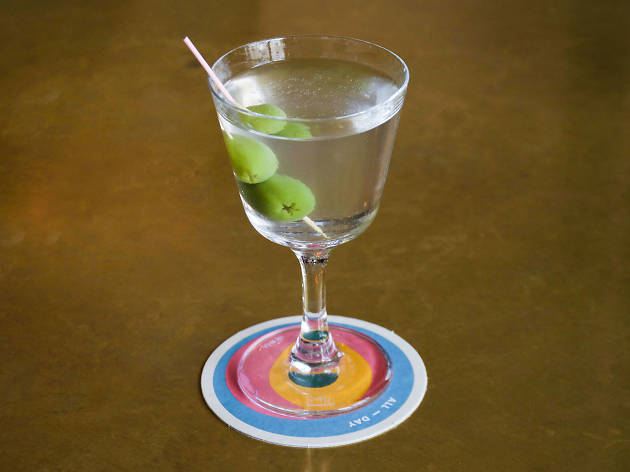 The 15 best cocktails in Austin
Your ATX boozing bucket list is here, with the best cocktails in Austin shaken and stirred by the city's top bartenders
Boozehounds are well served in the Texas capital. Amazing craft beer? Check. Great wine bars? Check. Ridiculously good cocktails? They're on almost every corner, pumped out by wild, scheming bartenders in some of the best bars in Austin. We've rounded up the best of the best, the most inventive and well-executed concoctions in town, from a perfectly made house martini to a whimsical frozen Irish coffee. Looking for things to do in Austin? Go ahead, drink all of the best cocktails in the city (over a period of time, of course, and be sure to hit up one of the best coffee shops in Austin in the morning for a recovery session).
Best cocktails in Austin
Watertrade, the shoebox-sized cocktail den next door to nationally-recognized Otoko, is quietly serving top notch spirits and a handful of thoughtful cocktails, each laced with Japanese flavors. The silky Goma Fashioned combines rye whiskey, toasted sesame and vanilla over a large ice cube for a cocktail with smooth yet booze-forward qualities. Previously, Watertrade was open only to those dining at Otoko but is now open to all guests!
Although The Hollow is technically 20-ish miles North in Georgetown, the restaurant's unique persona is one we'd be fools not to claim. The restaurant's highly imaginative New American fare is complemented by the equally whimsical new cocktail menu—created by Beverage Director Ricky Cobia. The standout cocktail is an off-menu, available-by-request-only cocktai—Creyente 100% Espadin mezcal, Ancho Reyes and Cynar infused with roasted coffee beans, St-Germain, honey and ginger reduction, walnut bitters and house-made mole bitters, served under a bell jar filled with hickory smoke.
The Cigar Box at the Roosevelt Room is a treat for the eyes and the nose (not to mention the mouth!). It's made with mescal, smoked black tea syrup, lavender bitters and tobacco bitters and garnished with a flamed cinnamon stick—boom. One of the bar's many signature cocktails, the Cigar Box has quickly developed a cult following amongst Austin's mescal lovers.
Clark's Classic Mai Tai is a throwback to the tiki cocktail created in 1944 by Vic of the famed Trader Vic's. The summery mai tai here is a blend of two rums (Neisson Blanc Rhum and El Dorado 8), curaçao, fresh lime juice, and bar manager Alex Holder's house-made orgeat (almond syrup infused with rose water and citrus among other secret ingredients!), and a splash of potent Bacardi 151 on top.
Olamaie's refined, signature style carries over into their cocktail program; the visually beautiful drinks—designed by bar manager Erin Ashford—are teeming with bright, seasonal flavors. We're big fans of Under the Volcano; smoky mezcal combines with unexpected tropical bursts of bright passion fruit and mellow banana liqueur finished with a few dashes of orange bitters for a sophisticated tropical cocktail. Is it any wonder that it's become one of our favorite late-summer sippers.
Cocktails with fat-washed spirits are popping up on the menus of Austin's top bars, and June's house martini is one that utilizes the technique with perfect restraint. Sipsmith London dry gin is infused with extra virgin olive oil—from a Texas olive ranch located in South Texas—and garnished with Sicilian Casavatano olives for a martini with the delicate flavor of high quality olive oil without the brininess (or outdated stigma)of the typical "dirty."
The former Longbranch Inn has been transformed into Nickel City, a refreshingly unpretentious cocktail bar with two NOLA-inspired frozen drinks on the menu, including a Frozen Irish Coffee. The cocktail is a frosty blend of Tullamore Dew Irish whiskey, coffee liqueur and cream and serves as an homage to the bestselling version served at Erin Rose, the divey French Quarter Irish pub which attracts industry folks and tourists alike.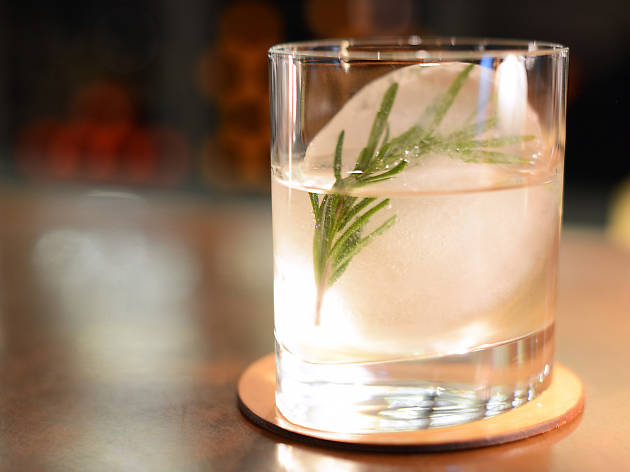 Photograph: Anastacia Uriegas
8. Rosemary's Baby at COUNTER 3. FIVE. VII
The new cocktail program at Counter 3. FIVE. VII offers a unique, herbal take on a martini with the Rosemary's Baby: Botanical gin, Cocchi Americano (Italian aperitif), and a sprig of fresh rosemary frozen inside of a large teardrop-shaped ice cube. Devilishly good.
Swift's Attic invented Austin's ice ball cocktail, a large sphere of ice filled with herbs with liquor poured on top—as the ice melts, and its flavor is infused into the liquor, the drink transforms. While there are five ice ball cocktails to choose from at Swift's, our pick is the Stage Name: sage leaves suspended inside an ice ball, topped with sage syrup, lavender bitters and Barr Hill Tom Cat barrel-aged gin.
In 2015, the team at Garage were crowned the winners of Austin Food & Wine Alliance's annual event, The Official Drink of Austin. Despite stiff competition from Austin's talented bar community, the drink sparkled above the rest thanks to its lightly sweet, herbal flavors: fresh grapefruit and lime juice, rosemary syrup, and Peychaud's bitters are stirred with Dripping Springs vodka and embellished with fragrant rosemary.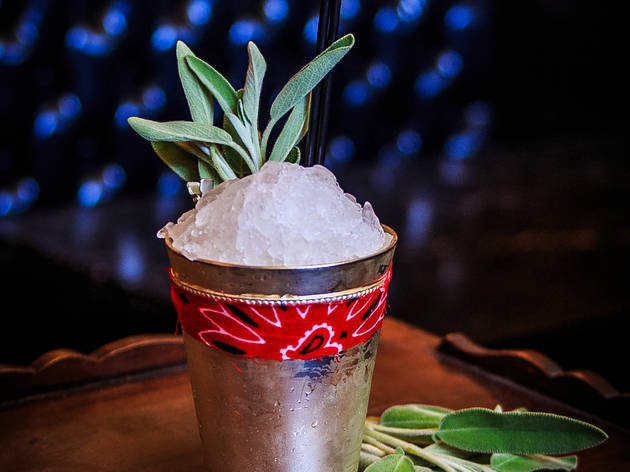 Photograph: Courtesy Geraldine's/Richard Casteel
11. Willie's Cup at Geraldine's
Jen Keyser's bar menu at Geraldine's is all stellar, but the Willie's Cup, an homage to Willie Nelson, a.k.a. Austin's patron saint, is our favorite. It's made with High West whiskey, hemp milk and sage in a bandanna-wrapped silver cup, served julep-style with a dome of crushed ice—and decorated with a sage garnish to represent Mr. Nelson's well-publicized "herbal pastime."
While Whisler's featured cocktail menu rotates with the seasons, one cocktail that is always available is their take on the classic old-fashioned (which is pretty darn classic). The Whisler's version is made with George Dickel Rye, golden Demerara syrup, Angostura bitters and a boozy Luxardo Maraschino cherry.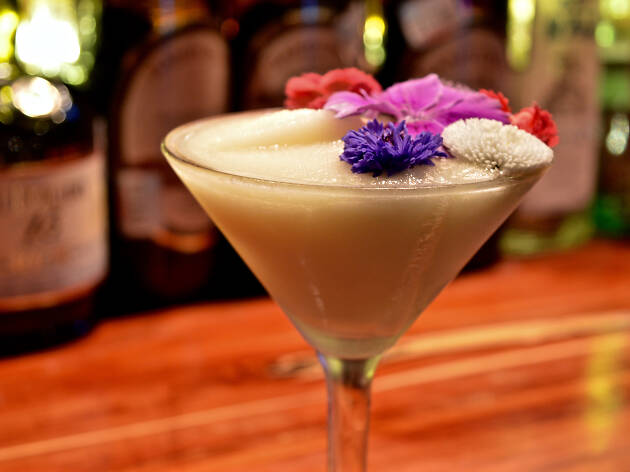 Looking for a reprieve from the summer heat? At King Bee, the AC is cranked, the windows are heavily tinted and their constantly whirring frozen drink machine awaits. The Bee's Knees is a joy-invoking slush of gin, lemon juice and local honey served in a martini glass with a colorful crown of edible flowers. We'll take four.
While other music venues are slinging well whiskey and $2 Lone Star, Cheer Up Charlie's offers an ambitious menu of cocktails that are delicious, and...seemingly healthy, with superfood ingredients like kale juice and hemp milk. We love their Golden Ticket, a spicy blend of whiskey, lavender bitters, Austin-based Kosmic Kombucha and a skewer of candied ginger.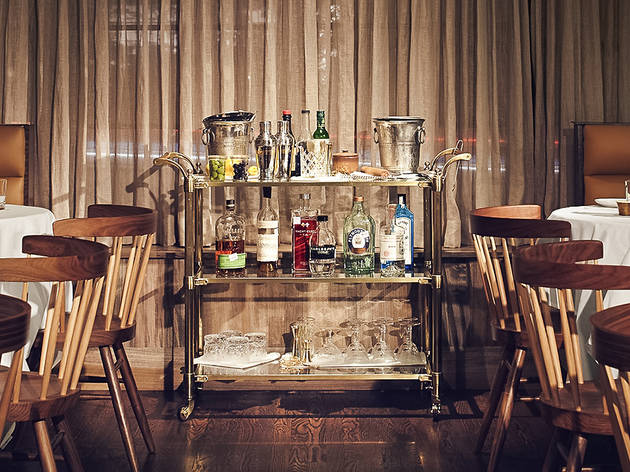 Photograph: Courtesy Jeffrey's
15. Martini Cart at Jeffrey's
Last, but not least...one of the best cocktails in Austin is the one that you create yourself! At the very elegant Jeffrey's, guests are visited tableside by a stocked cart and order a martini made to their exact specifications by the very skilled bar staff. And, because this is Jeffrey's, your martini, Manhattan, or old-fashioned is served in impeccably beautiful antique glassware.
Here's how to drink your Austin pride
Our love for this town extends to some seriously boozy cocktails.