Austin events in June 2018
Our guide to Austin events in June 2018, including ice cream festivals, brewery tours and Texas' largest biker rally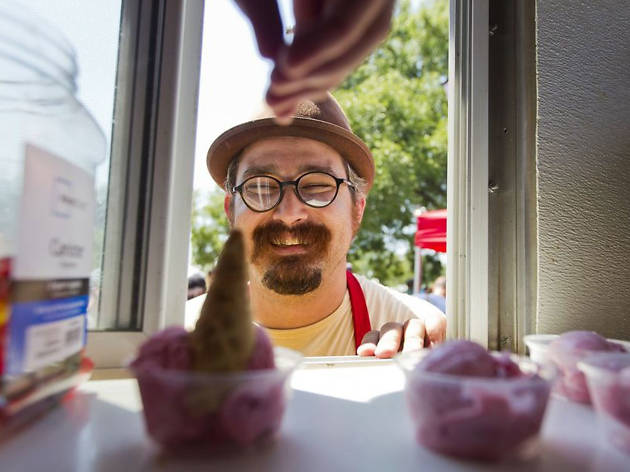 Summer in Austin is always a battle—do you stay in and escape the heat or, knowing there are even higher temps on the horizon, do you slather on sunscreen and enjoy the sunshine? We recommend the latter—with plenty of things to do in Austin, there's always a reason to leave the house. This month, enjoy some of Austin's best ice cream at the annual ice cream festival, cool off with suds at our favorite local breweries and, of course, take in every show possible. Just remember the sunscreen.
Best Austin events in June 2018
The first Monday of every month, ATX comedian Micheal Foulk invites you to Barrel O' Fun to learn something while you drink. Three local guests share films and clips that influenced their queer identity. Have you ever noticed how Batman Forever is a queer narrative? Oy, they'll tell you all about it! No Cover.
Read more
Hie thee to that burnt orange-and-white Austin institution on Burnet Road if you're a betting man, and buy a number on the board and hope that hen squats right on it. Odds are you'll lose trying your luck at the saloon's beloved "Chicken Shit Bingo" but, good news, a cold Lone Star is only $2, too. And the honky tonk music and hot dogs are free. 
Read more
Bring a blanket or chair to the Zilker Hillside Theater and watch dancers twirl in the twilight. The show includes ballet, jazz, modern and contemporary performances choreographed by veterans and new artists alike.
Read more
Drag Queen Chique Fil-Atio recently relocated this monthly variety show to Carousel Lounge after it outgrew its original home at the Austin Toy Museum. Head up north to see comedians, queens and performance artists moving to the beats of DJ Isabella Von Black. Proceeds go to Hops For Heroes college funds. Third weekend of every month; $5 cover.
Read more
Of course, summer doesn't officially start for another few weeks, but the last day of classes in the Austin school district is early June. There are worse ways for kids to celebrate than making bubbles on the Long Center's lawn. The seventh annual celebration also features a giant rock climbing wall, trampolines, face-painting and foam pits. Big Don, Trout Fishing in America and The Saddle Sores (White Ghost Shivers) will take the stage. 
Read more
Sample some of the city's best fare on the Long Center lawn for a few nights this summer. More than a dozen food trailers are scheduled to have food and drinks for purchase and live music will keep you entertained as you enjoy a taco while looking across the river at skyline views. Personal water bottles, folding chairs, blankets, lawn and board games, and pets on-leash are all welcome. Alcoholic beverages and glass bottles are not. 
Read more
The summer heat in Austin is liable to fray your nerves, so why not get a head start on soothing them with this summer cocktail dinner curated by Erin Ashford? Punch bowls and several courses ahead. Make a reservation by emailing reservations@olamaieaustin.com. 
Read more
The Sixth Street theater celebrates everything scary, gory and psychological at its weekly horror movie showing. But don't count on catching a truly terrifying flick every time—some of the D.I.Y. films are, well, terrible. Of course, that's part of the fun. Showtimes can vary so make sure you check with the Ritz before heading downtown.  
Read more
Ever dreamed of careening around a course in a race car? Now you can come close, albeit a bit more slowly. From 6pm until dark every Tuesday through July 3, cyclists can bike around the Circuit of The Americas track. Take the 20 turns over 3.4 miles at your own pace—or try to beat your friends. Registration required.
Read more
Show more