Heads up! We're working hard to be accurate – but these are unusual times, so please always check before heading out.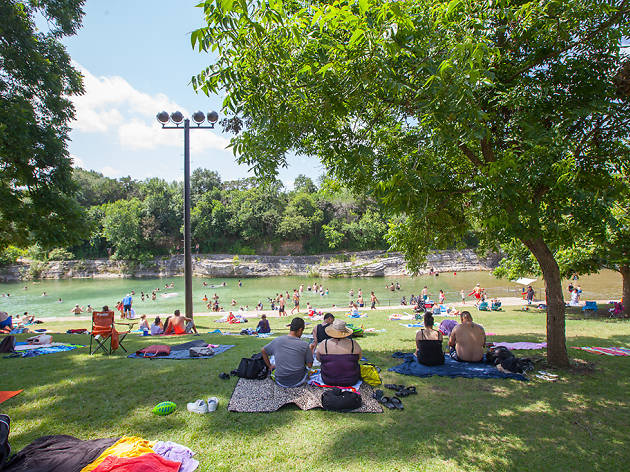 The 15 best outdoor activities in Austin
From open air concerts and movies to boat tours and nature walks, these are the best outdoor activities in Austin
Austinites take pride in many aspects of their city: from the best BBQ in Austin to this diverse list of best venues for live music in Austin, the city is clearly a national hub of food and culture. But what many don't know when researching the best things to do is the vast array of outdoor activities in Austin that both locals and tourists can enjoy, whether solo or with kids in tow. From alfresco concerts and movies to nature walks and boat tours, consult our guide to the best outdoor activities in Austin and fall in love with the city all over again.
Best outdoor activities in Austin
If you live in Austin, it's easy to take easy access to natural bodies of water, including the downtown-adjacent Lady Bird Lake, for granted. For an on-the-water view like no other, head to Capital Cruises and rent a kayak or stand-up paddle board—if you're feeling super fancy, opt for a swan paddleboat—and traverse the lake, Colorado River or Barton Creek with the ever-expanding gorgeous city skyline in full view.
Sure, Austin has its fair share of nice public pools, but why pay money to take a dip in an over-chlorinated, concrete tub when there are plenty of prime natural swimming spots available along the expansive Barton Creek Greenbelt that won't cost you a dime? For chill vibes and some fun cliff-jumping (if the water's deep enough), we recommend Campbell's Hole, accessible via Spyglass Drive. For a more social soak in some sweet rapids fed by small waterfalls, we suggest Sculpture Falls, accessible via Camp Craft Road.
Barton Springs Pool, ATX's outdoor gem, is a surefire swell time on almost any day—even the cold ones! (It's true: the year-round average 68-degree water actually feels warmer when it's brisk out). But for a purer Austinite experience, head to this Zilker Park-adjacent swim spot on the night of each month's first full moon. Our advice: arrive early (no later than 8:30pm)—because of overcrowding in the past, the city now limits the capacity to 750 people at $3 a pop. If you've ever wanted to channel your inner wolf and howl at the top of your lungs without fear of judgment, this lunar party's for you!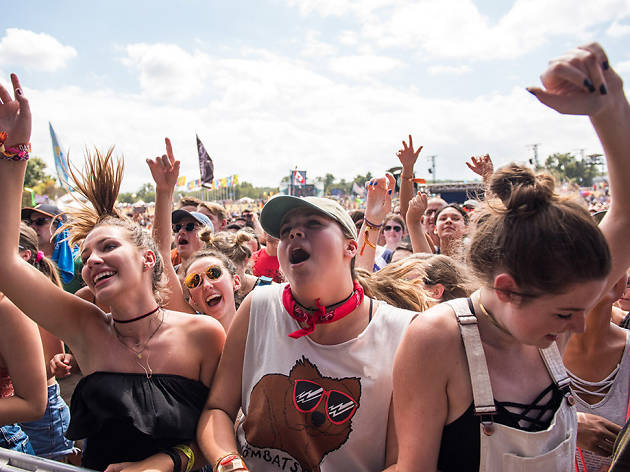 Photograph: David Brendan Hall
4. ACL Fest, Blues on the Green and Sound on Sound fest
In the Live Music Capital of the World, there are literally countless locales to catch live music outdoors, on pretty much any given day. But if your time out is precious, you'll want to at least attend these three annual events: Austin City Limits Music Festival at Zilker Park, which hosts more than 130 bands and 225,000 fans from across the globe over two weekends each October; KGSR's summertime concert series, Blues on the Green, at Zilker Park, which features a variety of local artists over four nights (one per month, May-August); and Sound on Sound, the city's newest festival from the co-creators of Fun Fun Fun Fest, set for its inaugural edition (November 4-6) about 40 minutes east of Austin at Sherwood Forest Faire, the home of the annual Texas Renaissance Festival. Three days of live music from some of today's hottest acts, camping, a permanent castle and a jousting arena... yes, it's going to be epic.
Touted as "the one and only mini urban boutique" drive-in movie theater in North America, the Blue Starlite is a must for your special date or night out with friends. With a focus on nostalgia (childhood movies, cult, indie, art house, etc.), the theater offers double-features on select evenings, but only to 30-50 cars per event, so pack in your friends and purchase tickets in advance. Bonus for the 21+ crowd: It's BYOB.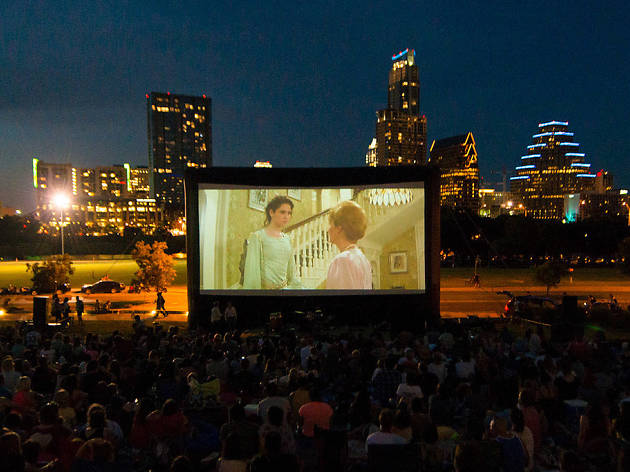 Photograph: Courtesy CC/Flickr/Do512
6. Austin Sound and Cinema
Live music and back-to-back movies outdoors, on a bed of lush grass under the stars with the city skyline as a backdrop… for free? Yes, you read that right. That's the regularly scheduled program—one band followed by the screening of classic movies—on each night of Austin Sound and Cinema, presented by Do512 and the Alamo Drafthouse on four Wednesdays every summer. With the added bonus of a food truck fleet posted up nearby for each showing, it's one of summertime's best annual outings.
It's free any night of the week (March–mid-November) to stroll out onto the Congress Avenue Bridge and observe the jaw-dropping spectacle that is the world's largest urban bat population jettisoning from underneath it in cyclone-cloud formation as they fly over Lady Bird Lake eating insects. But, at some point, it's absolutely worth the $10 to take a boat tour offered by Capital Cruises that allows you to see the sight from underneath the bridge. While you're waiting for the bats to take flight, a knowledgeable guide will use a special light to show you the creatures in hang-mode and, for those willing to spend a little more, there are private rides available with customized options including dinner and cocktails.
Maybe getting out on the water isn't your thing, but you still love the serene sight of it with the city skyline as a backdrop. The solution: a stroll along the Ann and Roy Butler Hike-and-Bike Trail and Boardwalk, which hugs the south shore of downtown-adjacent Lady Bird Lake for 10 miles. It's especially stunning at sunrise or sunset as the light refracts off the buildings and onto the water, but with seven viewing areas and more than 300 piers (including ADA accessible), it's a superb option for exercise or leisure any time of the day.
Lake Travis has some great picnicking and boating opportunities, but if you really want to see it from an unbeatable perspective, book an outing with Lake Travis Zipline Adventures. The tour, which lasts about 3 hours including orientation and boat travel to and from the starting location, essentially lets you fly across the lake and parts of the hill country via 5 different zips ranging in length from 250-2800 feet. A "Night Flight" tour is also available.
Safe to say, unless you're afraid of heights and/or flying, you've probably fantasized about cruising around with a jetpack at some point in your lifetime. In Austin, that dream can become reality, without any threat of fire or explosion. Just make a reservation with Fly Lake Austin, a company specializing in water jetpack lessons. Whether you choose the individual flyboard (imagine a skateboard with water rockets underneath it) or the jetovator (basically the bike version of a water jetpack), you'll feel like some sort of aquatic super hero soaring above one of Austin's most beautiful bodies of water.
Equal parts nature reserve and art exhibition, the Betty and Edward Marcus Sculpture Park at Laguna Gloria—an extension of the Contemporary Austin—is one of the purest representations of Austin's dedication to promoting creativity and preserving nature. The park includes rotating exhibitions and permanent installations, as well as regular family-friendly activities like the Action Pack, which is free with admission and stocked with games, puzzles and art-related activities to try out as you walk the green grounds.
A few areas of the Austin Nature and Science Center, located in the western corner of Zilker Park, are indoors, but most of the center's activities—designed for people of all ages—are outside, with the goal of helping visitors "increase awareness and appreciation of their natural environment." Check out all the programs, relating to biology, astronomy and paleontology, among other subjects.
Peter Pan Mini Golf, located South of the river near Zilker Park, has been considered a staple family fun spot—with its handcrafted sculptures of various animals, a giant tyrannosaurus rex and, of course, Peter himself—since first popping up in 1946. Still an ideal activity to partake in with kids in tow, the golf course also happens to be a top spot for carefree adult kickin' it, largely thanks to its new BYOB policy.
The Lady Bird Johnson Wildflower Center, which boasts 650 native Texas plants across gardens, meadows and nature trails, is open for visitation Tuesday-Sunday but, for a special nocturnal experience, mark your calendar for Thursday nights in June. On those evenings, the center hosts Nature Nights, which feature interactive presentations, hikes led by various experts and "nature crafting" for kids, all with the goal of learning about Central Texas' plants, animals and ecology.
By now, Austin is known for its food truck culture, which has manifested in dedicated parks in various sectors of the city. The Midway requires a bit of a drive, but it's worth it. Not only can you enjoy cuisine from a diverse array of vendors—including Dock & Roll's seafood, Gebby's BBQ, One Taco and Cheesecake Experience—but you can also catch live music, join the Bonfire Choir or partake in free yoga sessions on select nights. The park is always kid-friendly, and always BYOB—sometimes select breweries even show up to give away free beer!