Child-friendly places to eat
Restaurants, cafés and fun places to feed the kids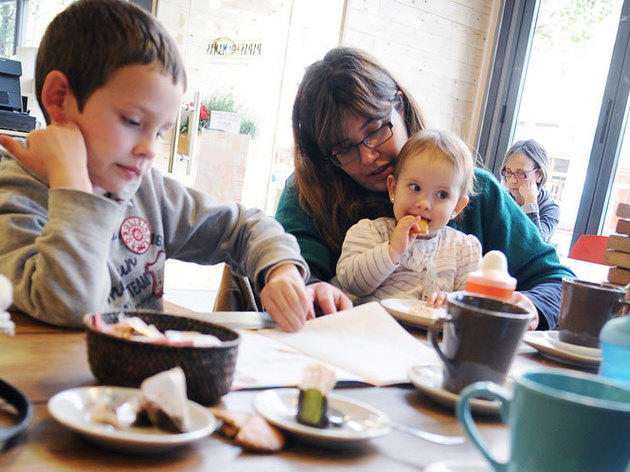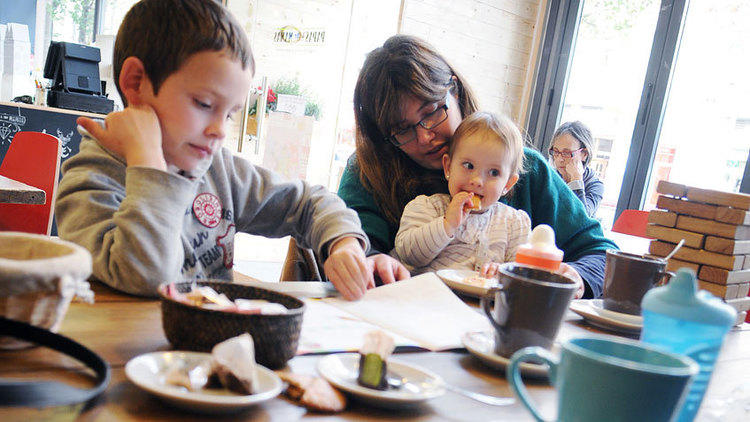 10 restaurants for the whole family
Merquén is a tasty condiment made ​​from roasted peppers, a legacy of the Mapuche culture that spread to Argentine and Chilean Patagonia. In Chile it's used for seasoning dishes of the finest Andean cuisine. It looks powder with small reddish flakes and is made of the dry and spicy 'cacho de cabra' variety of chili and mixed with coriander seeds, although the Mapuche also include other ingredients. Merquén is also the name Chilean Rolando and Catalan Laia have given their restaurant with Chilean soul and Mediterranean flavour. While there are a number of well-prepared Chilean dishes, Laia puts the Catalan touch on things in the kitchen. Especially when it comes to the tapas. (read more)
Read more
The best thing you can say about a vegetarian restaurant is that it doesn't look like one Forget about the vegetarian clichés of sad tofu salads, here they offer a lunch menu featuring imaginative, tasty, nutritious dishes such as beans with cream of polenta and sage or home-made stuffed pasta, and always with an aperitif tapa included. In the evenings they unveil a range of tapas such as papas arrugas, Argentinean pies, burritos and fajitas. A small, well-chosen selection of wine and beer is available.
Book now
Read more
Indulge yourself in breakfast, lunch and midday snacks at this Scandi-inspired café
Read more
If there was a café in the animated part of 'Mary Poppins' – you know, when they jump into the chalk drawing on the pavement – it would look like Pudding. Opened by a Frenchwoman based in Barcelona, Pudding was designed for spending the afternoon with the kids. Parents can enjoy a cappuccino with pastries or sandwiches while the little ones occupy themselves with books, games, chalkboards and even iPads that they'll find at their disposal. This spot can also help organize birthday parties that are much more stylish than at Burger King.
Read more
Heading to the neighbourhood civic centre might not be the first idea that comes to mind for breakfast or lunch with the kids. But the cafe and restaurant of the Villa Florida civic centre has a well-designed, healthy daily menu, in which couscous frequently features. They also have good burgers and omelettes, as well as a selection of home-made cakes.
Read more
Some people can't bear to see (or hear) children in bars and restaurants. Remember those days? Now you're looking for just the opposite, meet Omar Sayol, who opened Papas & The Mamas in the new part of the Rambla of Poble Nou. 'It's not a kiddies' playground, it's just a place where parents can relax while they have a meal,' says Sayol. It's also a place where you won't have to do a balancing act between tables, and there's plenty of space to park the pushchair.This open space is mostly made of wood (the little ones don't suffer as much if they happen to take a spill against something with a bit more natural give), and there's a small play area and bar in the corner. (read more)
Read more
Espai Mallorca closed its doors, and Barcelona was missing a place to get good Balearic food. The answer has come from the unlikely trio of editor Pema Maymó, architect Lourdes, and graphic designer Antònia the three partners at Idò DO Balear. It's a multitasking space with a shop filled with gourmet products, a restaurant and a bread shop, all filling the space with island delights. A good lunch or dinner here can consist of a shared combination of tapas, perfect to go with vermouth. There's also a space especially for kids with big tables and a wall made of chalkboards so they can have as much fun as the grown-ups.
Read more
For all Pere Calders fans – God has heard your prayers. The cul-de-sac named after the writer has recently become home to one of the loveliest spots in Sant Antoni. They have books by the Catalan author, the draught beer flows freely and there's a selection of tapas that sends shivers of pleasure through the district. Obviously, the best thing to try is the vermouth. They stock four brands, but if you want to try a Priorat, then you should go for the one from Falset. Incidentally, the outdoor terrace is one of the district's best kept secrets: You'll just keep coming back.
Read more
This is the sandwich shop that Susannah Taylor and Katherine Engelhardt built, and from its pristine white walls – it's in an old motorcycle repair shop – a sign written in red jumps out at us: 'Yes, we're Americans. No, we don't make hamburgers.' The first 'made in the USA' sandwich shop in Barcelona has a selection of 10 sandwiches, all chock-full of fixings. 'Its a cross between a classic American sandwich and our own inventions', the owners say. They use high-quality bread, all from Radas bakery and some sized to suit, and feature original and tantalising combinations of ingredients.
Read more