The best burgers in the city
Time Out's list of the top burgers in Barcelona and where to get them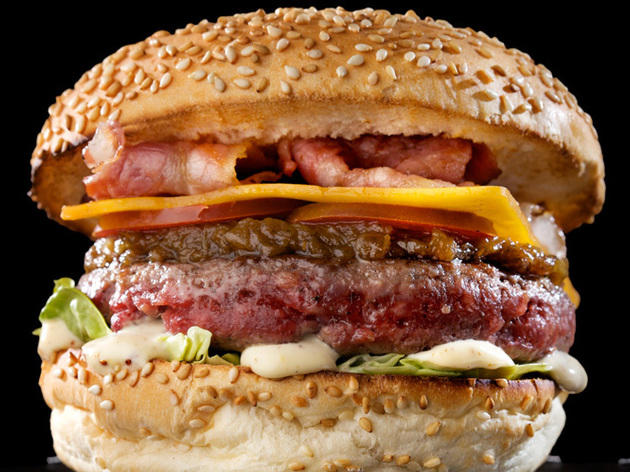 When in Barcelona, don't settle for imported fast food joints or giant themed restaurants casting shadows on La Rambla in your quest for a great burger. Our hunt for perfect patties and fantastic fries turned up more than just those or snooty gourmet versions of the American classic (though a few of them as well). The obsession with fine ingredients that has gripped burger-makers in New York and London for the last few years has caught on in the Catalan capital too, with happy results: Our 'Top burgers in Barcelona' list includes 1950s-style American diners, signature restaurant versions, and even a Russian import, proving that Catalan versions of US cuisines are much more than just a load of old 'carne picada'.
The mothership of this small gourmet hamburger chain, a pioneer in the field in Barcelona, has opened a new space in Ronda Universitat, and the original, near Santa Caterina, is now called Little Bacoa. The original bears the name 'Little' because the new Bacoa, while still carrying on with its trademark excellence and informality, is enormous. So what's new? Owner Brad Ainsworth is betting that thinking locally will pay off: with the change of seasons, Bacoa will offer a burger with products grown nearby, such as artichokes from El Prat, for example. And apart from the house classics, the exclusive Bacoa burgers will make your mouth water just thinking about them: the San Jacobo is Iberian loin and Serrano ham with manchego cheese in panko, Japanese bread crumbs.
Read more
Brad Ainsworth, the chef who brought the gourmet burger to Barcelona with his tiny Bacoa, also opened El Kiosko, which is along the same lines but more spacious and comfortable and open onto the street. Try any of the delicious recipes with special chutney sauce, home-cooked fries and you'll know what I mean.
Read more
Winner of Best Sandwich for 2010 awarded by Time Out Barcelona. Chef Brad Ainsworth won the prize thanks to his burgers made from the finest beef, his imaginative recipes, and his stone grill that gives the meat that inimitable smoky flavour.
Read more
This gourmet burger spot could very well become a meeting place for the indie set: their playlist is exquisite, Barcelona-based rock band Mishima occasionally dine here, and they brought along Daniel Johnston when he was in town. You can create your own burger from the billions of possible combinations, or order a recipe from the menu. Either way, the result is steller, and there's also Nebraska Angus beef available, as well as a small but choice wine list that will suit your budget.
Read more
This burger joint, opened by an architect, a restaurateur and an engineer, is armed with 15 tantalising recipes: all made from Burgos beef (or you have the option of organic beef from Lleida) – all honed through trial, error and try, try trial again. The DF burger, with the spiciness of good Mexican food is a fine example, with its 200 g of beef, chipotle chili, coriander, cheddar, Jalapa chili, shredded lettuce and bits of tortilla chips.
Read more
One of the city's venues that is committed to turning the humble hamburger into a quality dish that is healthy and, above all, delicious. They have a variety of burgers of their own creation, though whenever possible, these are tailored to the customer's tastes. Don't miss the Richard Burger, with onion confit, foie gras and egg. Xavier Pellicer, one of the owners, has helped to create the menu.
Read more
This high-flying burger bar includes the eponymous Russian fillet: a beefburger that is made from choice meat coated in flour. Their steak tartar is also a stand-out item on the menu.
Read more
We do not know if their claims of making the best burgers in Barcelona are true, but they do cook up some excellence. The two partners have a lot of experience between them: one was the chef at La Royale and the other was the maitre d' there. In their latest venture they make hamburgers that are created as complete dishes made into sandwich form. Try the excellent Mediterranean burger: tomato and basil sauce with toasted pine nuts, thick roasted mushrooms and parmesan.The tapas are worth trying as well, they're not just there to look pretty. There's a very good Peruvian 'tiradito' (raw fish, similar to sashimi, in a spicy sauce), and you should definitely taste the croquettes – a very happy find are those of chorizo ​​and manchego cheese.
Read more
It's Hard Rock, so you know what you're getting. Giant American portions of burgers and fries, salads and free refills on soft drinks, desserts that are dangerous for diabetics, and a bunch of video screens blaring mostly rock music the whole time. There's also the occasional live show and celebrations of American sporting events and holidays.
Read more
Show more