The Raval
A formerly rough area transformed into a gentrified gem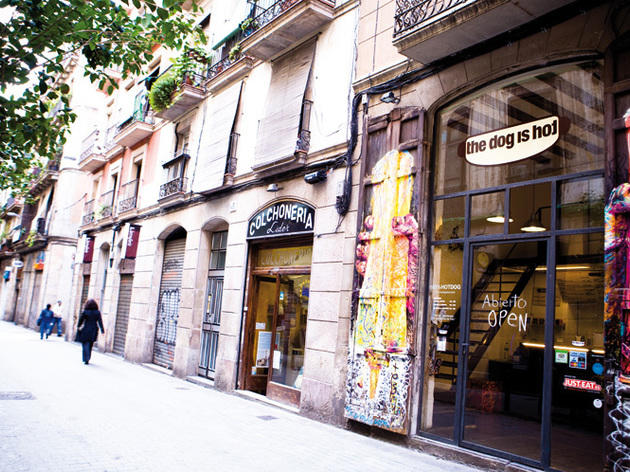 Once a no-go area for tourists, the Raval is being transformed. Some of its gems have been around for years - Gaudí's medievalist Palau Güell was an early attempt at gentrification. But others are newer: the revival began in 1995 with Richard Meier's monumental MACBA, housing the city's main collection of modern art, and carried on in 2008 with the futuristic Barceló hotel.
Excellent home cooking at good prices. Ferran and his dynamic team provide excellent service. Marvellous rice dishes and fantastic steaks. One reason to visit this cosy spot is to try L'olleta d'Alcoi, one of Pepe Carvalho's favourite dishes, which tops the Vázquez Montalbán menu.
Read more
With its gorgeous white interior decor, the wood and metal all creating a rustic, cosy minimalism, this tiny restaurant represents a continuation of the owner's other restaurant, Flor Falchetti. The cuisine here represents a culinary tour of the Mediterranean, stopping off in France, Italy and Spain. The menu is very fluid, and so home-made meatballs and fresh fish are constantly on and off the blackboard, but there are always some permanent fixtures like beef tartar and herrings with tartar sauce.
Book now
Read more
The restaurant of the cool, sophisticated Hotel Barceló Raval has an extensive menu of creative dishes with an international influence, like prawns with coconut and mango curry, and rice with coriander and mustard. And on weekends they have a range of brunches focusing on healthy dishes such as gazpacho and fruit, plus cold meats and select cheeses.
Book now
Read more
Here you can enjoy all the Aragonese specialities – migas, roast lamb and goat kid, washed down with good wine from Calatayud
Read more
From the ceiling hang a host of blue lights while on the shelves are cosmetic products such as perfumes, soaps, creams, colognes and candles.
Read more
For 40 years they've been fiercely dedicated to the thing they love most: vintage. And one of their headquarters can be find right in the Raval. The marché aux puces (flea markets) and the industrial furniture give life to this chain born in Saint-Tropez where you can find everything from retro clothing to furniture imported from France and the United States to accessories, books and magazines.
Read more
Handicrafts from Bangkok with a contemporary look are the essence of La Varieté, a little shop in the Raval where you can find fashionable clothes, accessories and home furnishings.
Read more