Heads up! We're working hard to be accurate – but these are unusual times, so please always check before heading out.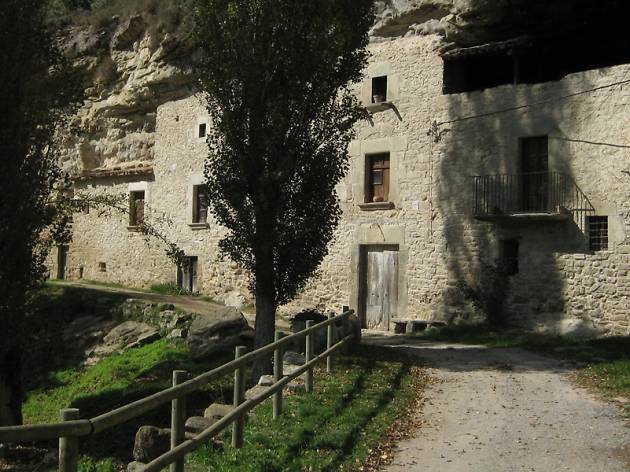 Getaway to Moianès: Visiting preindustrial heritage
We'll discover several sites that form part of the Ecomuseum, such as a troglodyte house and a lime kiln
Discovering heritage in its original place is one of the aims of the Ecomuseu del Moianès, a "museum" of over 300 km2 with 10 potential tourist sites and around one hundred open to visitors, all of them related to productive activities of the preindustrial era. Don't worry, we won't visit them all but we will see some of them.
IN COLLABORATION WITH BARCELONA ÉS MOLT MÉS AND THE DIPUTACIÓ DE BARCELONA.
We will start by heading to Castellcir, where we will find what we could define as a troglodyte house under a cave: Mas Esplugues. It is a self-sufficient stately home, with its own wood, charcoal, mushrooms, medicinal plants, preserves... Indeed, the forest has for many years been the centre of the traditional economy and in this place open to visitors they will tell you about the different uses of the forests and how around sixty trades have had a direct relationship with it (and still do).
The building has a ground floor and upper floors, and the fact that the cave acts as its roof makes it a unique construction. The restored building houses the visitor's centre and there is also a multiuse room for events such as exhibitions and concerts. You can also see an 11th century Romanesque bridge.
To go to Mas Esplugues, leave your vehicle at the Quintana car park and walk for half an hour.
On the second day in the region we will go to Calders, where we will find three circular lime kilns by a house called El Forn de la Calç. Here we will find out about the tradition of limestone mining in the area, dating back to the 10th century. However, the kilns we'll see today date back to the 19th century and were used until the 1950s.
They were used sporadically as every time the lime was baked, around two centimetres of the walls of the construction wore away.
Here you will see the Centre d'Art Contemporani i Sostenibilitat El Forn de Calç (CACIS), devoted to research, production and exhibition of contemporary culture and art projects, especially those related to ecology and the local environment.
From Calders to Monistrol de Calders. Here we suggest a route to discover the technical and historical exploitation of the quarries, the traditional dry stone technique (huts, walls, wells...) and explore its use over time depending on its origin and characteristics.
The route, which forms part of the Ecomuseum, is divided into three stages: from the old centre to l'Om, from l'Om to Pla de Trullars, and from Pla de Trullars to la Casanova. Apart from the aforementioned dry stone constructions, you can also discover very old country houses, a possible Roman road and a dolmen. A journey to the past before returning home to the reality of the present.