Heads up! We're working hard to be accurate – but these are unusual times, so please always check before heading out.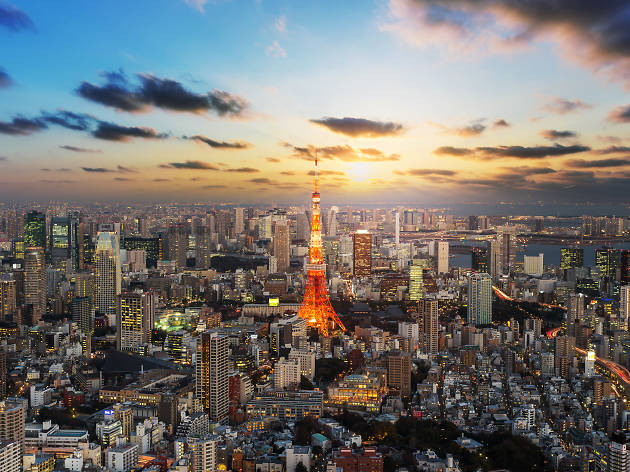 The best of Tokyo (in three days)
Time Out Barcelona's fearless director jets to Tokyo and spends three days discovering the best the Japanese capital has to offer for that city's Love Tokyo Awards
Time Out Tokyo invited Time Out Barcelona's director (and those from other cities) to be members of the jury for their Love Tokyo Awards. María José Gómez discovered a world of delights and temptations halfway round the globe, in a whirlwind three-day tour.
Like Vito Corleone, we sometimes come across people in our lives who make offers we can't refuse. Such was the case with the organisers of the Time Out Love Tokyo Awards, who asked me to be part of the jury for the 2017 edition. Who wouldn't jump at the chance to go to the best places to eat, drink and shop in the Japanese capital? Not me, that's for certain. So after doing a back flip with a double twist out of sheer joy, I sent the confirmation email to my colleagues at Time Out Tokyo: 'Wait for me, I'm on my way!'

The experience measured a 9 on the Time Out intensity scale. For three days at the beginning of October, the jury made up of directors of the magazines from London, New York, Sydney, Beijing, Bangkok and Barcelona, accompanied by the Tokyo staff – big thanks to Momo and the whole team! – dedicated ourselves to going from one end of the city to the other to check out the establishments that were up for Love Tokyo Awards.
Above: Jillian (Time Out New York), Alyx (Time Out Sidney), Top (Time Out Bangkok) and me, in Shibuya

Each category – restaurants, bars, cafés and shops – included ten finalists, chosen by the reviewers at Time Out Tokyo. The mission of the international jury was to go to all of them in order to then rate them all. During those 72 hours, I tasted 'tonkatsu' (a breaded and fried pork cutlet) for the first time, in Ponchi-Ken, a restaurant that specialises in this traditional dish that was incredibly tender and delicious and which for some reason still hasn't made it to the shores of Barcelona.
Above: Tonkatsu at Ponchi-Ken

I also tucked in to chicken heart and liver, among other delicacies, from the grill at Yakitori Imai, a refined bar with a visible kitchen where they're experts in 'yakitori'.

When it came to the cafés, I discovered some spectacular places with extraordinary decor and taste, the likes of which we can't even imagine in Barcelona. If you ever get to Tokyo – don't even think twice about it, go! – get your caffeine fix in Satei Hato, Monozuki – where the walls are covered in clocks yet time stands still – and Kosoan.
Above: Satei Hato

When you've got some shopping in mind, a good option is the Ginza Mitsukoshi shopping centre. Hang on, you may think, a shopping centre? Sure, it may seem prohibitively expensive at first glance, but there are shops where you can get original souvenirs, like some fun 'darumas', for the same price as a cheaply made one in other stores. Plus, a surprise awaits you on the rooftop, where you'll find a small altar and a Shinto statue that reminded me of the universe of the Studio Ghibli.
Above: Ginza Mitsukoshi

Fans of manga and anime in Tokyo will find paradise in Nakano Broadway, a shopping arcade packed with stores where you can get comics, games, T-shirts, posters and figurines that made my nerdiest side spring into full bloom. Music lovers can't miss a stop in Disk Union, a chain of music stores where each one focuses on a different music style or genre. I visited a couple of them: soul and Japanese music. In the latter I discovered Pink Lady, a female duo who made it big in the late '70s and early '80s. Their song 'UFO' is spectacular!


The bar that especially wowed me was
Lupin
, a former dive and hangout for writers, photographers and artists of every ilk, where the waiters prove with their mere existence the proverbial Japanese longevity. Take note if you've been missing a public space to puff – though don't let it put you off if you haven't – this is among the bars and cafés where you're allowed to smoke.
Above: Lupin

And the winners are...
Getting down to the nitty-gritty: what would a perfect day be like if you spent it with the winners of the Time Out Love Tokyo Awards? You'd have to start with breakfast at Higashi-Mukojima Coffee-ten, where in addition to magnificent coffee they also serve a cheesecake with a curious shape – it looks like a scoop of ice cream – but who cares when it will make anyone with a sweet tooth fall to their knees in gratitude.
Above: Higashi-Mukojima Coffee-ten

Next up would be a trip to the shop 85 (Hachigo), where you'd learn why fermentation is the new gastronomic revolution. For lunch or dinner you'd head to Ise Sueyoshi, a restaurant that specialises in 'kaiseki', or small dishes or tapas, if you will, that are served together, and where all the delicacy and passion for details in Japanese cuisine are united. Your day would finish with a cocktail in a bar that has to be the envy of every big city: La Hulotte. Not only is it a lovely space, but the bartender is a true prodigy. He asked me to choose two ingredients – pear and gin, thank you – and he created a cocktail that still makes my liver sing when I think about it.
© Time Out Tokyo
Above: La Hulotte © Time Out Tokyo

One final recommendation. If you think the kimono is something left in the past and that no one wears one today, stop by the shop Y & Sons: their update of this traditional garment for the modern man, called the T-Kimono, was named best product in the Love Tokyo Awards.
Above: Y & Sons

PS: I was about to miss my flight back to Barcelona because of confusion with the trains. The only reason I made it to the plane was because a stranger offered me his mobile and his Wi-Fi and ran with me – he dragging two enormous suitcases behind him – right to the boarding gate while he shouted in Japanese for everyone to make way for us. He was my angel. At the time I couldn't even thank him because if I had stopped even for a split second, I'd have missed my flight. So I'd like to do it now: ありがとう