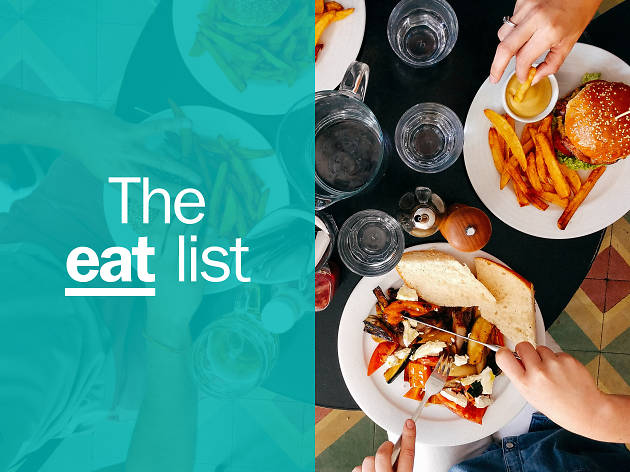 The 12 best restaurants in Baton Rouge
This city's foodie scene is on the rise: the best restaurants in Baton Rouge are diverse and intriguing
Baton Rouge gets a bad rap for not having much of an identity—at least not one as boldly defined as its neighbor, New Orleans. But that couldn't be further from the truth. The food scene here is diverse, intriguing and and full of surprises, with restaurants serving everything from ramen and tacos to Greek platters and fine French dishes. You'll find the very best of them below, proving that exploring the restaurants of Baton Rouge is one of the most worthwhile things to do in town.
Best restaurants in Baton Rouge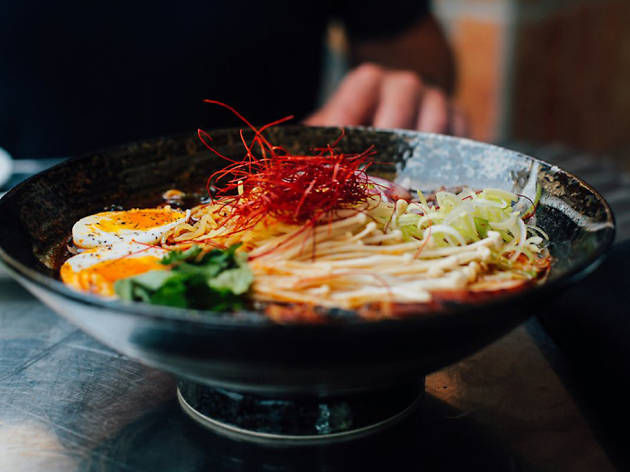 Photograph: Courtesy Umami
What is it: After an early career as a commercial fisherman along the Louisiana coast and ten years as the chef at the reliable but not reinventing-the-wheel Hello Sushi, chef Cong Nguyen is finally serving exactly what he wants at Umami on the outskirts of LSU's campus. Spring for the omakase for the full extent of Nguyen's piscine know-how.
Why go: Baton Rouge has Nguyen to thank for finally bringing ramen into the local spotlight. Try "The Hangover Bowl:" the juicy pork swimming in a spicy miso broth with seaweed, shiitakes and chili garlic oil is a cure for whatever ails you, even if your ailment didn't spring up after Pint Night at The Bulldog.
Price: Pricey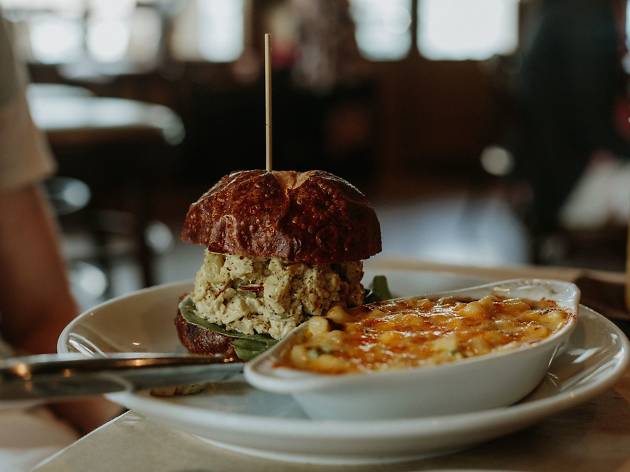 Photograph: Courtesy Beausoleil
What is it: One of the forerunners of the city's chef-driven scene, Nathan Gresham blends French master butcher training with his Puerto Rican heritage and an upbringing among Mississippi outdoorsmen to outfit the Bocage Village bistro's menu with delights like the chopped seafood salad and shredded rabbit with spaetzle.
Why go: Each meal begins with cracklins and the stone-ground grits are just as elegantly prepared as the seared foie gras.
Price: Pricey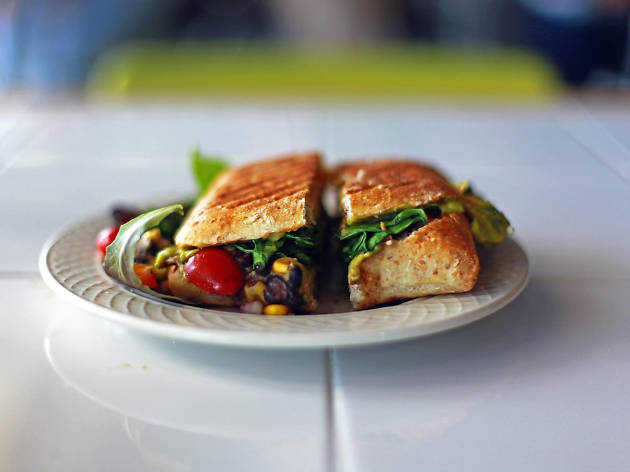 Photograph: Courtesy MJ's Café
What is it: While not exclusively vegetarian—regulars will revolt if the tuna salad is ever removed from the menu—this little Mid-City haven holds chickpeas, mushrooms, lentils, leafy greens and the rest of nature's bounty in the highest esteem. The daily soups (spring for anything with butternut squash) are served in tall coffee mugs, encouraging big, smacking sips.
Why go: Perfect for lovers of sunlight, succulents and a sensible diet.
Price: Bargain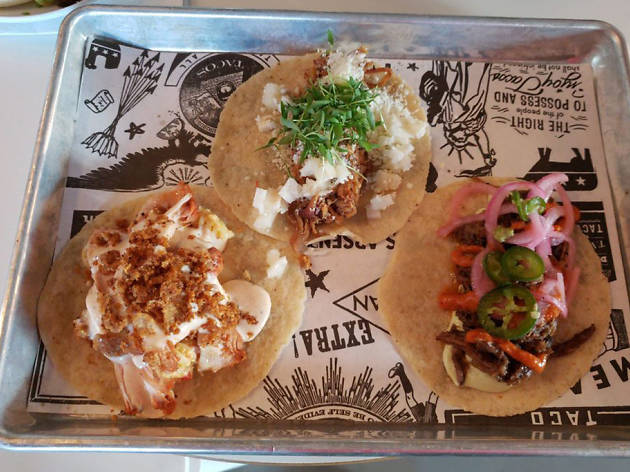 Photograph: Courtesy Yelp/Ronald C.
What is it: Baton Rouge's new food hall is a white-marbled microcosm of the city's tastiest trends.
Why go: Vendors include Gov't Taco, where tortillas are mere bedding for cane-glazed carrots and black beans, chili-rubbed beef or slow-roasted pork and jicama; Chow Yum Phat, dabbling in the madly delicious science of pho dumplings and sticky wings; and Fete au Fete, which weds the late-night delirium of a food-truck feast (Filthy Fries, Trash Grits) with your momma's down-home cooking. Don't forget your napkin, dear.
Price: Average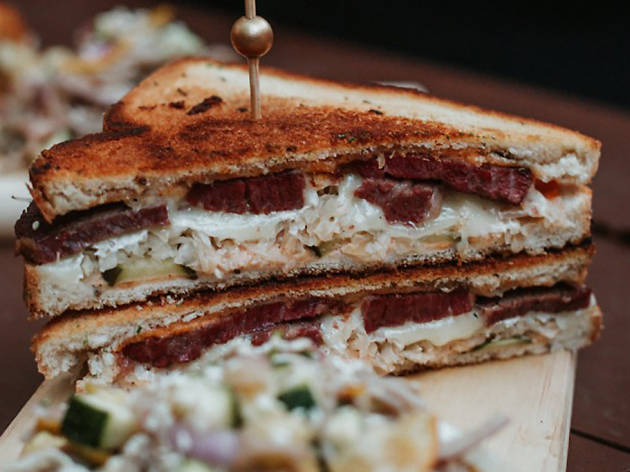 Photograph: Courtesy BouillaBabes
What is it: "Unapologetically female" catering duo Jamie Brown and Sydney Harkins don't have a brick-and-mortar store, but you can find them ensconced on Thursday and Friday evenings in the swanky craft cocktail bar Hayride Scandal, located just off the College exit of I-10, where they serve sandwiches named after famous ladies like Mariska Hargitay as well as Boozy Babe Cakes and forays into Asian fusion.
Why go: The BouillaBabes' sandwiches would make you swoon even if you ate them on the side of the nearby freeway, but Hayride Scandal—with its red velvet seats and savvy bartenders—serves as a much better pairing for the sassy elegance of The 'Babes.
Price: Average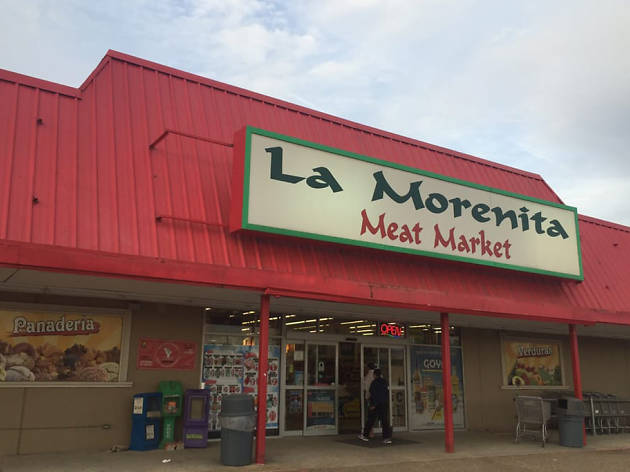 Photograph: Courtesy Yelp/Melody N.
What is it: A massive meat market – and that's not a euphemism.
Why go: This is a bold claim, but we're confident in saying that a visit to La Morenita will result in the best taco you've ever had. The building houses the largest Mexican market in the area, with loads of vendors offering up the cuisine they know best. Whether you opt for barbacoa, al pastor or carnitas, you won't be disappointed and you certainly won't go hungry.
Price: Bargain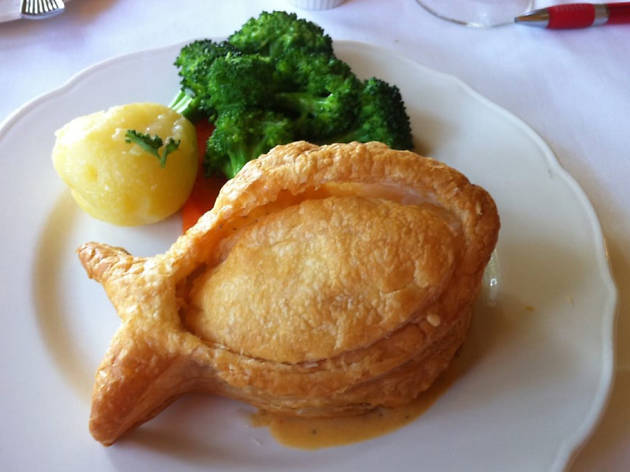 Photograph: Courtesy Yelp/Fresh M
What is it: The small white cottage on Harrells Ferry Road is just far enough from I-12 to maintain its cachet as Baton Rouge's finest enclave for classic French dining. Chef Michael Jetty has a special touch with dishes like the brie and crab soup (Soupe Jacqueline, named after his mother-in-law, Jacqueline Greaud, who originally owned the restaurant), rack of lamb tumbled in herbes de Provence and lemon soufflé.
Why go: Finding "French" without "Cajun" in front of it is no mean feat in Baton Rouge. Save the seafood gumbo for another night and salivate over crawfish bisque with a hint of orange instead.
Price: Blowout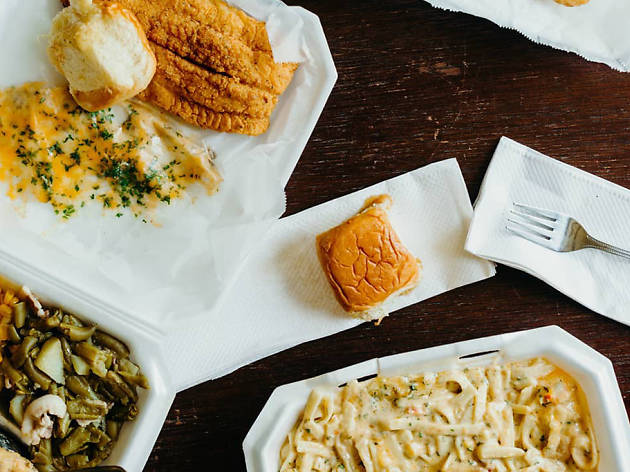 Photograph: Courtesy Creamer Deli
What is it: Sometimes, gas-station food just is what it is—honeybuns, combination hamburger-hotdogs, week-old ham sandwiches—and sometimes it's mountains of oh-I-really-can't, okay-just-one-more-bite soul food decadence made from scratch and then ladled generously into styrofoam containers by Sharmel Lewis at the Creamer Deli, located inside Big EZ gas station on Highland Road.
Why go: On top of Friday's seafood plate lunch, which will make you question if Sharmel loves you more than your grandmother does, a piece of fried catfish is thrown in as lagniappe. That's affection.
Price: Bargain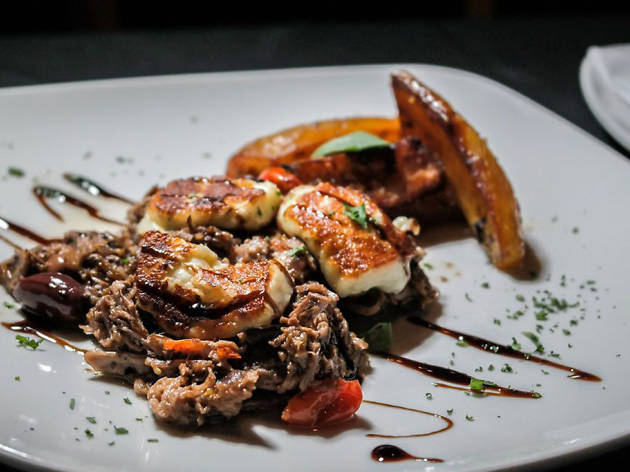 Photograph: Courtesy Yelp/Minh K.
What is it: Given its name, it's hardly surprising that Zorba's serves up great Greek food.
Why go: You cant get much more authentic Greek cuisine than at a Cypriot-owned joint. Zorba's is the place to go for top notch gyros, grilled halloumi and a variety of souvlaki.
Price: Pricey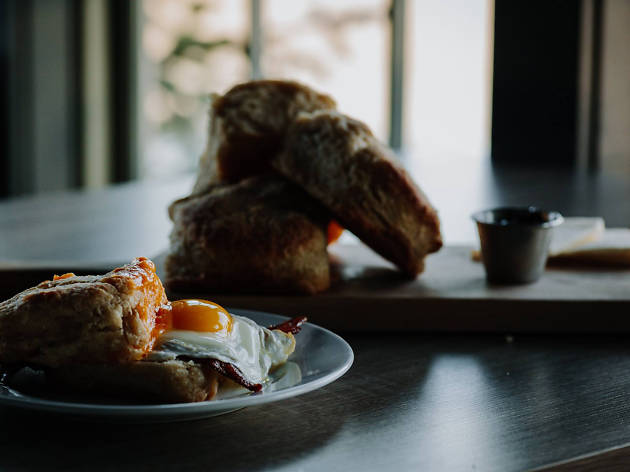 Photograph: Courtesy The Overpass Merchant
10. The Overpass Merchant
What is it: When the Perkins Road Overpass dive Zee Zee Gardens finally croaked (probably of emphysema), news that the bar was being replaced by a gastropub rankled some. But The Overpass Merchant's playful menu—including brisket tacos, hot chicken and fried Brussels sprouts tossed in lemongrass vinaigrette—won over even the most hard-hearted. Stiff cocktails and a frequently updated beer list helped too.
Why go: The smoke may have wafted away for good, but The Merch still feels like a beloved neighborhood establishment. Hey, maybe now it is.
Price: Pricey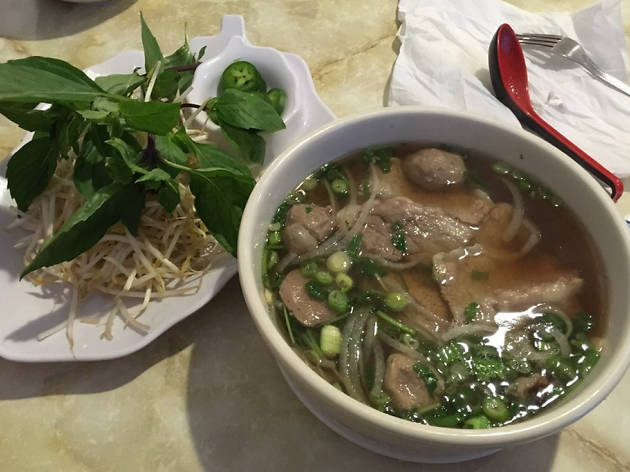 Photograph: Courtesy Yelp/Greg M.
What is it: Family-run Vietnamese restaurant with a big heart and even bigger bowls.
Why go: Located in a strip mall on Florida Bvd, Dang's provides big bowls of steaming pho, crispy duck bao, cold noodle salads, stuffed banh mi, rice plates… we could go on, but we wouldn't want thedrool to get everywhere.
Price: Average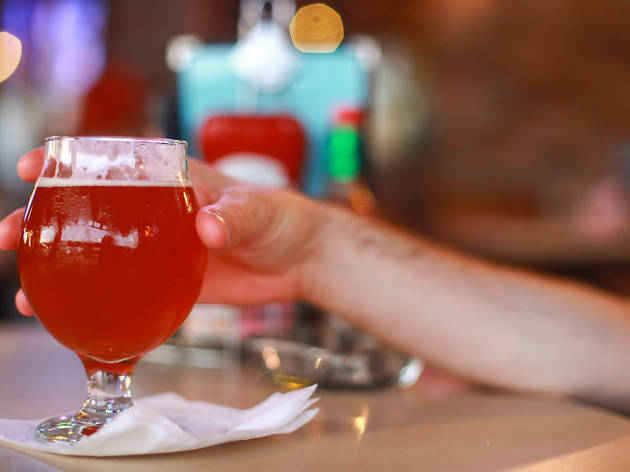 Photograph: Courtesy The Chimes
What is it: Even after graduation, Baton Rougeans leave a bit of their hearts at Louisiana State University (particularly during football season). The Chimes, with its massive beer list and soothing heaps of red beans and rice, sits just outside the campus northgates and retains a loyal following of students, alumni and anyone jonesing for a glazed pork chop.
Why go: The Chimes defines the city's fierce love for homestyle cooking and hometown football teams—but the more adventurous diner can still have fun with a just-kegged local craft beer or blackened alligator.
Price: Average
More of the best in Baton Rouge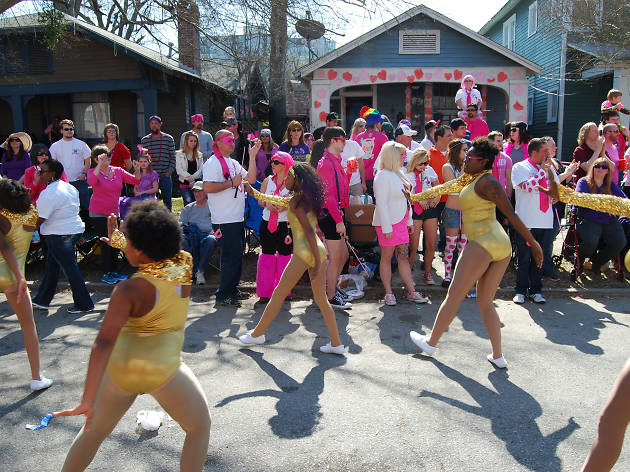 Photograph: Courtesy CC/Flickr/Butterbean
No one ever gets bored in Baton Rouge: an unsurprising fact given the available green spaces, top-notch restaurants, musical talent and super-fun things to do permeating the city
Discover Time Out Market: the best of the city under one roof