The best Berlin tours
Explore the history of the German capital with a tour of its musical, architectural, artistic and political past
By

Time Out editors and Fiona Laughton
|
Berlin is an extraordinary city, there's no denying it. Sure, it has a chequered past, but all that history adds to its remarkable allure. Each stone, monument and site has a story to tell, one that can be best heard on walk led by an expert guide. We've pulled together the cream of the crop when it comes to discovering the German capital on foot, be that a waltz through its musical endeavours, an adventure down alleyways filled with street art, or the city's narrative shared through the experiences of a refugee. Have a browse of the best tours of Berlin below to find the one that suits you, and start exploring this city's many attractions, sights and glimpses into the past.
The best tours in Berlin
Here's a chance to explore a snippet of German history rarely visited: the old Tempelhof airport. This glorious example of midcentury modern architecture, with its beautiful functionality borne in simple, if severe, lines. During World War II prisoners were forced to build weapons here, while shortly afterwards it received thousands of food and essential supplies such as coal, fuel, and medicine dropped by allied forces to West Germany throughout the Cold War.
Image © Membeth
2
Like Tempelhof, Teufelsberg too played a part in the Cold War. It is a man-made hill in Grunewald that once served as a radar station. Now derelict, it provides a huge canvas for stunning street art, which you can see if you join one of the torch-lit tours up there. Plus, when you get up to the highest dome, you'll get a fantastic 360º view of Berlin.
Image © Jochen Teufel
3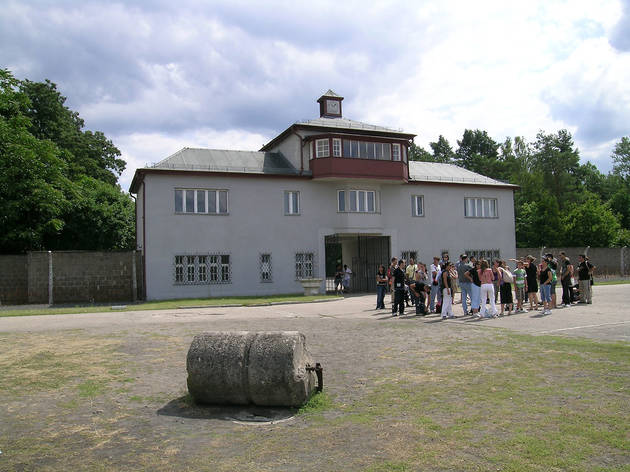 Not one for the lighthearted, this. Over four hours you'll learn about the Sachsenhausen Concentration Camp, built in 1936 by the Nazis, which imprisoned more than 200,000 people until the camp's liberation in 1945. The Sachsenhausen Memorial remains a reminder of the suffering that went on here and commemorates the thousands of lives lost. All fees go towards the upkeep of the memorial.
Image © Sachsenhausen
This unique take on a city tour provides, in their own words, 'a platform to those who are so often talked about but rarely listened to'. Syrian refugees living in Berlin lead these tours from their own points of view, comparing their unfortunate experiences of conflict with that of Germany's inter- and post-war years.
Image © Refugee Voices Tours
Taste your way around the city, starting in the über trendy district of Kreuzberg at Per and Liv's (your guides) favourite spots. This is a truly personal wander through foodie heaven and includes four traditional dishes, as well as drinks.
Image © Berlin Food Stories
Germany's capital is easily one of the most LGBTQ+ friendly cities in Europe. Find out why on this comprehensive tour, which explores the historic streets of the gay district, Schöneberg and Kreuzberg revealing stories about the criminalisation of homosexuality, an openly gay Nazi officer and Berlin's oldest gay bar.
Image © Original Berlin Walks
Any muso worth their weight in salt would undoubtedly find themselves in the German capital in the wake of David Bowie and Iggy Pop. So don't miss the chance to poke your head into the studio in West Berlin where the pair recorded, amongst many other renowned acts. Due to it being a working studio still, they can't guarantee entry everywhere, but you'll still get a good ganders at both the old and the new bits of the building.
Image © Hansa Studio
Forget the galleries and take to the streets to discover Berlin's wealth of urban art. Your guide – an artist themselves – will discuss the the origins of this artform as you walk, revealing secret codes of conduct between the artists and the political messages behind certain pieces. Then head to an abandoned factory to try out your own graffiti.
Image © Alternative Berlin Tours
Various public tours of Berlin's parliamentary institution, the Bundestag can be booked when parliament isn't in session. You can explore art, architecture and history of the impressive and iconic old Reichstag building, as well as the more modern Paul Löbe and Jakob Kaiser buildings next door.
Image © Wolfgang Pehlemann
If you're not one for cramming in as much sightseeing as possible when you're on holiday, then Slow Travel Berlin is for you. These tours take in the best in the best of Berlin's history, architecture, literature and art at a leisurely pace. Tours range from walking the Berlin Wall to strolling around art galleries.
Image © Slow Travel Berlin
Put your money away, you won't be needing that where they're going. At least, not if you're following one of the Berlin Free Tour guides, who venture out come rain or shine to show willing walkers a 'best of' glimpse of Berlin. This includes the Wall, Checkpoint Charlie, Brandenburg Gate and the site of Hitler's Bunker.
Image © New Europe Tours
Check out the best attractions in Berlin
Make the most of your Berlin days out from the best sights down to the Currywurst Museum.