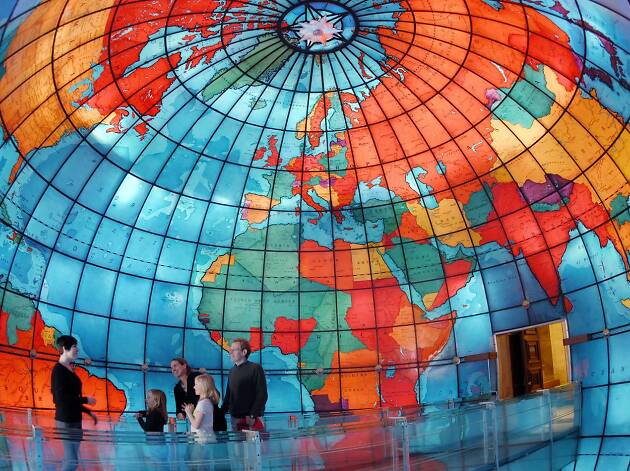 Here's proof that Boston really is at the centre of the universe, or at least the world. The Mapparium—the world's largest walk-in globe—is among the city's quirkiest landmarks. Located at the Mary Baker Eddy Library in the Christian Science Plaza, it is, essentially, a three-story model of the globe built to scale. The perfect sphere runs 30 feet in diameter, traversed by way of the glass bridge that bisects its interior. It's a somewhat eccentric proposition in itself, but several unusual features up the oddball quotient considerably.

For one thing, there are the weird acoustics. Sound bounces off the globe room's non-porous glass walls, amplifying it tenfold. The effect is pleasantly hallucinatory—whispers across the room register directly in your ear. Another idiosyncratic feature is the map itself. Instead of depicting the world's current geography, the 608 stained-glass panels recreate the planet as it was in the mid 1930s, when the project was completed. Most of the borders are outdated; several of the countries shown have long since been swallowed up by larger, hungrier, hardier entities. It is, as the piped-in voice overhead reminds us, "a world that no longer exists."

Built in 1935 for the then-astronomical sum of $35,000, the Mapparium was originally conceived as a symbol of the Christian Science Monitor's global audience. Its creator, Boston-based architect Chester Lindsay Churchill, designed the rest of the library as well. Ironically, it's the map's obsolescence that gives it a new and unexpected relevance today. Over the years, as its geography has grown increasingly antiquated, the map has become a gentle reminder that boundaries, and the powers that dictate them, are in a state of constant flux. There's a lesson here for every Ozymandias.

Despite its geographical nostalgia, the Mapparium has made a few concessions to the 21st century. Decades spent on display had taken their toll, so in 1998 the library embarked on a four-year plan to restore and enhance its original lustre. Today, a number of technological improvements breathe new life into the old globe. A proper lighting system, capable of generating 16 million colour combinations, invigorates the map panels without overwhelming them, and a multimedia presentation, "A World of Ideas," has also been installed. Don't be put off by its New Agey title—at seven minutes, the show is brief as well as totally doctrine-free. The map itself, though, remains unchanged. Though it could easily have become just another kitschy relic, the enigmatic globe is still surprisingly dignified. As the Mapparium's admirers know, standing in the centre of world is an uplifting, if slightly surreal, experience.
Venue name:
The Mapparium at the Mary Baker Eddy Library
Contact:
Address:
200 Massachusetts Avenue
Boston


Cross street:
at Clearway Street
Opening hours:
10am-4pm Tue-Sun
Price:
$6; $4 reductions; free under-6s