Guide to Boston public transportation
How to get around by bus, rail, taxi, car and bike in Boston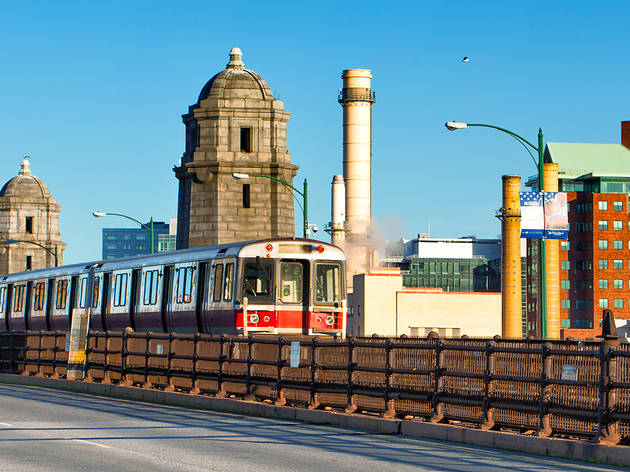 Local public transportation is run by the Massachusetts Bay Transport Authority (MBTA) and consists of the subway system (known as the T), commuter rail, buses and ferries.

In 2007, the T and buses converted to a new fare system based on plastic CharlieCards and paper CharlieTickets. Fares are slightly cheaper with a CharlieCard. Ask at the ticket windows at Back Bay, Harvard, Downtown Crossing, North Station or South Station, or order one on MBTA's website. The cards can be topped up at stations. Alternatively, LinkPasses for one day (at $9, not a great deal), one week ($15) or one month ($59) can be used on the T, local buses, ferries across Boston Harbor and local commuter rail. Passes can be bought from fare vending machines at airport terminals and T stations. Up to two children aged 11 or under can ride for free when accompanied by a paying adult.
Subway
Boston's T was America's first subway, and is easy to use, efficient and cheap, though delays often cause grumbles. Rides cost $2 with a CharlieTicket, or $1.70 using a CharlieCard. Transfers between subway lines are free, but transfers from subways to buses are only free with a CharlieCard. Trains run from 5.15am to 12.30am Mon–Sat and from 6am to 12.30am on Sundays. Free T maps are available from the larger stations.

Although the two Silver Line routes appear on subway maps, they actually use buses. Silver Line Waterfront serves the airport, South Station and the South Boston Waterfront. Silver Line Washington Street serves Downtown Crossing, Washington Street and Dudley Square in Roxbury, and charges a local bus fare.

Not many people know that each branch color was chosen to reflect a characteristic of the area the line covers. The Green Line, for example, was named in honor of the Emerald Necklace, the chain of parks that links Boston and the western suburbs.
Buses
The MBTA runs around 175 bus routes in Boston and the suburbs. The flat fare is $1.50 if you use a CharlieTicket or pay cash on board, or $1.25 if you use a CharlieCard. Express buses are $2.80–$4. Transfers to the subway are discounted if you use a CharlieCard, and bus-to-bus transfers are free with a CharlieTicket or CharlieCard. If you overpay in cash, you'll get a CharlieTicket with the change on it.

Routes and timetables are available from major T stations or the MBTA central office (10 Park Plaza, 120 Boylston Street); they're also here. The busiest bus routes run from 5.30am to 1am daily.
Rail
Boston has three main train stations: South Station, North Station and Back Bay Station. The MBTA Commuter Rail runs from North Station and South Station, serving the Greater Boston area and Massachusetts, as far away as Providence, Rhode Island; fares range from $1.70 to $7.75 a trip. Tickets can be bought on the train, but it's cheaper to buy them at the station.
Taxis
Taxis can be hailed at any time of day or night, although it becomes difficult after 1am. Taxi ranks can be found near major hotels, big train stations and in Harvard Square in Cambridge. Call ahead for wheelchair-accessible vehicles or vans (for the latter, there may be a surcharge). Normal meter fares cost $2.60 for the first eighth of a mile, then 40¢ for each seventh of a mile. If you have a complaint about a taxi, or to report lost property, phone the police department's Hackney Carriage Unit at 617-343-4475.

The following taxi companies offer a 24-hour service. Most accept major credit cards, but it's always best to phone to check first.

Bay State Taxi 617-566-5000
Independent Taxi Operators Association 617-426-8700
Metrocab 617-782-5500
Town Taxi 617-536-5000
Getting around by yourself
Thanks to the Big Dig project, driving in Boston isn't the purgatory it used to be. But traffic can still be painfully slow, and tempers often fray. The speed limit on many major highways is 55mph, going up to 65mph on sections of the Mass Pike. Elsewhere in Boston, speed limits range from 20 to 50mph. State law requires seat belts to be worn.

The American Automobile Association (AAA) provides maps and other information, free if you're a member or belong to an affiliated organization such as the British AA. It also offers a 24-hour breakdown service (except on the privately run Mass Pike, which has its own patrol cars to aid breakdowns). The Boston office (125 High Street, Downtown, 617-443-9300) is open 9am–5pm Mon–Fri.

To rent a car, you'll need a credit card and a driver's license (British licenses are valid, but those from non-English-speaking countries may need to be accompanied by an International Driving Permit). Few firms will rent to under-25s. Rental rarely includes insurance. We recommend the following companies:

Alamo 877-222-9075
Avis 800-331-1212
Budget 800-527-0700
Dollar 800-800-3665
Hertz 800-654-3131
National 877-222-9058

Note that despite the city's ample public transportation, Bostonians still have that American love of cars; traffic congestion is dreadful, and parking spaces rare. Boston's two main car parks are under Boston Common (entrance on Charles Street, directly opposite the Public Garden, 617-954-2098) and under the Prudential Center (800 Boylston Street, Back Bay, 617-236-3060).
Boston was once consistently rated one of the worst cities in America for bikers by cycling magazines, but some newly designated bike lanes have made things much better. Overall, however, the roads are often narrow and hilly and drivers are still getting accustomed to sharing the road. Cambridge is a bit better, but we recommend that all but the most hardened urban cyclists should stick to special bike trails such as the Paul Dudley White Charles River Bike Path and the Minuteman Bikeway.
Boston is not called "America's Walking City" for nothing. You can easily cover the city centre on foot, and walking through the different neighborhoods is a pleasurable way to explore them.