Heads up! We're working hard to be accurate – but these are unusual times, so please always check before heading out.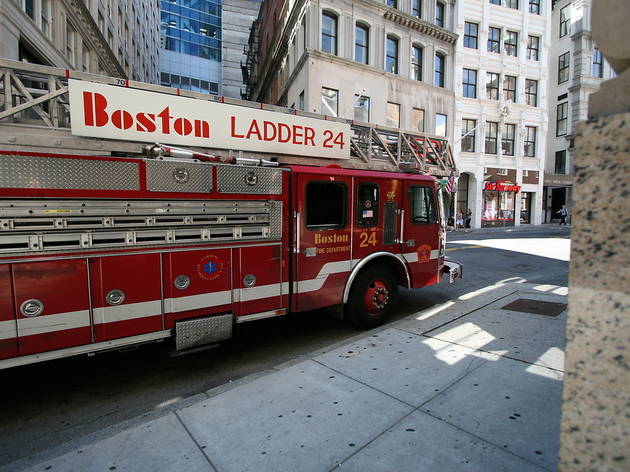 Health, emergencies and disabled access in Boston
How to stay happy, healthy and mobile in Boston—plus information on disabled-access facilities
For all emergency services, dial 911. The call is toll free from any payphone. The following hospitals have 24hr emergency rooms:

Brigham & Women's Hospital
75 Francis Street, between Huntington & Brookline Avenues, Brookline (617-732-5500, 617-732-5636, 800-294-9999). Brigham Circle or Longwood T.

Children's Hospital
300 Longwood Avenue, at Binney Street, Brookline (617-355-6000, 617-355-6611). Longwood or Brigham Circle T.

Floating Hospital for Children
755 Washington Street, Downtown (617-636-5000). Tufts Medical Center T.

Massachusetts General Hospital (MGH)
55 Fruit Street, at Cambridge Street, West End (617-726-2000). Charles/MGH T.

Mount Auburn Hospital
330 Mount Auburn Street, at Memorial Drive, Cambridge (617-492-3500, 800-322-6728). Harvard T.

Tufts Medical Center
800 Washington Street, Downtown (617-636-5000). Tufts Medical Center T.

NOTE: Foreign visitors should ensure they have full travel insurance, as treatment can be costly. Contact the emergency number on your insurance policy before seeking treatment, and you'll be directed to a hospital that deals directly with your insurance company.
Dental Referral Service
800-511-8663. Open 24hrs daily.

Massachusetts Dental Society
508-480-9797, 800-342-8747.

Tufts Dental School
617-636-6791. 1 Kneeland Street, at Washington Street, South End. Chinatown T. Open Emergency walk-in clinic 9am–noon, 1–4pm, 4.30–7pm Mon–Fri.
Boston is generally well equipped for disabled travelers. Hotels must provide accessible rooms; museums and street curbs have ramps; and MBTA buses and certain subways are wheelchair-accessible. That said, it's always best to phone the venues first to double-check facilities and accessibility. Transportation Access Passes (TAP), entitling disabled passengers to reduced fares on public transport, are available for free from the MBTA Office for Transportation Access in Back Bay (617-222-5976). Applications for passes must be completed by a licensed healthcare professional. The office also supplies a map that shows disabled access points to the T.

For information on access to more than 200 local arts and entertainment facilities contact VSA Arts (617-350-7713). Airport Accessible Van (617-561-1769) runs a service for disabled people between the airport and the Airport T stop. Call for details. The Massachusetts Office on Disability (617-727-7440, 800-322-2020) provides information on rights enforcement and building access.
AIDS Hotline
800-235-2331. Open 9am–9pm Mon–Thu; 9am–7.30pm Fri.
Advice on emotional issues, testing and insurance, as well as referrals for legal and financial advice.

Alcoholics Anonymous
617-426-9444. Open 9am–9pm Mon–Fri; 1–9pm Sat, Sun.

Child-at-Risk Hotline
800-792-5200. Open 24hrs daily.

Drug & Alcohol Hotline
800-327-5050. Open 24hrs daily.

Fenway Community Health
1340 Boylston Street (617-267-0900, 888-242-0900). Fenway or Kenmore T. Open 8am–8pm Mon–Fri.
The clinic offers HIV, hepatitis and STD testing and services.

Planned Parenthood Greater Boston Health Center
1055 Commonwealth Avenue, at Alcorn Street (617-616-1617). Babcock St T.

Rape Crisis
617-492-8306, 800-841-8371. Open 24hrs daily.

Samaritans
617-247-0220, 877-870-4673. Open 24hrs daily.
Several branches of chain CVS are open 24 hours. The store at 587 Boylston Street, at Dartmouth Street (617-437-8414) also offers photo developing services.
Boston is one of the safest cities in the United States. However, as in any big city, it's wise to take basic precautions. Don't fumble with your map or wallet in public, and always plan where you're going and walk with brisk confidence. Avoid walking alone at night, and don't park in questionable areas of town (if in doubt, use valet parking when you can). Always keep your car doors locked when parked and while driving.

Central Boston is generally well lit, but pedestrians should probably avoid Boston Common, the Public Garden and the walkways along the Charles River after dark. Although the old red-light district, the Combat Zone, is all but gone bar a couple of clubs, the section of Washington Street between Avery and Stuart Streets still has a slightly rough edge after night falls. As on all urban mass transit systems, don't flash your mobile phones or other valuables on the MBTA. Women should exercise the usual precautions; real threats are rare, though one common nuisance is the loutish frat boys roaming the streets after the bars close.