The 13 best things to do in Boulder
Looking to take in some natural wonder or top class dining? Look no further than the 13 best things to do in Boulder.
Hugging the line between mountains and plains, Denver's neighbor to the north is one part outdoor haven, one part college town, and one part posh dining and entertainment mecca. With unrivaled access to trails, canyons and foothills, there's a hike or bike ride out the back door for every type of adventurer, and a cold microbrew or farm-to-table restaurants at the end of every trail. Though the town has ballooned in recent years with an influx of retail and tech (ahem, shiny new Google campus), the quirky "old Boulder" vibe is still alive and well if you know where to look. Here are 13 ways to while away the time in Boulder.
Done something on this list and loved it? Share it with the hashtag #TimeOutDoList and tag @TimeOutEverywhere.
Find out more about how Time Out selects the very best things to do all over the world.
Best things to do in Boulder
1
Michelle P., Yelp.com
What is it? Probably the most iconic sight in Boulder, these rock formations jut picturesquely into the sky, their craggy stone faces and wooded trails standing sentinel over the town.
Why go: Whether hiking or climbing, conquering the Flatirons affords spectacular views of the Continental Divide. Start in historic Chautauqua Park, take the Chautauqua Trail, and follow signs for 1st/2nd Flatirons. Feeling ambitious? Take the Royal Arch Trail off of Bluebell Road Trail to get your sweat on (really on).
2
Christina N., Yelp.com
What is it? The charming pedestrian thoroughfare stretches four blocks along Pearl Street from 11th to 15th street, but the buzzy vibe from the retail and restaurant scene extends several blocks in either direction.
Why go: Boutiques. Cafes. Coffee shops. Galleries. Trinkets. Cocktails. Food carts. Artisan kiosks. Fountains in the summer. Tulips in the spring. People watching year-round. And, always, the street performers. Look for the famous zip-code guy, the folds-himself-in-a-box guy, various fire-breathing daredevils, and, of course, the wandering minstrels.
3
Shannon J., Yelp.com
Boulder Dushanbe Teahouse
What is it? Dushanbe is the capital of Tajikistan and a sister city to Boulder, and the teahouse, handcrafted by dozens of artisans in Tajikistan, is a gift from their people as a symbol of the cities' friendship.
Why go: You can lunch or brunch, but the internationally inspired tea-time menu is perfect for noshing on small plates. Check out the intricately carved and painted ceiling and the Fountain of the Seven Beauties while you dine.
4
Brittany S., Yelp.com
Boulder County Farmers Market
What is it? Farm-fresh fruits and veggies, artisan baked goods, handcrafted cheeses, honey from local bees, tasty food trucks… you get the (delicious) picture. Find it downtown every Saturday (8am to 2pm, April through November) and Wednesday (4pm to 8pm, May to October).
Why go: It's a vibrant social scene where you know your purchase is supporting local farms, ranchers, and families—and even if you can't take home a haul… sample, sample, sample.
5
What is it? This scenic 70-foot cascade of mountain runoff tumbles down some cliffs in Boulder Canyon about 11 miles west of town.
Why go: The falls are finally open again after a five-year hiatus following severe flood damage in 2013. The dirt trail, just a tenth of a mile, is now wider with more safety features (think: retaining walls to keep rocks from falling onto the trail) and rated "easy," making the view at the end more than worth it.
6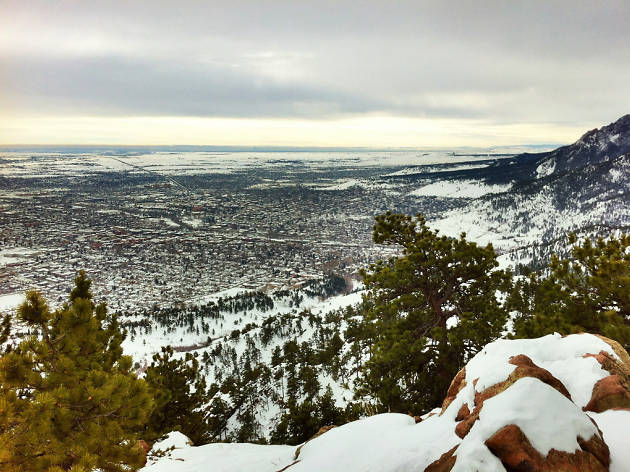 TranceMist, Flickr.com
What is it? The trail system just slightly northwest of downtown includes several routes that connect to form a very manageable loop hike that'll last anywhere from a couple hours (hey, trail runners!) to a half day.
Why go: There's a little something for everyone: Follow the steep and wooded Mount Sanitas Trail to the summit; enjoy a breathtaking view of Boulder below; and take a breezy jaunt down wide-open Sanitas Valley Trail on the other side.
7
Boulder Beer, Yelp.com
What is it? With 20-something breweries, half a dozen distilleries and four wineries, Boulder's got small-batch booze on practically every corner, forming a "trail" with plenty of suggested tasting routes.
Why go: Craft beer is pretty much considered nectar of the gods around here. You might even hear this region referred to as the "Napa Valley of Beer." A stretch? Maybe. But you can hop on the trail—consider biking or using Boulder's handy bus system—to see for yourself.
8
What is it? Yep, the factory that makes the tea in your cupboard is right here in Boulder, and you can see where the magic happens on a 45-minute tour.
Why go: Who doesn't want to know where their food comes from? From the raw ingredients to the blending and packaging, the free tour walks you through the whole process. (Fun fact: the factory's address is on Sleepytime Drive, named after their famous chamomile bend.)
9
Trident Booksellers & Cafe
Trident Booksellers & Cafe
What is it? The oldest coffeehouse in Boulder began as a Buddhist bookstore in 1979, and today draws an eclectic and loyal crowd at the quirky used-books-slash-coffee-bar space.
Why go: Because it's not Starbucks, or Ink, or anything except a hallmark of old-school Boulder (in a good way). Order the Bhakti chai, grab a seat (it's community-style, so just ask to squeeze in if it's crowded), and settle in for some of the best people-watching in town
10
St. Julien Hotel & Spa
What is it? The most posh hotel in town offers three elegant dining venues and an awesome spa sanctuary to soothe those mountain-weary muscles.
Why go: With killer views of the Flatirons to the southwest, you can't go wrong with cocktails on the hotel's RedGarden Terrace while you watch the sun dip below the peaks. If getting pampered indoors is more your style, splurge for a spa treatment that uses herbs right from the St Julien's own garden. It's so delightfully Boulder.
11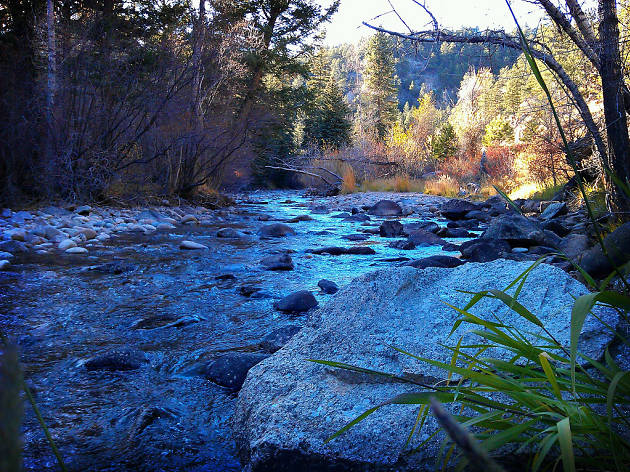 S. Gordon Bram, Flickr.com
What is it? This lovely paved path follows Boulder Creek for 5.5 miles from Eben G. Fine Park in Boulder Canyon through town to the grasslands east of Boulder, meandering through many points of interest and picnic spots along the way.
Why go: Run it, bike it, stroll it, or, in summer, find yourself an inner tube and use it to access the creek and float through town. The path makes things like Boulder's annual "Tube To Work Day" (yes, really) possible.
12
Richie W., Yelp.com
What is it? Boulder's oldest restaurant, an institution since 1923 in the College Hill neighborhood that caters to the university crowd, serves some of the city's best burgers (order the Sinkburger) and pizza with a side of nostalgia.
Why go: Any place that counts former president Barack Obama, Madeleine Albright, and celebrity chef Anthony Bourdain (R.I.P.) as patrons is a must-try establishment. Did we mention Robert Redford was a janitor there in 1955?
13
Boulder Theater, Yelp.com
What is it? More than 110 years old, Boulder's most storied music and entertainment venue off the Pearl Street Mall has a colorful history of hosting film screenings, big-name acts and local talent.
Why go: Catching a show (think Béla Fleck & the Flecktones and Amos Lee) or a movie event (the theater is home to the Boulder International, Banff and Boulder Adventure film festivals) at the art deco landmark is a great way to soak up some Boulder heritage and nightlife.
Grab a seat at the hottest reservations in town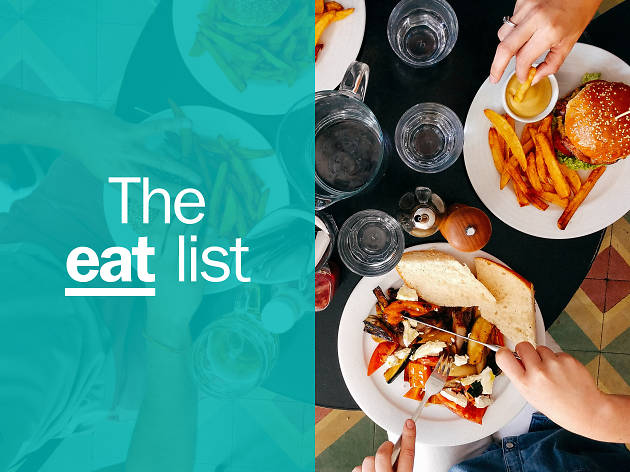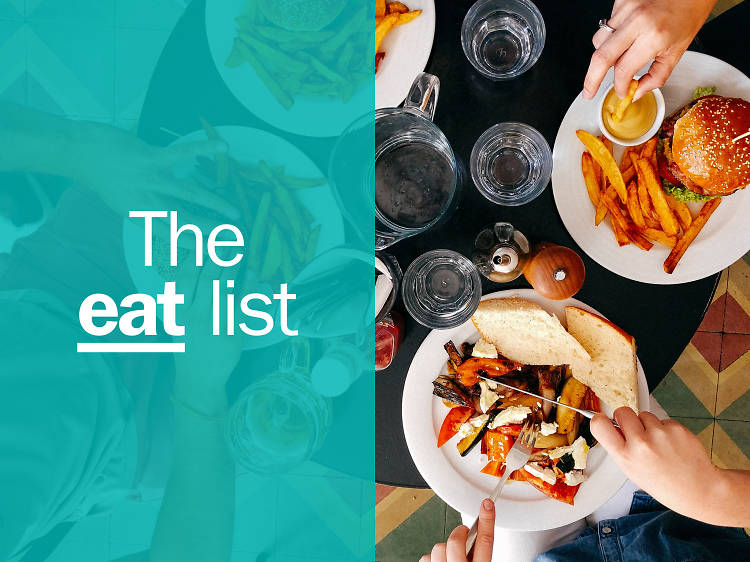 If Boulder is best known for its out-the-back-door access to all things bike, hike, and mountain, a close second is its burgeoning upscale culinary scene. Enjoy inventive farm-to-table meals, whether served as a five-course artisan tasting menu or a juicy grass-fed burger and a microbrew. Dig in at 10 of the best