Amex Eats: Curries that Brisbane spice fans need to try
To warm a winter's night or cool down in the heat, it's never a bad time for a curry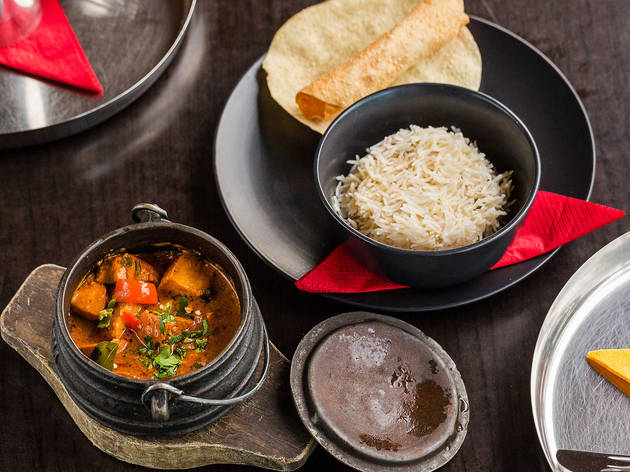 The spice is right at these Brisbane restaurants, where Indian, Thai, Japanese, Vietnamese, Malaysian and even Hawaiian curries are amping up the heat. Super-delicious dining awaits at venues right across town – and when it comes to settling the bill, you can pay in confidence knowing these places welcome American Express.
Any list of great curries in Brisbane isn't complete without a mention of Longtime, Fortitude Valley's temple to modern Thai. A vegan-friendly bowl of Thai-style green curry comes filled with braised cauliflower florets and a thicket of crunchy-to-the-tooth, fried green papaya garnished with splashes of coconut cream, kaffir lime, and a sweet sprinkle of palm sugar offsetting this sublime curry's savoury heat in a most pleasurable way.
Order via iPad, the latest accessory at every Taro's table, and before you know it a vast bowl of chicken karaage curry appears. Typically thick and sweet, the Japanese-style curry comes with a half bowl of pearlescent rice topped with pickled radish and juicy, tooth-tender karaage chicken, best eaten dunked until thoroughly dampened with curry gravy.
What else would one order when visiting this shrine of Indian Cuisine, owned by a Punjabi family, than the proudly named Punjabi Delight? And a delight it is, a mild curry with lamb carefully trimmed, cubed and slowly cooked until tender, with crescents of cashew and sultanas in a creamy tomato sauce. It's as comforting as a long and loving embrace.
Say aloha to Damon Amos's nod to Hawaiian curry. Amos's spin comes laced with lime leaf, chilli, ginger, pineapple, sweet potato, lychee, coconut ribbons and translucent coconut water gel in a deliciously sweet, heat-punched coconut curry sauce. This vegan-friendly curry is garnished with a shower of petals.
Get a kilo of Kinkawookas into ya at the Story. These plump, briny mussels with pale terracotta flesh have been plucked from the waters of SA's Boston Bay. One kilo is not for the faint hearted: we counted 40 with shells gaping revealing the exquisite bounty inside. A sweet, warm red curry coconut broth is perfect foil to the breath-of-the-sea each mussel gives, and wedges of toasted sourdough soaks up all the soupy goodness too.
Peerapol and Patama Dechphant have held the keys to Thai Ayuthaya, Chermside for 21 years, and the Kelvin Grove restaurant for eight. It's at Kelvin Grove we find a fine version of Thai green chicken curry. Arriving from the kitchen rated medium on our heat-o-meter, Ayuthaya's coconut milk curry sauce is filled with mallet-flattened chicken, flecks of red chilli, decoratively peeled cucumber, kaffir lime, Thai basil, bamboo shoots and crisp green beans.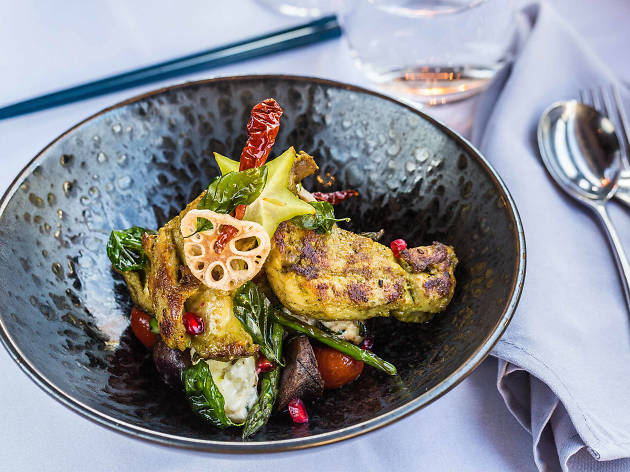 Photograph: Supplied
Cari of grilled spring chicken at the Balfour Kitchen, $65 (part of 2 course menu).
It's a tussle to decide which is the hero of this warmly fragrant dish. Is it the succulent baby chicken, first brined then marinated in pounded lemongrass, coriander root, chilli, coconut and turmeric leaving its golden hue? Or tiny cauliflower florets and purple Congo potato cooked in a
Vietnamese-style curry, alive with tangy lime and tamarind tempered with coconut? Cherry tomatoes bursting-sweet and a crisp herb garnish complete the dish, allowing it to sing a beautiful, harmonious tune.
Take a trip to Curryville and try the crew's fab version of chicken tikka masala, which they boast has no less than 72 ingredients. It's a delightful, medium spiced, saucy curry served generously loaded with pieces of tender chicken breast and soft crescents of sweet onion.
Thin, meltingly tender slices of duck breast make this curry a winner. It's a saucy, medium-hot red curry with capsicum, cherry tomatoes, whole red grapes and coils of sweet pineapple flesh, alive with liquoricy and aniseedy basil undertones. Try replicating the dish at home with house-approved Maesri brand red curry paste and other essential ingredients sold at the counter.
Mehfil CBD is one of three Mehfil locations, and where you'll find chef Promod and chef Aman deftly turning out saucy little gems like their house specialty, goat curry. Sweet goat meat is slow-cooked on the bone until fall-apart-tender and coated in tomato laced, russet hued curry sauce with black cardamom, fenugreek and warming green chilli. Chilli fiends can dial up the heat and order the curry cooked to their liking.
Explore the many ways American Express has your back