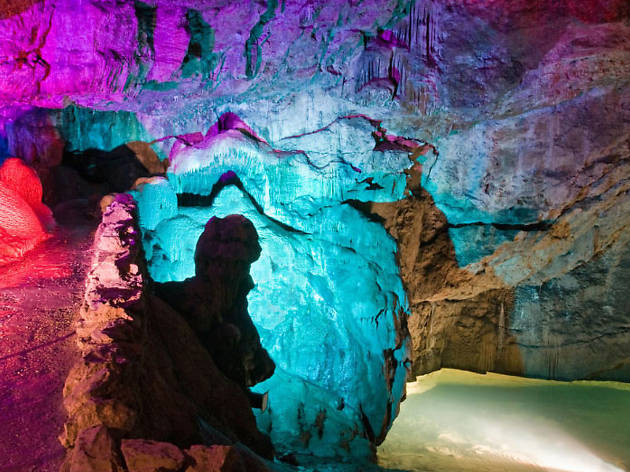 Time Out says
Britain's most breathtaking natural caves and a pier-load of seemingly random, but no less entertaining, attractions can be found just 20 miles outside Bristol
The multiple limestone caves that make up Wookey Hole have been a source of fascination and intrigue for hundreds, if not thousands, of years. From prehistoric cavemen and pagan druids, to Victorian explorers and excitable modern-day schoolchildren, the caves and the River Axe that mysteriously flows from them have caught the imagination of generation upon generation of visitors.
The caves themselves are stunning, with the stalagmites, stalactites and natural lakes within them beautifully lit up and guides delight in filling you in with details of some of the many histories, mysteries and tall tales that have been ascribed to the place for hundreds of years.
Famous legend has it that a witch once lived here, who was turned to stone by a visiting monk, and the stalctite said to be her petrified body can be seen in the chamber known as 'The Witch's Kitchen'. The 'Cathedral Cave', meanwhile, has a notable history all of its own, and is regarded as the birthplace of cave diving in the UK.
However, there's a lot more to this place than just the caves – Wookey Hole is a proper English tourist attraction, with a whole host of seemingly random, almost pier-side attractions attached to it. From a mirror maze and pirate adventure golf, to a Victorian penny arcade, fairy garden and the frankly bonkers 'King Kong and the Valley of the Dinosaurs' featuring models of over 20 life size dinosaurs, Wookey Hole seems to be determined to cover all possible bases when it comes to attractions.
All this is obviously great news for anyone with a pack of kids in tow, but don't be put off if it all sounds a little strange – this a uniquely West Country experience, and the caves themselves are a genuinely awe inspiring sight.
Details
Users say