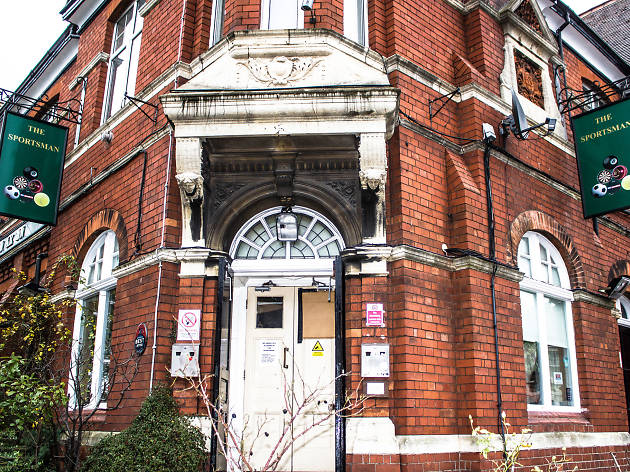 Sports-centric pub with a rabbit warren of rooms and seating areas. The drinks rage is limited, but the pizzas are incredible
Even if you disregard its adjacent sister venue, The Annexe – a smaller, real-ale focused outlet located a few steps across the smoking yard – The Sportsman is still one of the biggest pubs in Bristol.
When you first approach the building from Gloucester Road, you get a sense of its size. Even then, it has a Tardis-like quality, feeling even roomier on the inside than it looks on the outside. It's easy to lose count of the various interlinked rooms and seating areas, and it took us several visits before we realised there was also a converted loft space.
The Sportsman certainly needs all of those rooms. For starters, the pub boasts an astonishing 11 pool tables (the pub has no less than three pool teams), three championship-style dartboards (with electronic scoring units for those who are bad at maths) and a slew of lockers for patrons to keep their cues in.
The rest of the pub is something of a shrine to TV sports, with a multitude of big screen televisions and seating areas designed to give patrons a great view of the action. It's no surprise, then, that it gets very busy when there are big matches on the box, particularly England football and rugby union games. The pub's proximity to Gloucestershire County Cricket Club's Nevil Road ground also guarantees a lively atmosphere on match days.
The drinks range is relatively limited – if you're looking for ale, you need to take a short stroll to The Annexe next door – but the pub's pizzas are legendary. They're cheap, delicious and incredibly popular with patrons. It's almost worth booking in a visit just to try one.
Venue name:
The Sportsman
Contact:
Address:
Nevil Road
Bristol
BS7 9EQ

Opening hours:
Mon-Sat 11.30am-11pm; Sun noon-10.30pm