A night out in Bristol has a lot going for it, but some might argue the city's nightlife isn't what it once was.
Clubs and venues have always come and gone, but that doesn't ease the disappointment when a musical mecca closes its doors for good.
Here are 12 long-gone venues that deserve never to be forgotten:
The Croft
Flickr: Paul Townsend
The Croft helped to promote rising and established talent for 11 glorious years, as well as hosting the legendary Dubloaded parties that were instrumental in the rise of the city's dubstep scene, before its closure in 2013.
The team behind the venue went on to open The Exchange in Old Market, but needless to say Stokes Croft still smarts from the venue's disappearance, even if its new life, as The Crofters Rights, means steps are slowly being made to bring music back to its dark rear room.
The Dug Out
The Dug Out is often talked about as one of Bristol's all-time greats: a club that encouraged a whole new culture to develop that would go on to define Bristol to many across the globe.
Situated on Park Row, it hosted performances from world renowned DJs, alongside resident selectors The Wild Bunch – who eventually become Massive Attack after the club's closure in 1986.
The Dug Out is now unrecognisable as Surakhan, a Korean restaurant that claims to be the first in Bristol.
Tiffanys
Originally launched in the 1960s and re-opened for a short stint in the '80s, Tiffanys was found on The Glen, near Durdham Downs.
It was a haven for dancing and a champion of multiple music genres, giving attendees a great night out for three whole decades. Today, the Spire private hospital is on the site where the club once stood.
The Junction
Another loved and lost Stokes Croft punk rock bar, The Junction was an early Noughties venue that celebrated local noise makers and trend setters alike. Organisers even released a series of compilations supporting Bristol talent, cementing the venue's importance on the local scene.
In its place, you'll now find No.51, known for its pizzas, live music and DJs.
The Cooler
Forty Eight
Loved for its low-key décor as much as its penchant for indie rock and pop classics, The Cooler on Park Street was best known for its long running weekend endeavour, Klub Kute.
However, it also hosted some awesome gigs, including performances from Dan Le Sac, Scroobius Pip, The XX, Wax Fang and Marina and the Diamonds.
In its place today is Forty Eight, a student-orientated venue playing more commercial tunes.
St Bonaventure's
Google Maps
A Catholic social club in Bishopston was the unlikely setting for some of the best country and folk bands performing in Bristol in the Noughties.
St Bonaventure's hosted gigs from touring acts and up-and-coming stars alike – all under the watchful eye of a wooden crucifix.
With CRH Music promoter Hans Chew at the helm, St Bonaventure's launched in 2002 and went on to provide a roof for Justin Townes Earle, Anais Mitchell and Caitlin Rose, plus many more.
Chew continues to promote in and around the Bristol area, most notably contributing to the Tunnels' bill.
Syndicate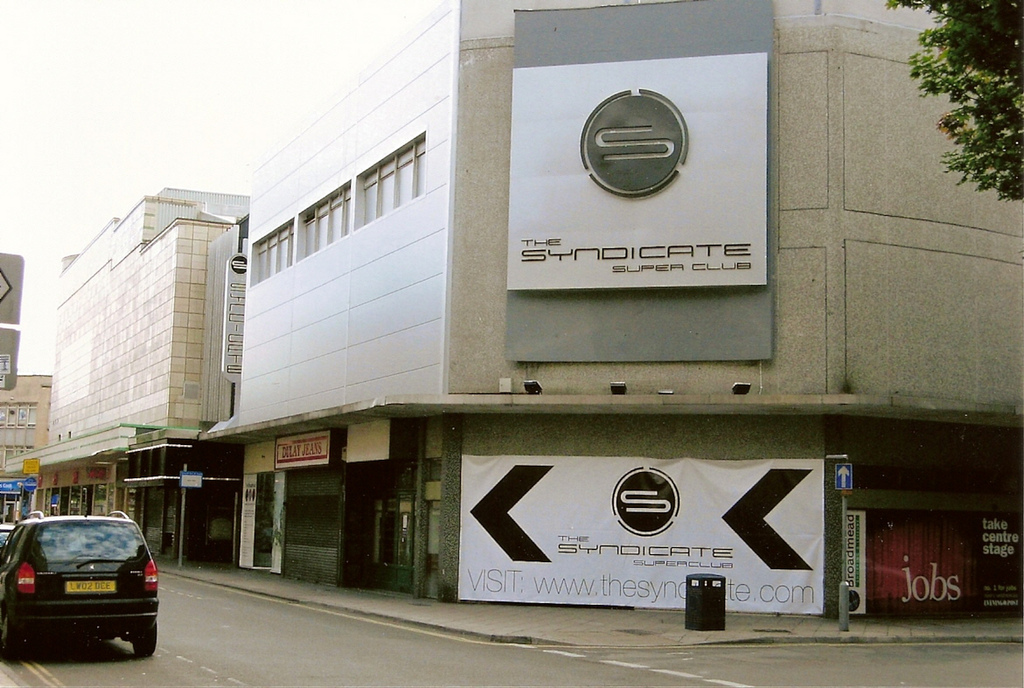 Flickr: Shrinkin'violet
Nightclub Syndicate shut its doors in August 2015 after a lengthy renovation process that seems to have gone sour. The jury is still out on what went wrong, but one thing's for sure: for its nine years in existence, Syndicate knew how to throw a cheesy party.
The Syndicate building has recently become the home for new music venture SWX, which opened September 2015.
The Birdcage
The Birdcage
Another venue subject to recent and mysterious closure, The Birdcage went as quickly as it came. Although it had a short life, it made a big impression on the local scene, hosting acoustic and electronic acts behind a barrage of vintage clothing, kitsch decoration and cake.
Birdcage's most admirable trait was its dedication to 'the music of tomorrow'. In its time it hosted performances from rising Bristol band Lionface, a rare Marika Hackman unplugged session, and young hopeful Sophie Jamieson.
Locarno/New Bristol Centre
A dance hall found on Frogmore Street; Locarno formed part of a huge complex called the New Bristol Centre, which also housed a cinema, ice rink, bowling lanes, a casino and more.
Multiple classic rock and psych bands performed at the venue, including Jimi Hendrix in 1967, David Bowie in 1972, and The Clash in 1983. The venue operated across four decades, from 1965 until it was shut in the 1990s.
The complex is now student accommodation and the location of the O2 Academy.
Alexander Club
Google Maps
The Alexander Club – better known as 'The Alex' to locals – offered a comfortable corner in the heart of Clifton, just off Victoria Square.
Although live music wasn't its primary function, The Alex still managed to make an impression on the local scene thanks to many open mic nights and sporadic acoustic performances. It operated throughout the late '60s and early '70s, until regeneration in the area forced it to close its doors.
The Alex is long gone, and Richmond Terrace is now home to the Clifton Wine Bar.
Crockers
Google Maps
Located on Cotham Hill, the official name of Crockers Refreshment Bar at No 33 was The Whiteladies Tavern.
Thriving during the swinging '60s, Crockers later embraced the local acoustic and hippy scenes. At one time exclusive to men, it didn't take long for women to infiltrate the club.
The Crockers building was home for The Hill pub for years, before becoming a Brewhouse & Kitchen in 2015.
The Granary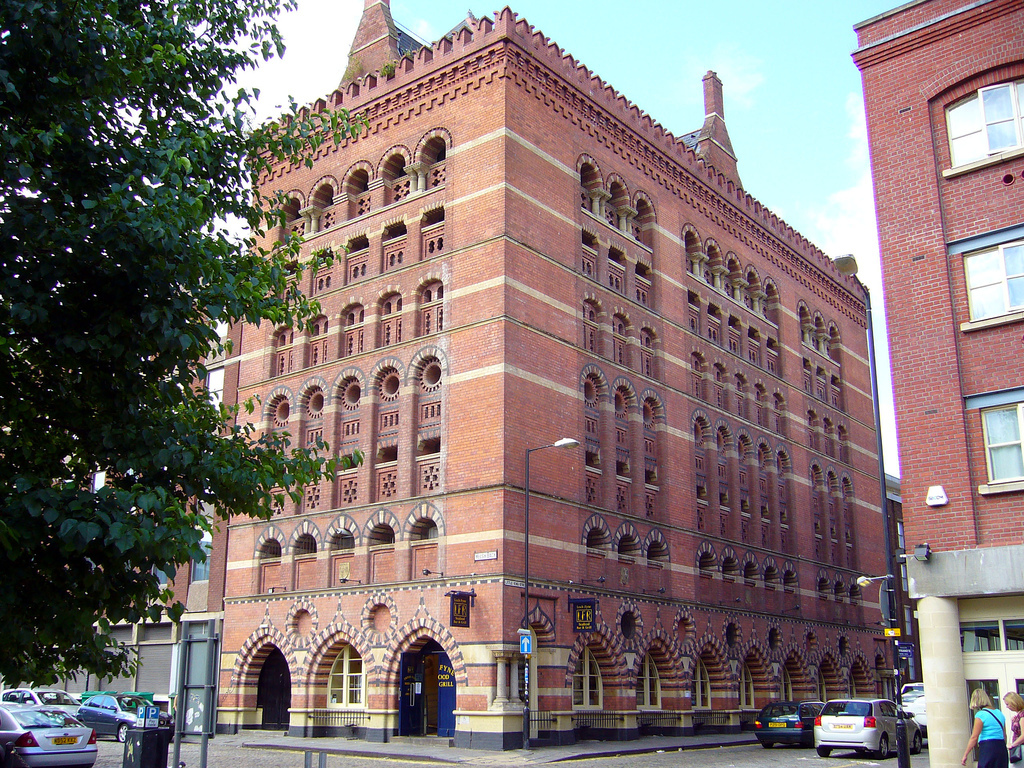 Flickr: Bellvue21
Named after the original use of the building it occupied, The Granary on Welsh Back functioned as a live music venue from 1968 until 1988, when it was converted into offices.
Well known across the city for its resounding contribution to Bristol's music heritage, The Granary hosted gigs from Yes, Genesis, Iron Maiden and Motorhead. Prior to its metal-filled years in the '80s, it was a jazz club operated by Ted Cowell and Acker Bilk.
The Granary is a listed building, which means it still stands in its original 1868 state in Bristol city centre.
Of course, Bristol's music history is long and vibrant, so there are plenty of other clubs that could be added to this list. Did we miss your favourite? Let us know!
See the current music and nightlife listings for Bristol.