Bristol is a city that's renowned for its independent traders, creative individuals and thriving food scene - and these all come together at the city's many regular markets. Here are a few of our favourites:
The Tobacco Factory Market on Bedminster's quirky North Street has around 40 stalls and promotes eco-friendly, local products.
You'll find great produce, tasty baked goods and a range of crafts from the Bristol area. Plus, for the vintage lovers, every first Sunday of the month there's an extended vintage market showcasing jewellery, clothing and homeware items at very reasonable prices.
The Tobacco Factory itself also has a great bar, and if you're feeling like a boozy Bristol Sunday afternoon you can work your way down North Street and visit some of the city's finest pubs.
Tobacco Factory Market, North Street, Every Sunday 10am-2.30pm.
Jen Walsh, Knots & Shots
As we all know, Stokes Croft is an eccentric haven for creative minds and independent traders in Bristol, and the Market at the Moon exemplifies all this.
Here, you'll find prints, handmade clothing and jewellery, as well as some delicious vegan or veggie bites. This market is great for carefully crafted items you won't find anywhere else.
Plus, you can sit in the pub's bustling garden and enjoy live music and a cold beer while the world of Stokes Croft whizzes by outside.
Market at the Moon, The Full Moon Bar, Stokes Croft, first Saturday of the month, midday-6pm.
Lily Doble
Bristol Flea Market is overflowing with all kinds of treasures, both beautiful and odd in equal measures. There's ornaments, records, books, furniture, old storage boxes and much more on offer. There's even the odd taxidermy item, if you look carefully enough...
There are around 150 stalls to peruse and you'll need a good couple of hours if you're going to take it all in. The markets are held at Ashton Gate (although these have been postponed temporarily during the ongoing plans for the stadium's development), as well as Corn Street. They are held twice a month and dates are available on the website.
Bristol Flea Market, Ashton Gate, Ashton Rd, Bristol BS3 2EJ and St Nicholas Market, Corn Street, Bristol, BS11UQ.
Harbourside Market
Right in the heart of Bristol is the Harbourside Market, which has recently expanded to include some exciting new traders including Bristol Skipchen, Elsie Belle and Wild Sage & Co.
In true Bristol fashion, the market aims to be sustainable and showcase the best local talents. Set in the gorgeous location of the Bristol Harbour there's more on offer than just the stalls – you can also take a leisurely stroll and see the waterside sights.
Harbourside Market, Harbourside, every Saturday and Sunday, 10am-4pm.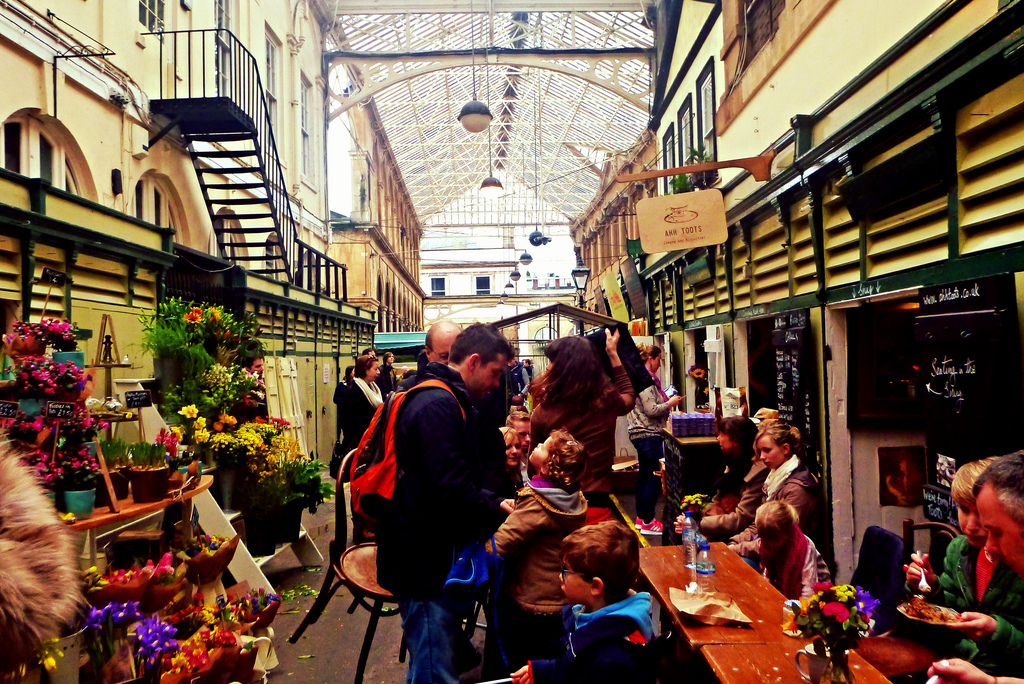 Flickr: LunaModule
Bristol's beloved St Nicks market can be found on Corn Street in The Old City and has the largest collection of independent retailers under one roof in Bristol.
Inside the market is a maze of stalls piled high with all sorts of items and in The Glass Arcade is a selection of some of Bristol's finest food vendors serving cuisines from around the world. The perfect place to get your shopping fix and have a spot of lunch.
St Nicholas Market, Corn Street, open every day, opening times vary.
If you're still on the search for some vintage treasures after all this, check out some of Bristol's best furniture shops.