Gigs in Bristol
Check out the best live music concerts and gigs in Bristol over the next few weeks and months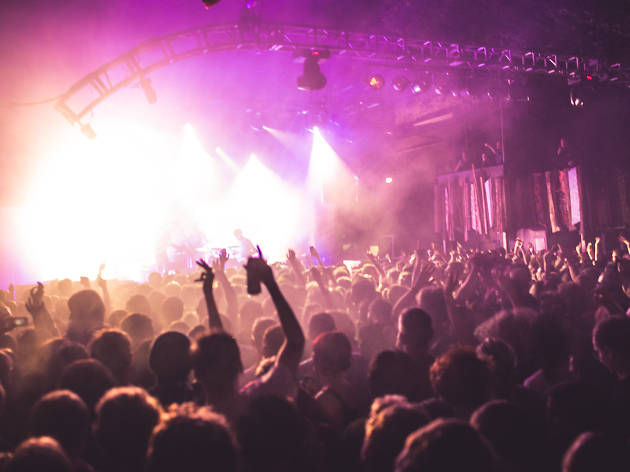 Few places in the UK - and beyond - can even begin to think about matching Bristol when it comes to live music and gigs. We've obviously got some seriously good live music venues and clubs but it's who's playing at them that really makes them what they are. Below, we've put together the gigs and live shows taking place at Bristol bars, clubs and music venues over the next month, so pick your poison and partake in some very pleasant aural entertainment.
Bristol gigs and concerts
Following The Great Escape, BBC Music Introducing showcases the talents of Ten Tonnes and ONR.
Read more
The London-based singer-songwriter and member of Slow Club performs his solo material.
Read more
The Australian virtuoso guitarist performs his jazz, rock, blues and country material from his five-decade career.
Read more
The American rock outfit performs in support of its seventh album, All At Once.
Read more
An evening of rock tunes from tops bands Terrorvision, Reef and The Wildhearts.
Read more
This New Zealand-based rock band is composed of singer, guitarist and songwriter Ruban Nielson and bassist Jake Portrait. Support comes from Makeness.
Read more
The London-based four-piece pays homage to the psychedelic and blues rock band from Los Angeles, California, known for flamboyant singer Jim Morrison and the hits Light My Fire and People Are Strange.
Read more
The singer and musician, best known as the lead singer and guitarist in the rock band The Moody Blues, performs songs from his new album, All The Way, as well as Moody Blues favourites.
Read more
The singer-songwriter from London performs his original indie material featuring emotional lyrics and stirring melodies.
Read more
Former Sex Pistols frontman and singer-songwriter John Lydon leads his experimental post-punk and new wave band.
Read more
The indie-Americana harmony trio hailing from Exeter perform original songs and a selection of better known covers.
Read more
The America father and son two-piece mix blues, country and rock in their original material.
Read more
The Grammy Award-winning R&B group is best known for their summer anthem Back To Life, featuring producer Jazzie B and vocalist Caron Wheeler.
Read more
The Bronxville-born, Nashville-based country music sensation brings her dark and honest material to the stage in a live performance.
Read more
Show more
The best pubs in Bristol