Gigs in Bristol
Check out the best live music concerts and gigs in Bristol over the next few weeks and months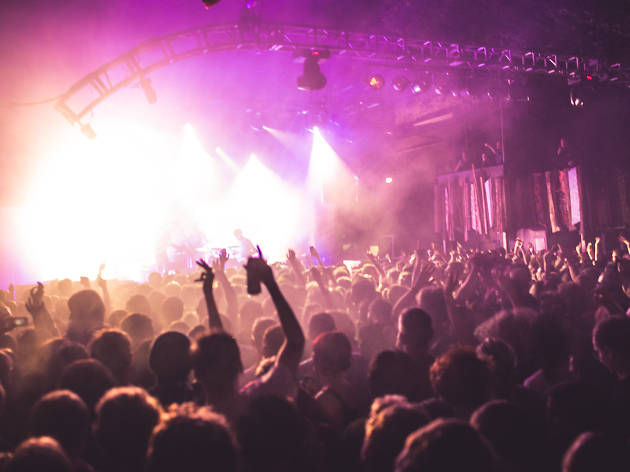 Few places in the UK - and beyond - can even begin to think about matching Bristol when it comes to live music and gigs. We've obviously got some seriously good live music venues and clubs but it's who's playing at them that really makes them what they are. Below, we've put together the gigs and live shows taking place at Bristol bars, clubs and music venues over the next month, so pick your poison and partake in some very pleasant aural entertainment.
Bristol gigs and concerts
The Chingford-based five-piece plays mod-influenced indie-rock from their forthcoming fifth album Big Life.
Read more
After first firing up their instruments back in the mid nineties, Hot 8 Brass Band have been been around for two decades, during which time they've established their infectious brass, hip-hop, jazz and funk-infused sound as one that is cherished across the globe.  Since their debut they've supported the likes of Mos Def, Lauryn Hill and Mary J Blige, performed in front of Wesley Snipes and Oprah Winfrey and stormed festivals including Glastonbury and Big Chill. Now they're taking to Colston Hall for a live show that will without doubt be some of the most fun you've ever had.
Read more
A performance by the soul and folk singer-songwriter from North London, plus guests.
Read more
The Brighton-born singer-songwriter performs her contemporary and traditional folk material.
Read more
The blues-rock guitarist hits the road in support of his latest album, Introvertigo.
Read more
The London-based six-piece collective embark on a tour, performing original folk compositions.
Read more
The four-piece from Liverpool present their unique, pop-angled indie rock tunes.
Read more
The singer-songwriter from Tunbridge Wells performs his original folk pop numbers.
Read more
The former vocalist of Free and Bad Company, who has recently toured and recorded with Queen, performs his solo blues-rock material.
Read more
The Leicester-based six-piece band plays music with elements of reggae, ska and soul.
Read more
The folk pop five piece from Thornaby-on-Tees perform songs from their second album Mirrors.
Read more
The band that comprises Dane Lloyd and Taylor Jones from Blackwood, plays its indie-rock originals.
Read more
Show more
The best pubs in Bristol