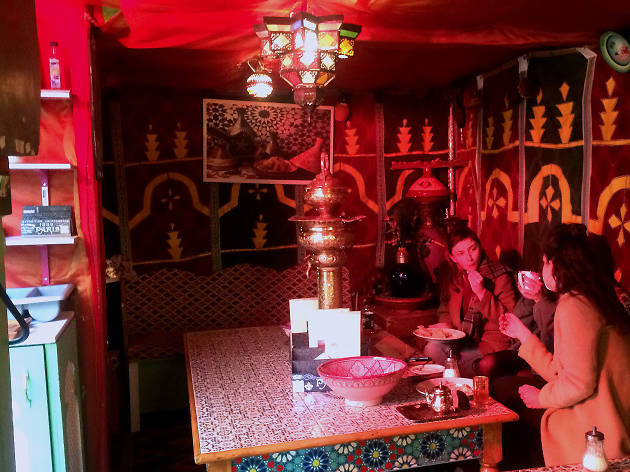 Spiced Moroccan meats and a fantastic selection of flavourful veggie fare make this North African restaurant a popular spot
This little restaurant, situated in the glass arcade section of St Nicholas Market, serves up delightful slow-cooked Moroccan meats. For those scared of a bit of spice, Moroccan food is the perfect introduction. Subtle ginger, paprika, cinnamon, nutmeg and clove infuse the rich meats without overpowering.
Try the Moroccan chicken (£6) for an introduction. Fall-off-the-bone meat is permeated by sweet and sour preserved lemon, olives, and mixed root vegetables, and spices that provide a subtle minty tone. Moroccan lamb (£6.50) is, again, tender and luscious. Prunes add a richness and sweetness, and the spices mix beautifully. Both are served with your choice of either rice or couscous.
Beyond the tagines, the selection of vegetarian food is fantastic. Chickpeas served with bread (£4.50) and couscous or rice could be a Moroccan take on ful medames, the traditional Egyptian dish. Try the feta salad (£5) for a taste of the Greek influence that has touched a lot of Moroccan food. For the money, there are few places that will satisfy as much as Al Bab Mansour. If you can get a table, you'll enjoy a little slice of North Africa in urban Bristol.
Venue name:
Al Bab Mansour
Contact:
Address:
The Exchange
Corn Street
Bristol
BS1 1JQ