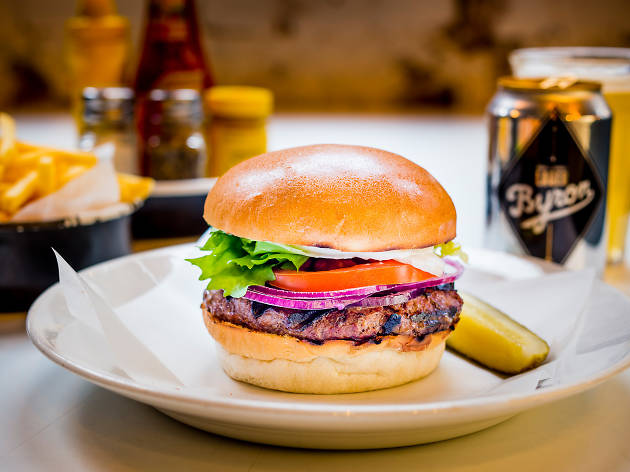 Time Out says
Hearty burgers are made from Scottish beef and served in a simple style. The menu offers some decent craft beers, and the courgette fries are a must-try
A claim to have 'proper' hamburgers can be a bit of a hiding to nothing. As with everything gastro, interpretation and taste is paramount. But Byron is promising it proper (to coin a Bristol colloquialism), and, for the most part, it doesn't disappoint.
Firstly, the burgers are made from 100 percent Scottish beef, cooked with a little bit of life left in them and served with a thick slice of tangy gherkin on the side. Accompaniments are kept simple and fresh, and the soft buns are served toasted. The namesake Byron (£9.50) is about as complex as they get – dry cure bacon and mature cheddar set the salty, acidic background, iceberg lettuce provides fresh crunch and the Byron sauce adds piquancy. It is an excellent burger that concentrates on the quality of its contents and not much else.
Sides are your run-of-the-mill fodder, with the addition of juicy, perfectly seasoned courgette fries (£3.50); the classic Cobb (£10.75) is one of the finest salads you will find in a burger joint.
For all the no frills approach, Byron also serve a fine array of craft beers – the Odell IPA in particular sits well with the burgers themselves. And a wine list with categories of 'good', 'better', 'great' and 'best' typifies the aesthetic. With bells and whistle burger making crowding almost every city, this back to basics approach pays dividends.
Details
Users say