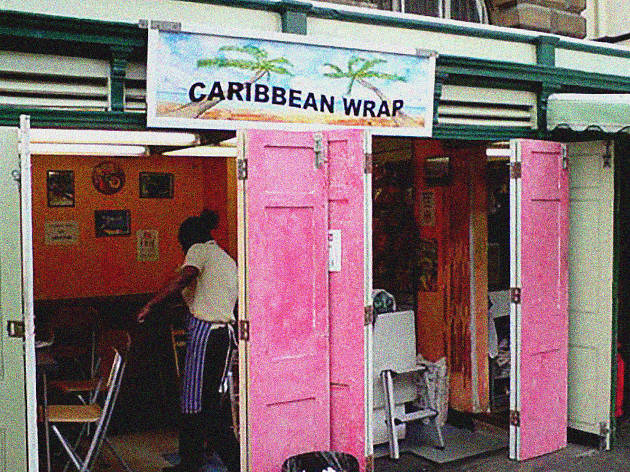 Bristol's West Indian heritage shines through in this spicy St Nicks spot. The jerk pork belly is a winner – arrive early to avoid missing out
St Nick's Market spoils us. Gastronomic bounties from various climates and cultures abound, with Caribbean Wrap covering the West Indies quite aptly. It's small but steadfast, always busy and unapologetically uninfluenced by anything other than the roots of the Caribbean. On top of that, it serves, without doubt, the best jerk pork you'll taste outside of a home kitchen.
Go straight in for ackee and saltfish (£5 as a lunch special, served with rice and peas) for a true taste of Jamaica. The ackee is sweet and delicate (think a soft lychee), while the slightly chewy, salty fish adds bite, and is complemented by the freshness of sweet pepper and a hint of thyme. If you're brave, get involved with a bit of the smokey, sweet and scorching scotch bonnet sauce.
Traditional sides include callaloo (a green vegetable, served with shallot, peppers and tomato), or fried or boiled plantain – almost a mix between potato and banana, go with fried if you want the sweetness, boiled if you want it more carby. And, if the menu has it, always, always go for the jerk belly pork (£6), which is sweet and spicy with a kick of allspice and garlic to finish. Ensure you get there early, though; inevitably, by 2pm there's very little left.
Venue name:
Caribbean Wrap
Address:
The Exchange
Corn Street
Bristol
BS1 1JQ