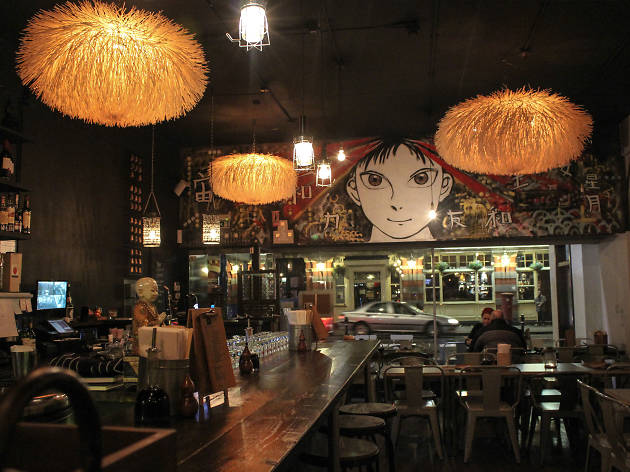 Time Out says
A smattering of other Japanese dishes feature, but the rich tonkotsu ramen is the real reason to visit. Try the express menu for a cheap, but quality, lunch
It's not always easy to locate a decent bowl of ramen on British shores – which is why Sticks & Broth is such a welcome find. The menu's list of classical dishes and modern fusion, alongside a great drink selection and popular lunchtime special, means you can experience some of the best British ramen for under a tenner.
Opened as a joint venture between the owners of Thai Kitchen (formerly of the Fish Market) and the fantastic Baowow, Sticks & Broth is a yakitori and ramen bar with 24-hour tonkotsu (pork bone) broth providing the base for a number of delicious dishes.
If you're visiting for lunch, then the £6.50 Tokyo Express menu, which allows you the option of ramen or donburi (rice bowl), is an affordable option. The house ramen is tremendous – smokey, rich brisket sits atop rocket, grilled corn, noodles and a soft boiled egg soaked in soy sauce, all surrounded by a beautifully subtle pork bone broth. The garlic cloves and crusher that sit on each table as a simple condiment mean you can apply some explosive flavour to a subtle dish.
A fine selection of beers, ales, wines and spirits are available should your budget permit. There's no sake as yet, but plans are afoot to add it to the list.
Details
Users say