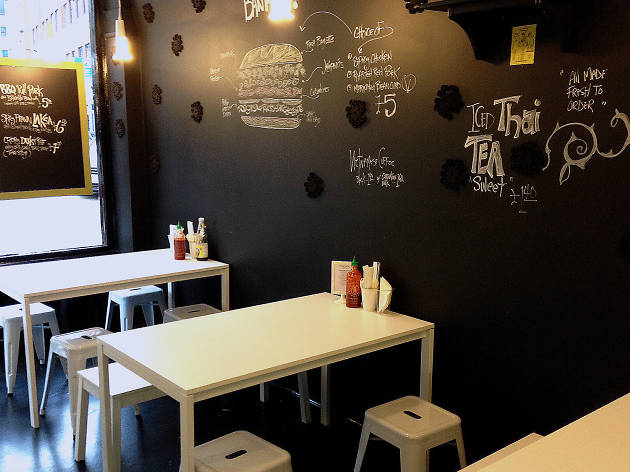 Delicious Asian street food for a song. Bao, bánh mì and pho are all excellent.
For the uninitiated, a bao is a small filled steamed bun – basically, the Taiwanese equivalent of a bap, used in a flavoursome Asian take on the sandwich.
A simple menu showcases a magnitude of healthy and fresh options steeped in traditional Asian flavours. Bao are a snip at £3.50 each, or two for £6; bánh mì, a Vietnamese baguette filled with perfectly spiced, tender meats is also on offer, and includes the likes of chicken, chilli tuna, and roast duck. Another favourite is the fragrant pho, which comes with rice noodles, choi san (greens), herbs and chilli, as well as a selection of meats and tofu for those who are inclined.
The lunch for a fiver menu is some of the best value you will find – even as close as this place is to the popular St Nicholas Market. It features bao – served with salad and sharp pickles or miso – pho, Thai classics such as green curry, or Japanese teriyaki with rice or noodles. If it is your first time, the Chairman Bao is a safe bet, featuring rich pork belly, hoisin, radish, crushed peanuts and coriander. Add your own Sriracha to taste, and enjoy a delicious and affordable slice of Asia in the centre of Bristol.
Venue name:
Khao & Bao
Contact:
Address:
53 Baldwin Street
Bristol
BS1 1RA