Theatre shows in Bristol
Plan ahead and catch the best theatre shows and musicals in Bristol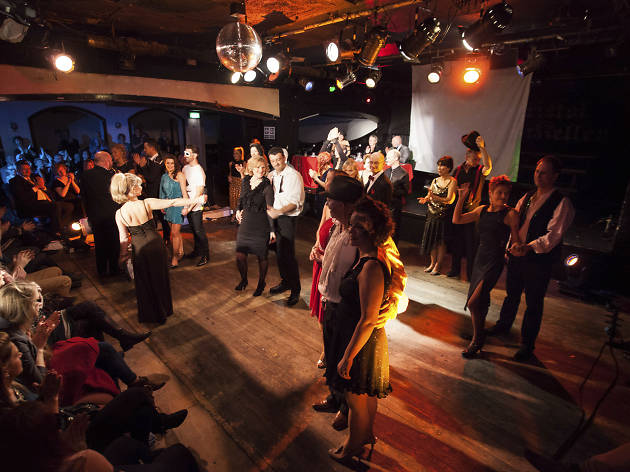 There's always something good going on at Bristol theatres - so much so, in fact, that you sometimes need a helping hand in knowing exactly where to get your thespian fix. Which is why we've put together this list of all the best theatre shows taking place in Bristol over the next month. Feel free to peruse. And if you need somewhere to eat for a little pre-theatre dining? Check our best Bristol restaurants list - there are some crackers.
Upcoming theatre shows and musicals
An adaptation of David Walliams' popular children's book in which a little boy's boring old Granny reveals an exciting secret. Created by the people who also brought Horrible Histories to the stage. Directed by Neal Foster.
Read more
The Wanted's Tom Parker takes on the role of T-Birds heartthrob Danny Zuko, in this ever-popular musical. Follow the highs and lows of friendships in the 1950s, told through classic numbers such as You're The One That I Want, and We Go Together. Directed by David Gilmore, the production also features Over the Rainbow winner Danielle Hope as Sandy, Eastenders' Louisa Lytton as Rizzo and Darren Day in the role of Teen Angel.
Read more
Richard Jordan Productions presents Bob Kingdom's solo show that portrays the psychological conflict of creative talent and self-destructive impulse endured by the short-lived Welsh poet.
Read more
Catherine Hoffmann charts the drive for survival as a member of the feral underclass of austerity Britain sharing songs and stories of her 1970s and 1980s upbringing creating an interactive performance that moves across a range of contexts.
Read more
Building on the brilliant success of King Lear in 2016, Julius Caesar will bring together theatre legends Julian Glover (Game of Thrones) and Lynn Farleigh (Pride and Prejudice) with the stars of tomorrow from Bristol Old Vic Theatre School for a contemporary production of Shakespeare's most famous political drama.
Read more
The roguish and foolish night Falstaff schemes to woo two married women, in order to get his hands on their husband's money, in Shakespeare's comedy. The Festival Players present an all-male cast directed by Michael Dyer.
Read more
Alice Hamilton directs Barney Norris' moving and melancholic romance about two lovers, Eddie and Carol, whose lives follow different paths until they meet again on a park bench in a town full of memories, and rake over the smouldering embers of their dormant desire. A co-production between Up In Arms, Bush Theatre and Farnham Maltings.
Read more
Teenager Christopher, who has Asperger's syndrome, tries to solve the mystery of his neighbour's dead dog but he is ill-prepared for the stresses of the noisy and chaotic outside world in Simon Stephens' Olivier Award-winning adaptation of the novel by Mark Haddon.
Read more
Show more
20 great things to do in Bristol