Heads up! We're working hard to be accurate – but these are unusual times, so please always check before heading out.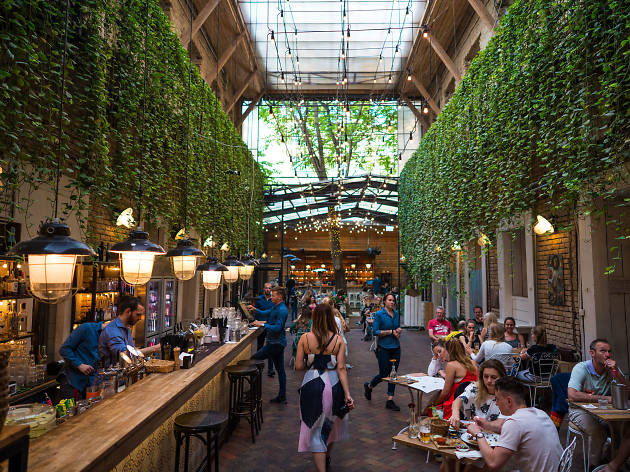 The 11 best things to do in the Jewish Quarter, Budapest
For colourful history, casual dining and out-there nightlife, there's nowhere better than the Jewish Quarter, Budapest
Budapest's bustling Jewish Quarter is rich in history yet constantly developing. In this vibrant area – the city's most densely populated – design shops mix with bakeries, nightclubs and three beautiful synagogues. The Jewish district is also home to laid-back restaurants that serve up excellent food, whether Israeli, Mediterranean or Indian. And as well as the storied ruin bars, youthful hangouts like scruffy Beat on the Brat, arty Kisüzem and beery Fekete Kutya are all great fun.
Once the dreaded wartime ghetto, the Budapest Jewish Quarter's walls these days depict happier historical episodes. Murals on busy Rumbach Sebestyén Utca include one of Austro-Hungarian aristocrat 'Sissi' and another depicting the 'Match of the Century', when Hungary's 'golden team' thrashed England at Wembley. Also mentionworthy is Gozsdu Udvar, a network of decent mainstream bars and restaurants.
Its 21st-century transformation has not gone without local grumblings: a thankfully unsuccessful referendum has even been held over local closing hours. But nothing can touch the Jewish District – not grumpy nénik, not globalisation, not even 'strongman' Viktor Orbán.
RECOMMENDED: Full guide to the best things to do in Budapest
Best things to do in the Jewish Quarter
Built in the 1850s and restored to its original glory in the 1990s, this is the world's second-largest synagogue, and one whose design influenced many others around the world. The beautiful Moorish building – on the edge of what would later become the Jewish Ghetto – looks mosque-like from the outside and is strangely reminiscent of a Christian church inside. Unusually, it houses an organ, once played by gentiles including Franz Liszt. This reflected the mildly reformist nature of 'Neolog' Jews who built the synagogue and populated the district before the Holocaust, the victims of which are honoured in a memorial garden. Decent guided tours and the informative Hungarian Jewish Museum offer historical background on the synagogue and the district itself, which thrives today, happy to leave behind the tragedies that occurred here in the 20th century.
Vintage fashion aficionados visiting Budapest should drop by Dóra Gyöngyösi's lovely store. Ludovika sells '70s and '80s designer clothes, dresses with Hungarian matyó folk motifs, as well as blouses, trousers, shoes and accessories. The selection expresses a devotion for Asian couture, as reflected by the imports on the shelves alongside Dóra's own pieces that retail at €20-€60 (look for the Ludovika label). Better prices than the high street, psychedelic tunes and late opening hours make this a great place for a treasure hunt.
Located in a decommissioned modernist power station, the Museum of Electrical Engineering has nine permanent exhibitions that guide guests through the history of electrification and electrical engineering. A specialist library on the premises is available for researchers. This and five other Budapest institutions, including the chemistry and metallurgy museums, make up the Hungarian Museum of Science, Technology and Transport (tickets are cheap at 800 HUF). Across the courtyard you'll find techno club Tesla, fittingly named after the visionary Slavic genius Nikola, who helped set up the Budapest phone exchange when he lived in the city as a young man.
Also on Rumbach Sebestyén Utca is design shop, café, concept store and gallery Printa. For classy souvenirs check out its remarkable Budapest collection: shirts, posters, tote bags and maps depicting city streets, bridges and landmarks. A regular venue for workshops on screen printing and other techniques, Printa values environmental consciousness and sells plastic-free clothes, tote bags and other zero-waste items. It also showcases designer clothes and accessories, homeware, posters and notebooks. Due to its high standards, Printa is one of the district's pricier design outlets.
Mazel Tov – literally, 'congratulations' or 'good luck' – is where to head for top-notch Middle Eastern cuisine. Just for starters, you can choose za'atar sticks (deep fried pitta slices with herbs), Yemeni chicken soup or Moroccan lamb soup. It also offers first-rate salads, as well as grilled and non-grilled plates including homemade houmous and falafel – all against a brilliantly leafy backdrop. The events programme includes jazz concerts, Jewish celebrations and rotating exhibitions.
Ideal for groups, Dobrumba is a hip Middle Eastern and Mediterranean restaurant promising cuisine that spans 'Atlas to Ararat'. Since opening on Dob-Rumbach corner in 2017, Dobrumba has blended a laid-back atmosphere with consistently high-quality food with Jewish, Lebanese, Moroccan and Spanish influences. Starters include muhamarra and baba ganoush. As for mains, the shakshuka and lemon chicken tagine come highly recommended. Shareable mezze are the house speciality and vegetarian and vegan dishes abound. Advance booking is advised, although a table can sometimes be nabbed on the spot.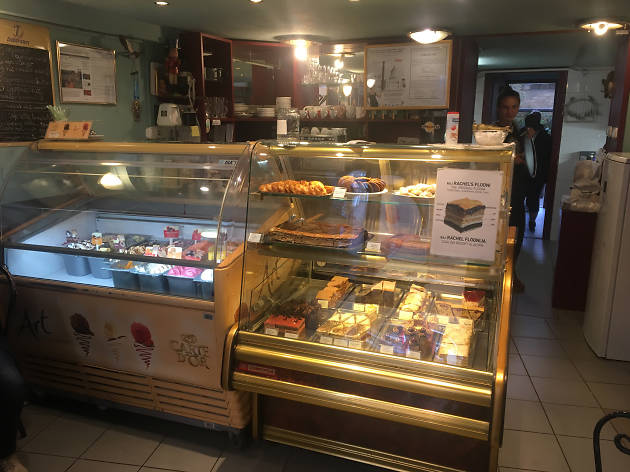 Photograph: Dan Nolan
This cosy kosher café with a picturesque garden is a few minutes away from the Great Synagogue. Budapest's best flódni (a traditional Jewish cake with apple, walnuts and poppyseeds) is made here, according to the recipe of confectioner Ráchel Raj, who made the world's largest such cake in 2012. Flódni aside, other Jewish specialities including matzo cake are also available, plus vegan, sugar-free, lactose-free and other allergy-friendly desserts. A slice of flódni costs 900 HUF (about €2.75).
This dinky Kazinczy Utca basement gallery is for artists, aesthetes and aspiring collectors. The space was once the private studio of painter Zoltán Jancsó, but now exhibits the work of some 30 artists (with paintings available to buy). Sometimes the works are exhibited at nearby Szimpla. You don't have to be a professional painter to have your work displayed here, and amateurs are encouraged to try their luck.
There's a part of Budapest that's forever '70s New York – and it's called Beat on the Brat. Tucked down a concrete-lined corridor, you'll find this two-level dive bar with posters and playlists that befit a bar named after a Ramones tune. Owner János Lévai was a well-known record collector in Hungary even before he quit his bank job to open BOTB. Music wise, the focus is on Lévai's favoured new wave, but themed nights mean you can also rave to northern soul, disco, punk or acid house on the dance floor.
Local bohemians, film industry travellers – director Lars von Trier was a recent visitor – and clued-up tourists mix at this Jewish Quarter staple. Kisüzem takes its whiskies and rums seriously, and has separate drinks lists for each. Its playlist and kitchen are both excellent, too – try the marhapörkölt (Hungarian beef stew) or the tasty ciabatta sandwiches. Kisüzem is that rare find: a place equally suitable for a quiet weekday lunch or a weekend session. Run by a socially conscious bunch, Kisüzem also distributes free food to those in need on Klauzál Tér outside.
Just down the road from Kisüzem, and completing the expat Bermuda triangle alongside Beat on the Brat, is Fekete Kutya. Ever so slightly more expensive than the pubs on the main Kazinczy drag, the 'Black Dog' more than earns its status thanks to regular and guest craft beers such as Francin, plus very well-executed tapas. A huge mural on the back wall bravely attempts to depict the entire history of art: Fekete Kutya is that kind of place – strictly for the free-spirited and open-minded.
After more solid recommendations?
Budapest may not be as renowned for its museums as nearby Vienna, but culture vultures shouldn't despair: you'll find plenty of excellent galleries and museums in the Hungarian capital. From the former secret police HQ to an array of world-beating art institutions, there's no shortage of cultural mooching to be done here.