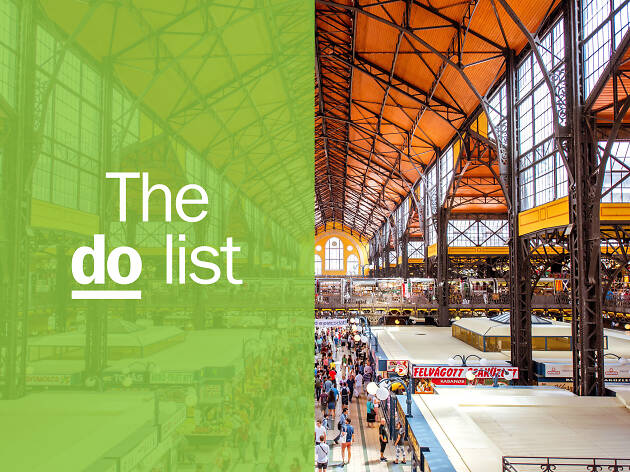 The 21 absolute best things to do in Budapest
Ruin bars and techno have changed this party town. Get around with our pick of the very best things to do in Budapest
You'd struggle find somewhere more laidback – or rather, permissive – than central Budapest. Curfews that feel non-existent, venues popping up in abandoned buildings, drinkers spilling out on to pavements, street food whichever way you turn. It all makes for a fun (and fascinating) city break for back-packers, friends, couples and young families alike. We suggest you go ASAP… before everyone else cottons on to this brilliant, mad party town.
Whether you're set on jiggling to house at one of the city's crumbling 'ruin bars', pigging out at its storied market halls or soaking up Habsburg history on an architecture tour, the best things to do in Budapest cater to all sensibilities. All we know is you'll go away having let off as much steam as is possible – and no doubt be desperate to return. From tip-top outdoor spas and other nightlife to the best quick bites and restaurants in town, here's how to get the most out of your time in Hungary's fun-loving capital.
Done something on this list and loved it? Share it with the hashtag #TimeOutDoList and tag @TimeOutEverywhere. You can also find out more about how Time Out selects the very best things to do all over the world.
Best things to do in Budapest
What is it? Take a huge, dilapidated building with an open courtyard and a labyrinth of rooms, adorn it with eclectic furniture, edgy artwork and mind-bending communist memorabilia, and you've got the city's most famous (and most atmospheric) 'ruin bar', Szimpla Kert.
Why go? Szimpla Kert set the nightlife standard when it opened in the Jewish Quarter in 2001, spawning several copy-cat bar experiences that have come to define a Budapest night out. But this one is known as the original (and best). Be sure to order a shot of Unicum when you're there – it's a traditional Hungarian herbal liqueur your tastebuds won't forget in a hurry.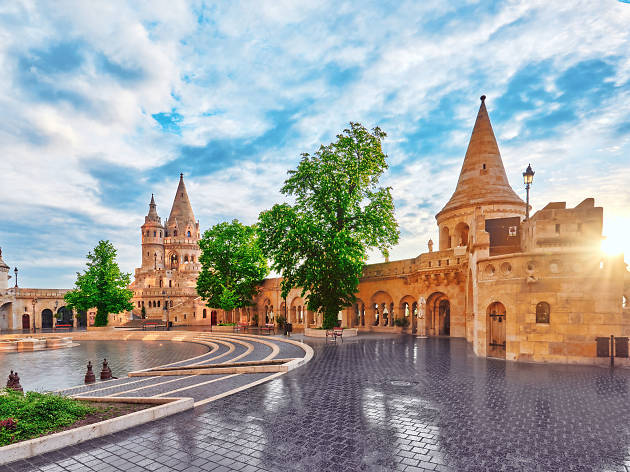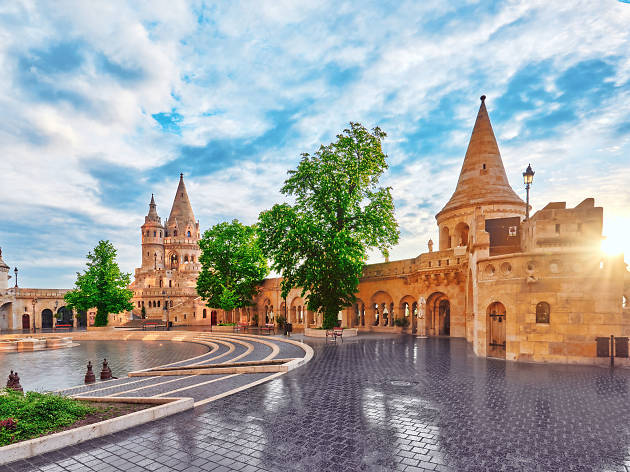 What is it? Built between 1895 and 1902 to celebrate the thousandth birthday of the Hungarian state, the Fisherman's Bastion is an impressive neo-Gothic viewing terrace situated on the Buda bank of the Danube, on Castle Hill.
Why go? For unforgettable views in a fairy-tale setting, there's nowhere better. Climb one of the ornate turrets and peep at boats bobbing lazily down the Danube, then pop into one of the city's most famous patisseries, the 200-year-old Ruszwurm Confectionery, while you're up there.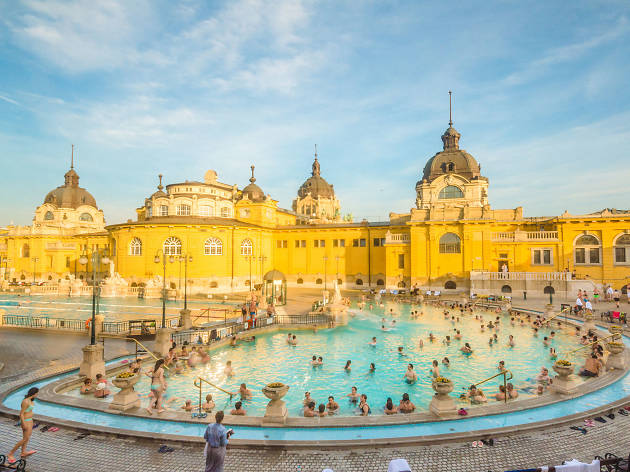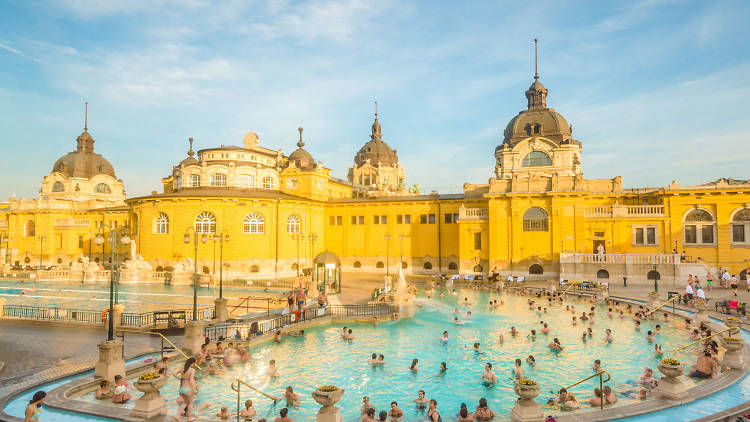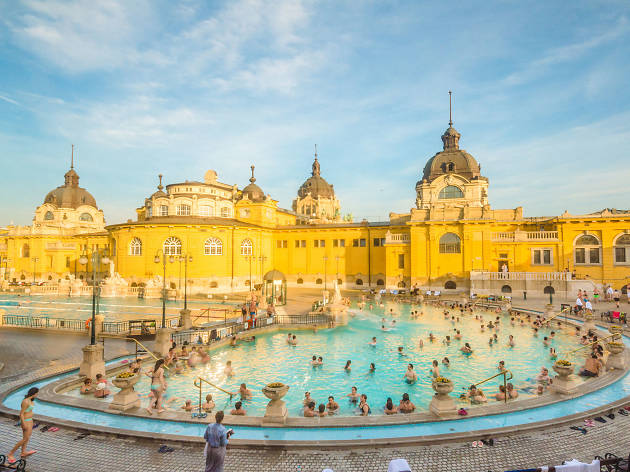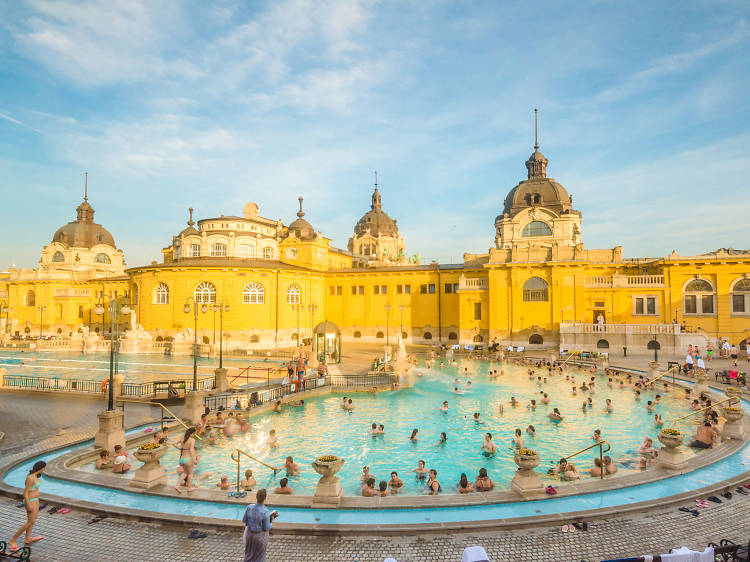 What is it? By day, the Szechenyi Baths are an oasis of calm in bustling Budapest, with luxury spa treatments, saunas, and massages in the grandeur of a sprawling 20th-century Turkish building. But on a weekend night? Well, it turns into something altogether more debauched: the Sparty.
Why go? If you want to be pampered and preened, head to Szechenyi during the day. If it's a wet and wild night you're after, wait until night falls for the Sparties. The brainchild of a famed Hungarian party producer, these night-time raves offer unlimited alcohol, live electronic music, and an anything-goes atmosphere in the water. The choice is yours.
What is it? Lángos is a traditional Hungarian snack and a deep-fried, disc-shaped bread, usually slathered in cream cheese and garlic, bolognese sauce or herbs and salt. It's best sourced from a side-street vendor on a hangover, or from the downtown party vortex of Gozsdu Courtyard, where take-out spot Langosh serves nothing but the doughy delicacy in all its tantalising varieties until the early hours.
Why go? If you've got a soft spot for fried bread and cheese – who doesn't?! – then we bet just one of these traditional Hungarian snacks won't be enough. You'll be straight back in for round two.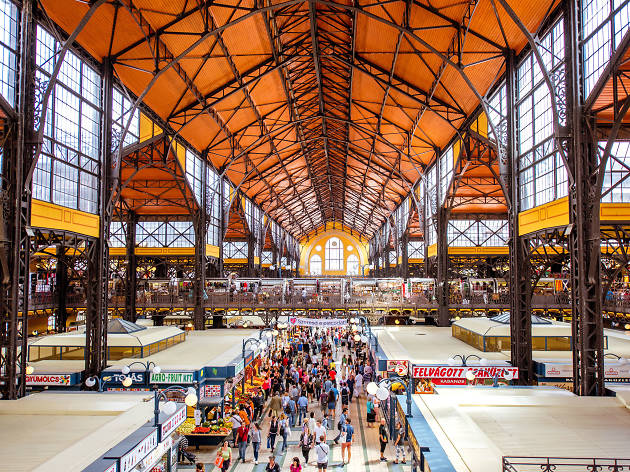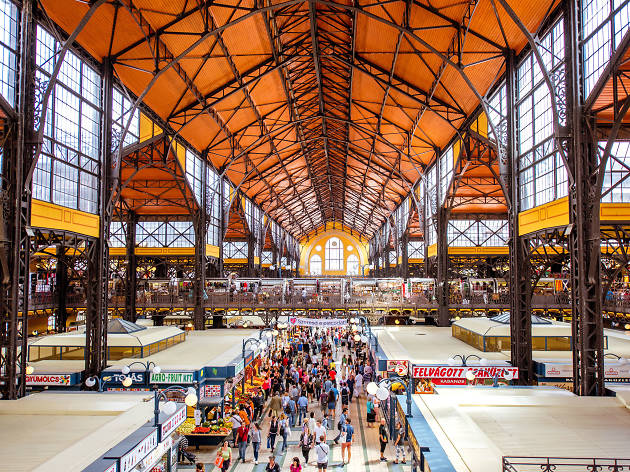 What is it? The Great Market Hall is a restored neo-Gothic tunnel where you can pick up the best local produce and handicrafts.
Why go? For the superb architecture and a total sensory overload, or to source some one-of-a-kind souvenirs and sample unfamiliar Hungarian delicacies. From pickles and fresh veg to meat, seafood and more, we're feeling hungry just thinking about it.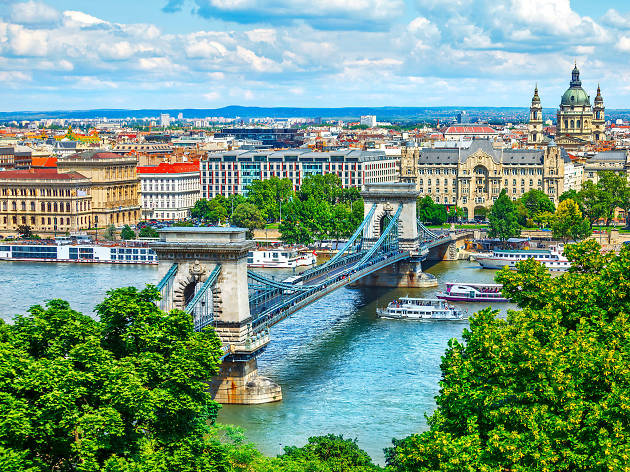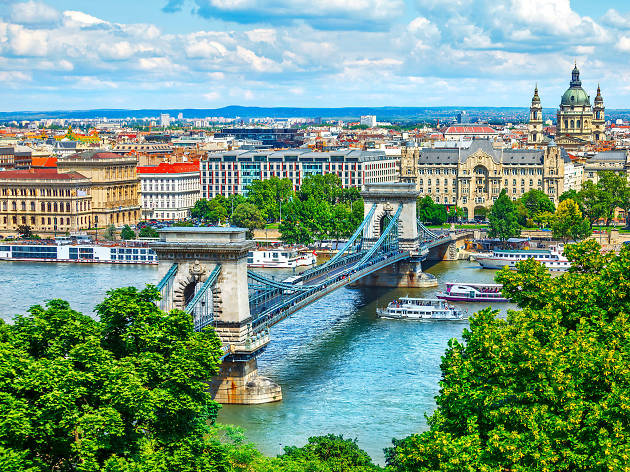 Photograph: Shutterstock
What is it? Opened in 1849, Budapest's magnificent suspension bridge connects the Buda (West) and Pest (Eastern) sides of the city, arching over the River Danube. Designed by an English engineer and built by a Scot, the bridge is a symbol of national pride and economic advancement.
Why go? It's historically important, architecturally impressive and only takes around 15 minutes to stroll across, so you can marvel at the views stretching for miles on both sides of the river and get some superb photographs. It also looks fantastic at night when it's all lit up.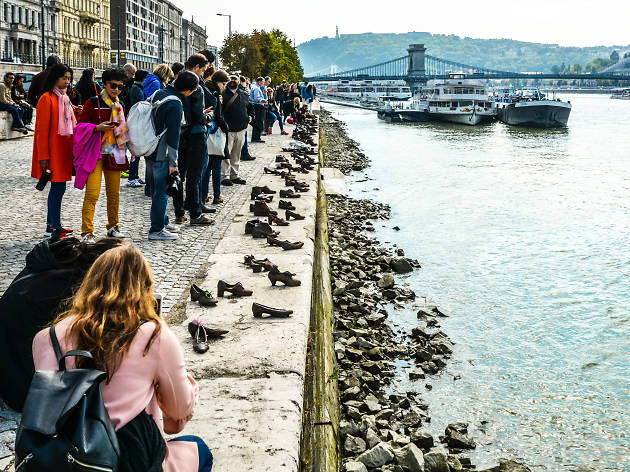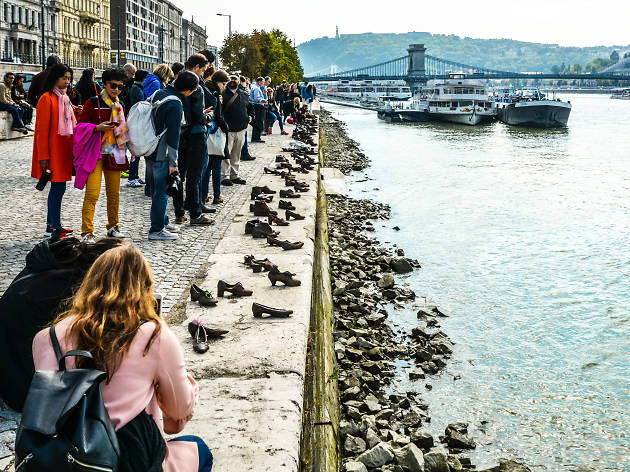 Photograph: Shutterstock
7. The Shoes on the Danube Bank
What is it? A heartbreaking memorial to 3,500 people killed by fascists in Budapest during the Second World War.
Why go? This poignant sculpture, made up of 60 pairs of cast iron shoes designed by Can Togay and Gyula Pauer on the banks of the Danube, commemorates the slaying of 3,500 civilians – including 800 Jews – killed by Arrow Cross militiamen in Budapest. The victims were ordered to remove their shoes by the fascist group, before being shot, their dead bodies falling into the river.
What is it? Budapest's pinball museum, featuring a collection of 115 pinball machines and 30 other old-school arcade games.
Why go? Set in a windowless Budapest basement and illuminated only by the bright light of the machines, this pinball parlour is hella hipster and unlike any other museum you'll ever visit. It's also Europe's largest interactive pinball exhibition.
What is it? The largest church in Budapest, which can hold up to 8,500 people and is one of Hungary's most iconic structures.
Why go? The mummified right hand of the patron saint of the church and first king of Hungary, St Stephen, is kept in a glass case to the left of the main altar. And if that doesn't turn you on, just check out all that monumental neoclassical architecture. The Basilica's star feature is the 96-metre-high dome, lined on the inside with ornate religious reliefs. Once you've had a little wander, why not take in the impressive views from the cupola?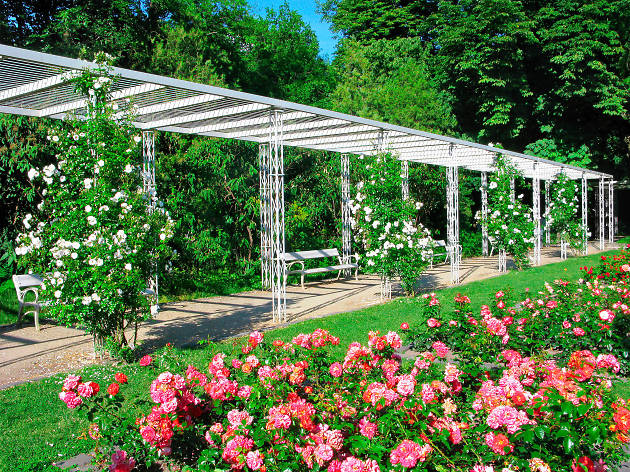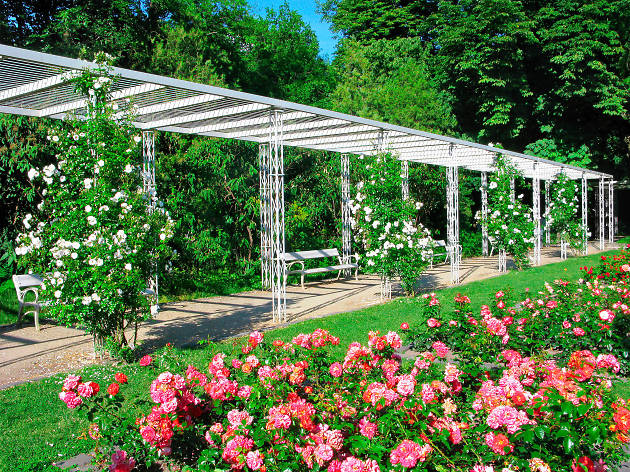 Photograph: Shutterstock
What is it? Surely Budapest's most impressive green space, Margaret Island is a 2.5km-long island of quiet parkland on the Danube, linked to Buda and Pest by bridges at either end.
Why go? It's tranquil, secluded and mainly free to explore. Grab a book and chill in the rose garden, or sun yourself by the waterfall in the Japanese garden. There's also a spectacular musical fountain near Margaret Bridge, which comes alive four times a day, plus a small zoo and a few cafes.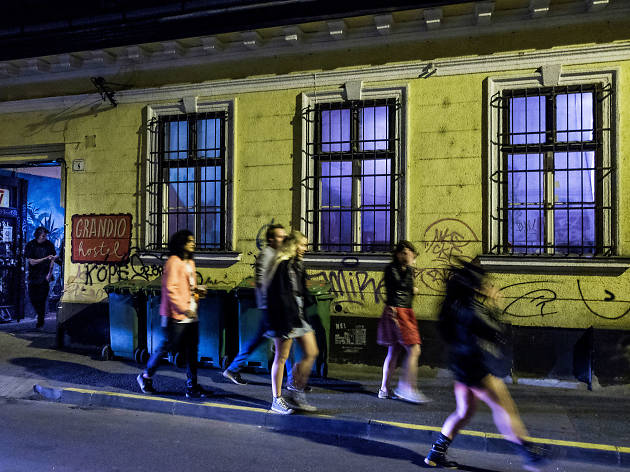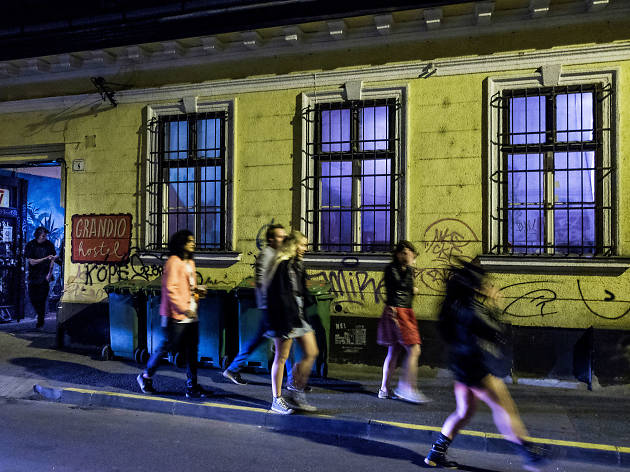 Photograph: Shutterstock
What is it? Budapest's buzzy Jewish Quarter (also known as the seventh district) is the city's epicentre of cool, packed with all the edgiest bars, cafés and restaurants.
Why go? Your nights out will start and end here, with popular clubbing spots like Szimpla Kert, the eight-bar Instant, which recently merged with party wonderland Fogas Ház and offers take-away treats and techno till 6am. The Jewish Quarter also boasts many of the city's best food spots too – for 24-hour snacks check out the Street Food Karavan, a court right next to Szimpla Kert, or Kőleves, a Hungarian-Jewish spot with an eclectic menu.
What is it? Number 60, Andrássy Avenue once inspired fear as the headquarters of the secret police, but since 2002 this ominous townhouse has housed a poignant museum commemorating the victims of the fascist and communist regimes.
Why go? The museum spans four floors and contains a curious collection that blends installations with interactive screens that allow you to listen to first-hand accounts from survivors. The most fascinating part is the basement, where the fascist Arrow Cross Party once interned political prisoners.
What is it? A spectacular 13th-century palace that sits atop Castle Hill.
Why go? Buda Castle is a Unesco world heritage site and also contains the Hungarian National Gallery, the Castle Museum, and the National Széchenyi Library. There's no better place to get your culture fix.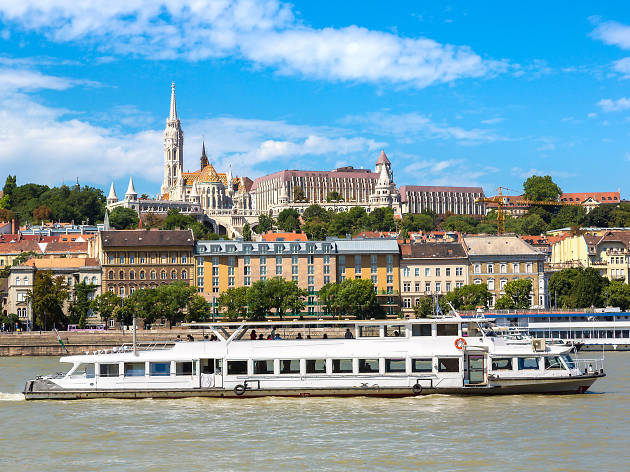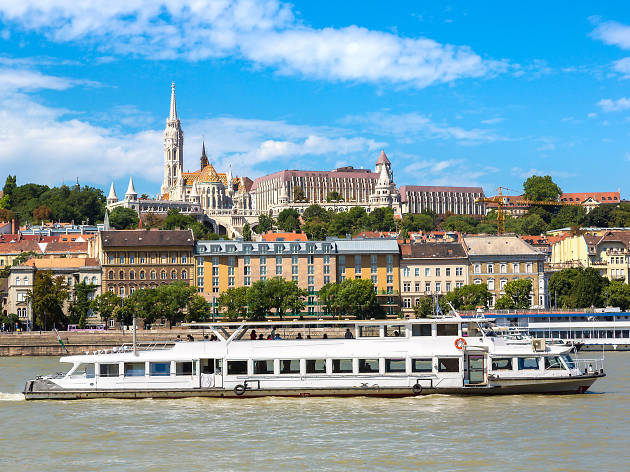 What is it? Go on a relaxing, one-hour boat trip down the Danube at night.
Why go? The banks of the Danube are a Unesco world heritage site, and what better way to enjoy the sights than with a cocktail in hand under the twinkling evening sky? Set sail and check out all Budapest's major attractions as it gets dark. Perfect for couples or those who just love a night-time cruise.
What is it? Opened in 1859, Budapest's Great Synagogue is Europe's largest place of Jewish worship (and the second biggest in the world).
Why go? The stunning architecture and interior décor is worth the trip alone, but a visit to the Great Synagogue (aka Tabakgasse Synagogue) also aims to guide visitors through the history of Jews in Hungary. Inside you'll find the Hungarian Jewish Museum & Archives, as well as the Holocaust Tree of Life Memorial.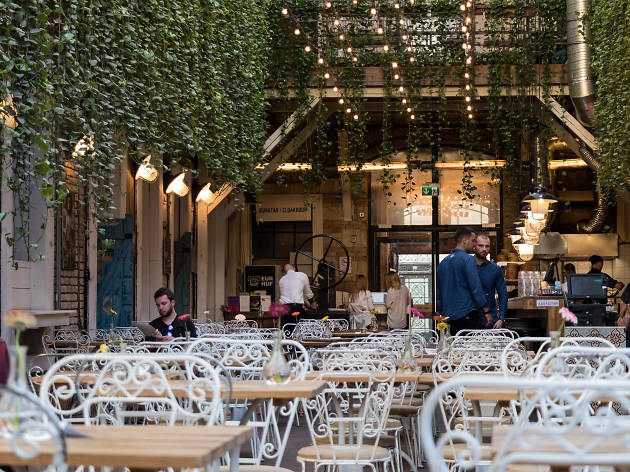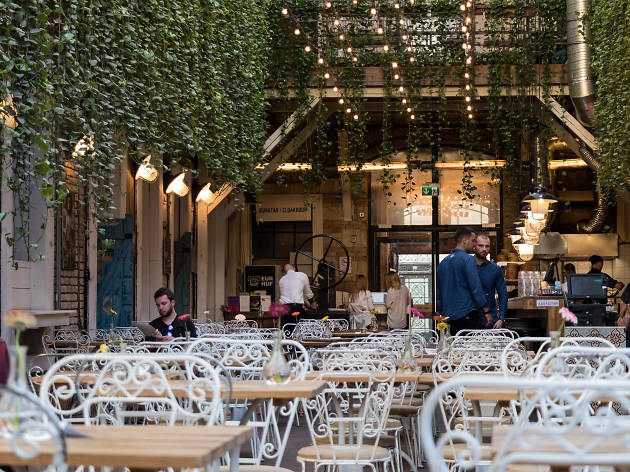 What is it? There are many excellent restaurants set in breathtaking old buildings in Budapest. During the summer, several give diners the opportunity to enjoy their food in airy courtyards or on cosy terraces. Our pick of the bunch? Mazel Tov.
Why go? Now you've found the terrace to beat all terraces, you'll be able to people-watch, catch some rays and enjoy your dinner at the same time. Head to the buzzing Gozsdu Passage, in the Jewish District, which is a trendy tunnel lined with bars and restaurants that spill on to the pavement. For a truly atmospheric eating experience, Mazel Tov is a spacious, tree-lined 'ruinbar' serving up good vibes, and even better Israeli/Mediterranean food, seven days a week.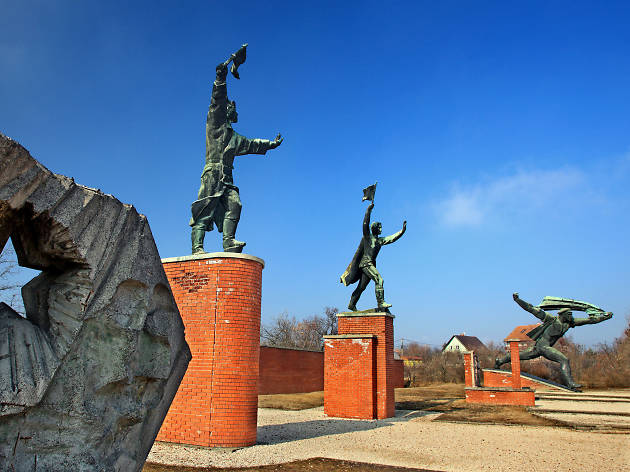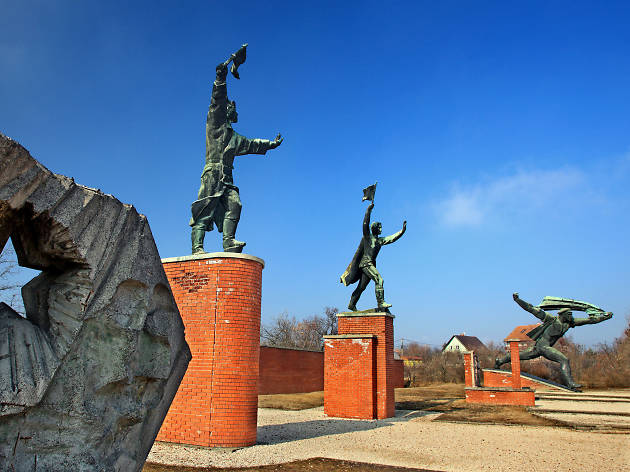 What is it? An open-air park that displays statues, plaques and memorabilia from Hungary's Communist period.
Why go? See some enormous statues of Communist leaders like Lenin, Marx and Engels and learn about Hungary under Stalin's dictatorship, all while soaking up the sun. There's also a cinema where you can watch very unsettling old propaganda films.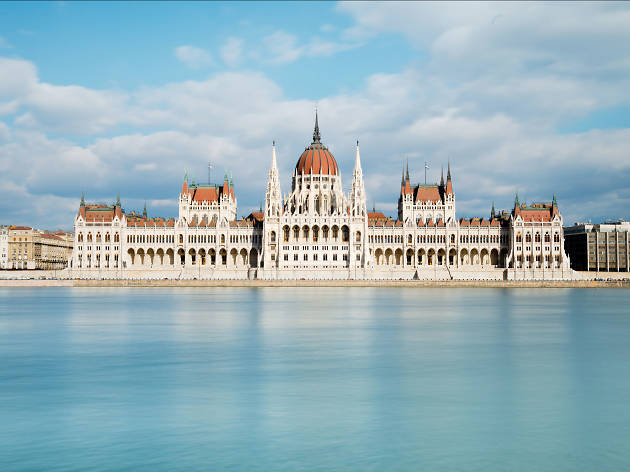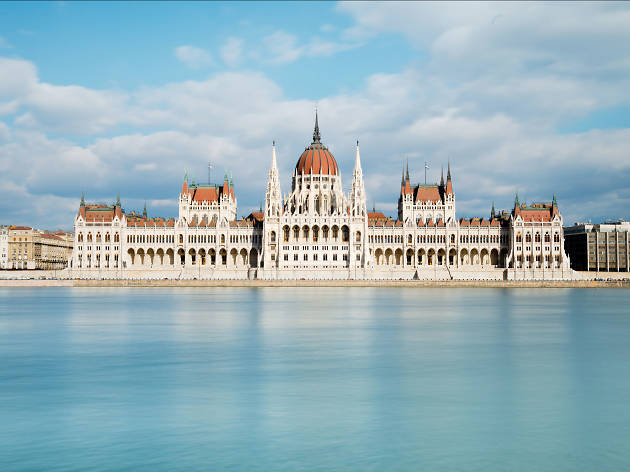 What is it? A 45-minute tour of Budapest's national Parliament Building – one of the city's most famous landmarks.
Why go? The 691-room building is famed for its Gothic Revival architecture, ornate statues and gorgeous paintings. Learn about the political history of Budapest with insight and anecdotes from an expert tour guide.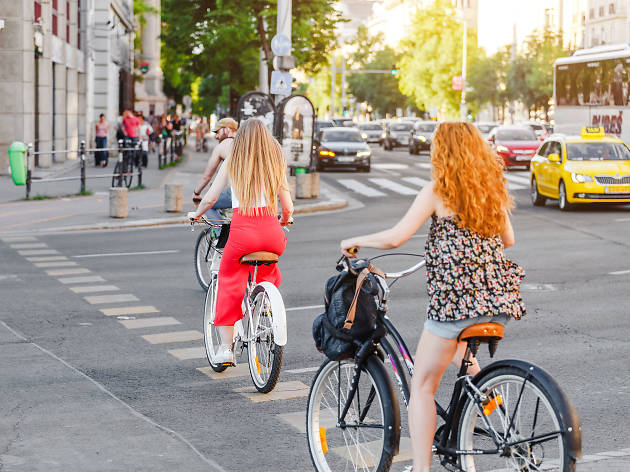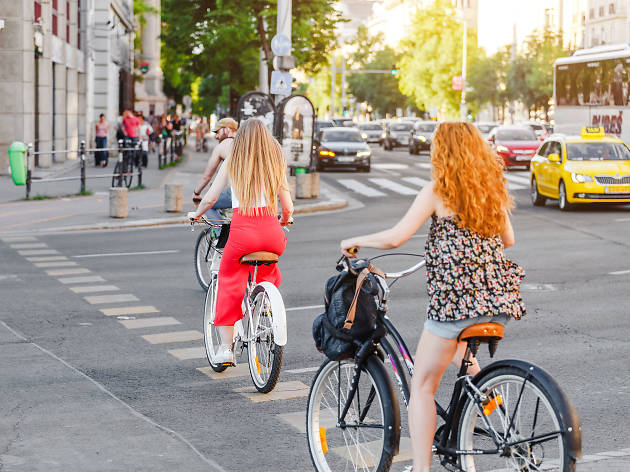 What is it? A fun and informative guided bike tour around Budapest. You'll cover around 16km.
Why go? Budapest is a decent city for cyclists, boasting plenty of scenic routes to be discovered by bike, and many open, traffic-free roads. An expert-led bike tour will allow you to take in much of the city's history as you pass major landmarks such as Vajdahunyad Castle, Szechenyi Baths and St Stephen's Basilica.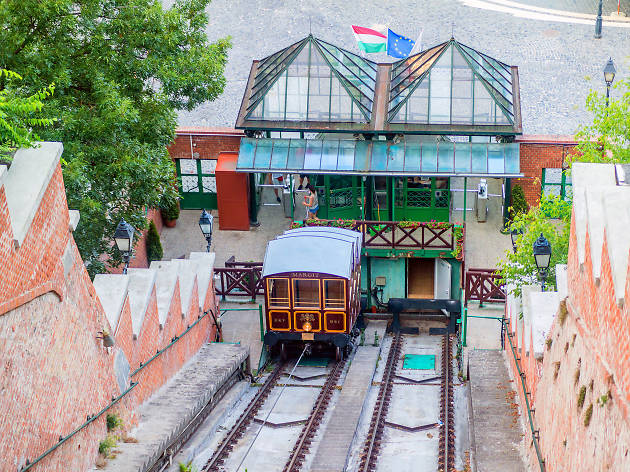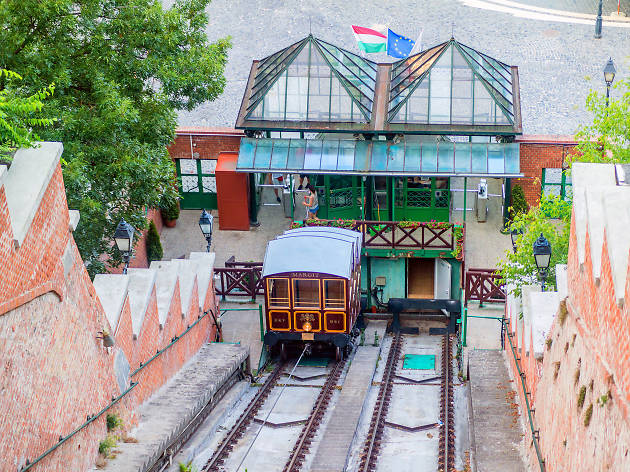 What is it? The funicular railway is a short cable car that links the Adam Clark Square and the Széchenyi Chain Bridge at river level to Buda Castle above.
Why go? The funicular is a fun and easy way to check out the castle without having to climb all the way to the top on foot. It only takes 10 minutes, and luckily (for all those adverse to exercise), at €5.50 for an adult return, your laziness isn't going to cost too much either.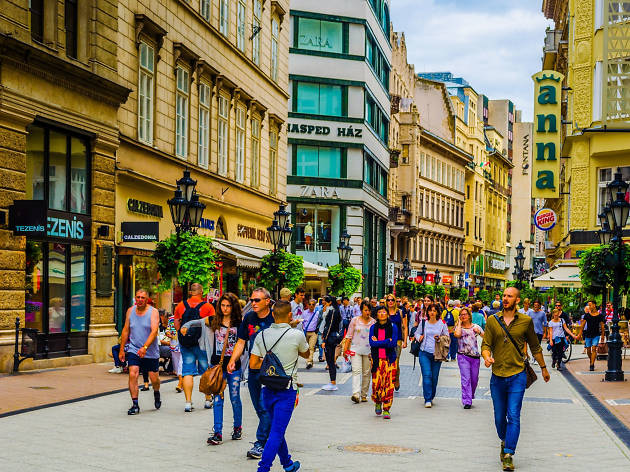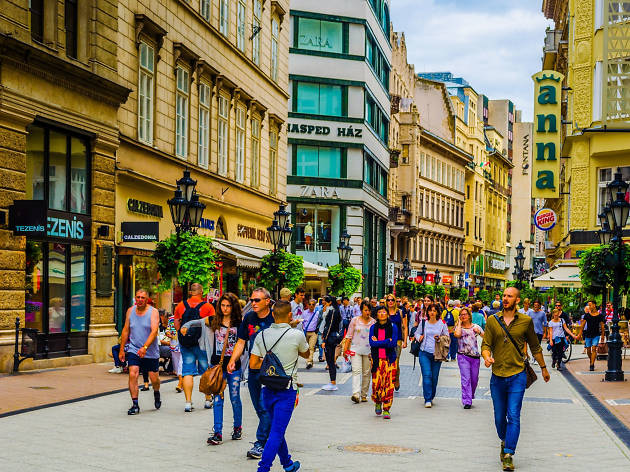 Photograph: Shutterstock
What is it? A tour where you'll be led around some of Budapest's quirkier, lesser-known sights.
Why go? Uncover the hidden side of Budapest with a walking tour that'll take you to tranquil private gardens usually closed to the public. You'll need more than two hours of free time, but your expert guide's enchanting tales are perfect for families and those interested in gaining a deeper understanding of the Danube and the miraculous city that sprouted up around it.
Got plans for tonight?
Once overshadowed by its clubbing counterparts Berlin and London, Budapest now stands tall as a truly unique nightlife destination.
Best selling Time Out Offers