Heads up! We're working hard to be accurate – but these are unusual times, so please always check before heading out.
Best Airbnb Venues in Cape Town
From boho villas to beach-side suites, here's our pick of the best Airbnb venues in Cape Town
When it comes to finding a city with an incredible mix of history, wildlife and nature, and top restaurants, hotels and things to do, few cities do it better than Cape Town. Iconic natural beauties like Table Mountain, magnificent animals like the African lion and African elephant and a rich tapestry of civil rights history – you'll find it all here, at the Southern reach of the African continent.
And if you're visiting this idyllic metropolis, there's no better way to embrace authentic living than by staying in an Airbnb. So we've gathered a list of some of the best Airbnb venues in Cape Town, to make booking a breeze. Permission to daydream, granted.
Cape Town Airbnbs
Photograph / Courtesy Airbnb
Chic living space in the centre of town
If location is your top priority, then this Airbnb is a winner. Only a hop, skip and a jump away from the bohemian hangouts of Long Street and the delicious eateries of Bree Street, this swish tenth-floor apartment has some of the most impressive neighbours.
Photograph / Courtesy Airbnb
Tropically-inspired studio in Bantry Bay
Overlooking a rugged, rocky coastline, this Bantry Bay pad allows you to experience complete eutierria. With a breezy and open floor plan, wooden structure and soft, flowing fabrics, the inside of this abode merges seamlessly with the verdant outside.
Photograph / Courtesy Airbnb
Oceanfront apartment by Clifton beach
Hold a shell to your ear and supposedly, you'll hear sounds of the sea. But wake up in this breathtaking beach-side pad and it's absolutely guaranteed. Pick up your favourite book and settle in for a long day of lounging beside the gentle waves.
Photograph / Courtesy Airbnb
Sophisticated cliffside spot with astonishing vista
Styled like the interior of a luxury yacht with the views to match, this relaxed abode has all the classic features of a high-end hotel: sophisticated furnishings, a clean and contemporary bathroom and spades of comfort. And since it sleeps six, there's only one thing it doesn't have – an over-inflated price tag.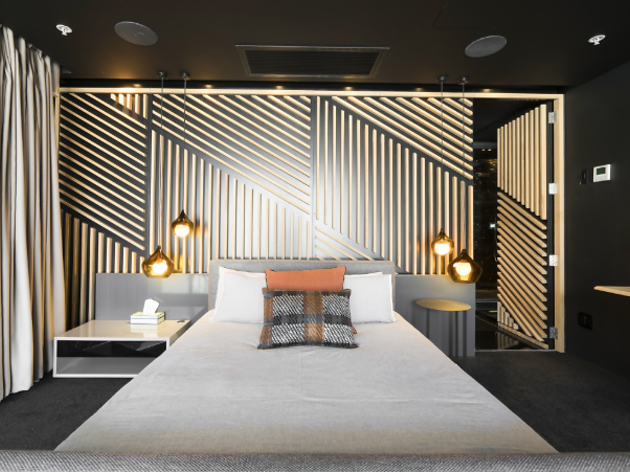 Photograph / Courtesy Airbnb
Contemporary apartment with metallic accents
Clean and cool, this two-level space boasts some modern amenities fit to make any home-tech junkie quake with excitement. We're talking heated floors, a smart TV and a rain shower. Utilising contrasting colours through edited accessories, there's a definite sense of youthful fun that sweeps through the space.
Photograph / Courtesy Airbnb
Bright home with rustic accessories
Light, airy and calming, this home is almost effortlessly stylish. With rustic accents that make great focal points and a cosy King bed, it's the perfect spot to unwind before heading down to the ocean.
Photograph / Courtesy Airbnb
Modern home with edited decor
Boasting five decadent bedrooms and seven serene bathrooms, this expansive home sleeps up to twelve guests, so you can bring your entire brood for a sunny break. Even better? The price is more than affordable, especially if you're splitting the bill.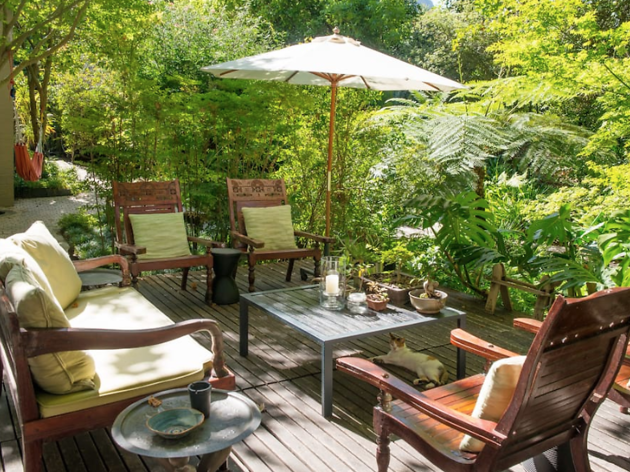 Photograph / Courtesy Airbnb
Urban oasis with lush gardens
Like a picturesque mirage, this peaceful Airbnb is dreamy. Surrounded by a lush garden, winding stream and with a braai to cook on, spend your evenings experiencing the best of alfresco. It's also not too far away from the waterfront – and with Cape Town's weather, that makes for more than a pleasant stroll.
Photograph / Courtesy Airbnb
Split-level home close to Cape Town CBD
Set within an impressive locale, this monochrome studio is only a quick schlepp away from multiple attractions, nightlife, beaches and more. Spacious and sunny, you can expect mountain views, too.
Photograph / Courtesy Airbnb
Zen retreat with infinity pool
If the warm weather wasn't enough to get you in holiday mode, then this villa certainly will. With winding greenery, bohemian-zen decor and an incredible infinity pool, the residence is an ideal spot to top up your levels of R and R.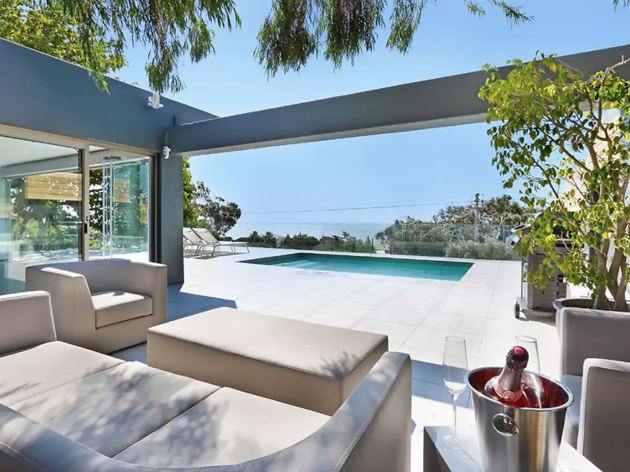 Photograph / Courtesy Airbnb
Sea-view villa in Camps Bay
Minimalism doesn't have to mean boring – and that's something exemplified by this peaceful Airbnb. Once you've spent your day surfing, hiking and paragliding, retreat to this clean living space to settle in for the evening sunset.
Photograph / Courtesy Airbnb
Sunny residence with mountain views
Sure, swimming with Cape Town's great white sharks may be on your to-do list, but no-one wants their accommodation to be scary. Luckily, making yourself at home in this chilled, sleek space is easy – and there's enough space for six.
Photograph / Courtesy Airbnb
Vibrant Mediterranean-style apartment
Vibrant and charming, this villa is a reflection of the spirit of Cape Town. Great for a couples getaway, you can enjoy the glorious sunsets from the patio whilst sipping on wine from some of South Africa's finest vineyards, whether it be from Stellenbosch, Paarl or Constantia.
More loding options
Cape Town's best hotels are as diverse as its landscape. Want to feel like you're out on safari while in the city? No problem. Looking for a historic estate property off the city's wine route? You got it. Need the most bang for your buck? Done. The Mother City has everything from chain high rises in the bustling Central Business District to bespoke boutiques along the beachfront, plus great budget-friendly options along the way.