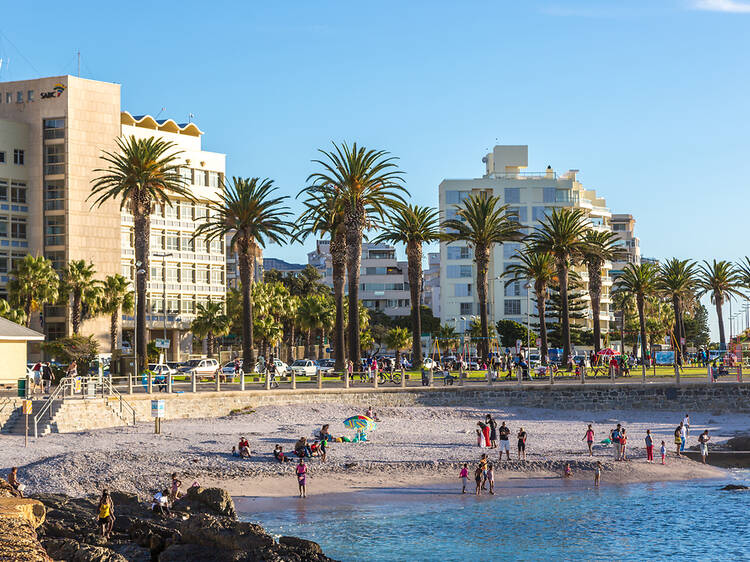 Photograph: LMspencer / Shutterstock.com
Cape Town's Atlantic Seaboard technically extends all the way to Hout Bay, but we're talking about the Sea Point, Green Point and De Waterkant areas, all neighbouring each other on the edge of Cape Town's CBD. This is considered one of the safer parts of the city and its surrounding areas, but that definitely doesn't mean it's boring: there's plenty to see and do in seaside suburbia, from Sea Point's promenade to the V&A Waterfront. You're also likely to meet a wide variety of people here: it's considered by Capetonians as the friendly LGBTQ+ district near town – complete with a rainbow crossing painted for South Africa's 2022 Pride Month – as well as a go-to hub for digital nomads.
STAY
Kick off your Cape Town stay at The Winchester Hotel. The historic Cape Dutch hotel sits right on Sea Point's promenade and has a holistic spa, sea- or mountain-view rooms and a restaurant with South African and European fusion cuisine. If you're looking to go even more luxurious, check out the One & Only for pure indulgence. For something more affordable, take a look at this awesome Airbnb on Beach Road.
EAT
There's plenty to pique your appetite along the Atlantic Seaboard: hunt down the world's best croissants (that's not just our opinion) at Coco Safar, enjoy fine dining at Sonny & Irene, or get your daily deli fix at Giovanni's. And if you prize variety above all, head to Mojo Market: situated at the far end of Sea Point, it's home to a plethora of local food stalls and bars to please all tastes.
DRINK
For ice-cold beers and an afternoon jol, head to the Fireman's Arms on the edge of the city centre for a truly South African experience. If it's a Saturday and the rugby's on, expect a party – win or lose. If you're looking for something a little more bougie, check out the Grand Africa Café & Beach with a bottle of bubbly as the sun goes down on their private beach.
DO
Catch a Springbok game at the Cape Town Stadium, check out the Time Out Market (coming late 2023) while shopping your souvenirs at the V&A Waterfront, head into town for a taste of big city life or get your health fix with a hike up the majestic Table Mountain.
If you only do one thing…
Take a stroll along the promenade and visit the Oranjezicht Farmers' Market on Wednesday evenings and Saturday mornings. It's the best way to soak up that Capetonian energy – along with some amazing food and drink options on hand.