The 11 best restaurants in Cape Town
From traditional South African fare to bougie bites and 12-course menus, the best restaurants in Cape Town will delight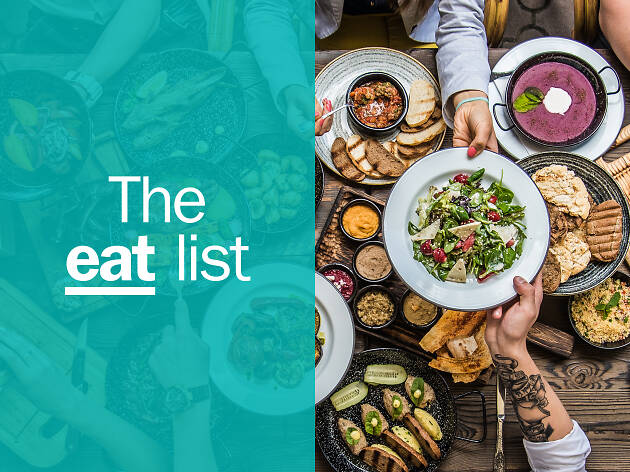 While Cape Town is certainly South Africa's most upmarket city, it's also a cultural melting pot with plenty of grassroots cuisine to be discovered and a ton of things to do. For affordable Cape Malay curries and finger foods, visit the Bo-Kaap neighbourhood; head to Bree Street for coffee by day and cocktails by night; plan a trip to the Old Biscuit Mill in Woodstock for the achingly hip but undeniably excellent Saturday morning food market—one of the best markets in Cape Town. There's a glitzy side to the city's culinary scene as well, of course: from Camp's Bay to V&A Waterfront and the dozen-course tasting menus, bougie dining finds permanent residence in the area. Are you ready to delight your taste buds? Here are the best restaurants in Cape Town.
Best restaurants in Cape Town
1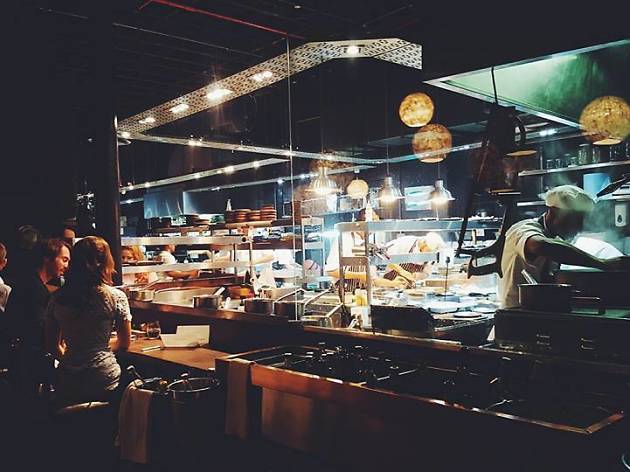 Photograph: The Test Kitchen
What is it? Chef Luke Dale-Roberts has been showered with awards since this inventive fine dining restaurant opened in 2010, somewhat marking a turning point for Cape Town's culinary reputation. The tasting menu is packed with local specialities given a Modern European flourish. If you're struggling to get a table, though (you will), try more casual sister restaurant Pot Luck Club instead. (They do tapas-sized plates so you can try heaps of dishes.)
Why go? World-class food in a development that typifies the good and the bad of Cape Town's gentrification.
Price: Blowout
2
Photograph: Royale Eatery
What is it? Yes, we know, burgers are kinda over. Cape Town knows that too. That's why this stalwart of the trendy food scene has totally moved with the times – as well as a full page of vegan and veggie burger options in the menu (made from the likes of black beans, pumpkin, butternut squash, soya, lentils and falafel) there are also dairy-free shakes. Try the choc coconut. For a meat feast with a South African twist try the Big Bird, a 160g ostrich patty with homemade beetroot relish.
Why go? The restaurant that set the standard for Cape Town burgers that's so Long Street it hurts.
Price: Average
3
Photograph: La Mouette
What is it? There's a warmth behind the experience at this opulent-looking restaurant, and the haute cuisine-style menus are even more impressive in the mouth than on the plate. You'll feel like an extremely gourmet celebrity even if really this is your one treat meal before backpacking in the Garden Route.
Why go? Luxurious dinner and fancy service but with a manageable price tag.
Price: Pricey
4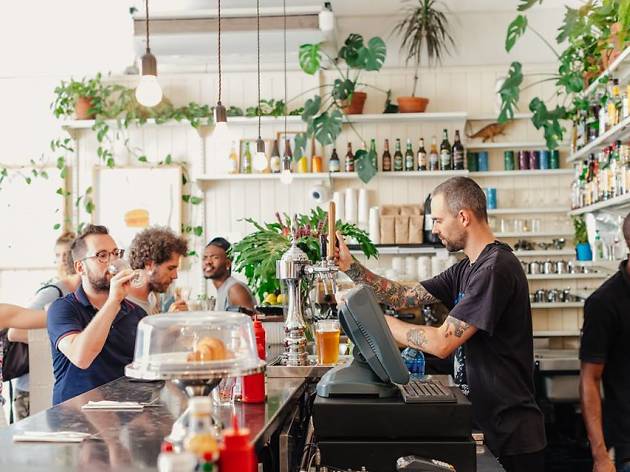 Photograph: Clarke's
What is it? Can't function before your flat white? Got a craving that only kimchi can fix? The menu at Clarke's could be straight outta Shoreditch/Williamsburg/Hipsterville, but sometimes things get cliched because they're great. So order the avo on toast and feel no shame.
Why go? Familiar, Insta-friendly dishes and dangly houseplant collection to match.
Price: Average
5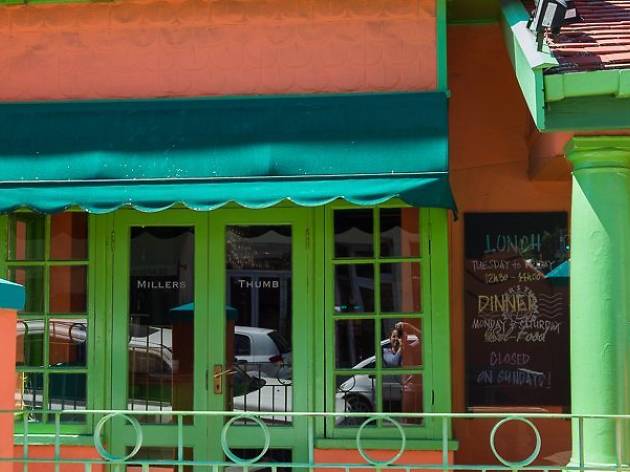 Photograph: Miller's Thumb
What is it? This homely, slightly out-of-town restaurant is so good at what it does that you might need a return visit, because what it does is super fresh fish and incredible steaks. And the portions are way too big to have both. The place is always buzzing but the staff will be happy to help you decide what to eat. You can thank them later.
Why go? An unbeatable protein hit served with zero pretenses.
Price: Average
6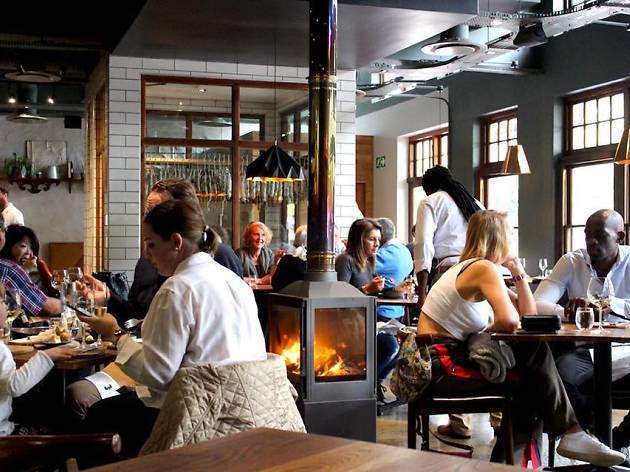 Photograph: Foxcroft
What is it? Far more affordable than its even showier forerunner La Colombe, and there's an a la carte for those whose budget can't stretch to the tasting menu.
Why go? Up in fancy pants suburb Constantia this French-leaning restaurant is turning local and seasonal produce into fancy pants dishes, and doing a very fine job of it.
Price: Pricey
7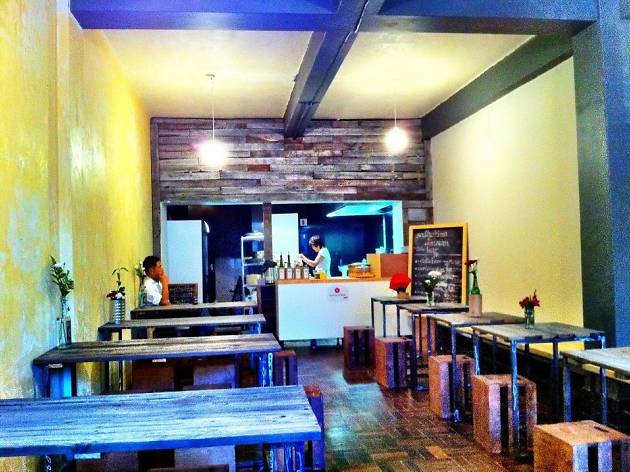 Photograph: South China Dim Sum Bar
What is it? Celebrated for its authenticity as well as its cheery disposition this dinky dim sum joint's changing menu generally offers potstickers, wontons and bao plus a few heartier favourites such as spicy prawn laksa. Its Long Street location makes it ideal pre- (or post-) drinking food, but order plenty as the portions can be on the slight side.
Why go? Fresh, light dumplings that prove it's not only red meat on the menu in this town.
Price: Average
8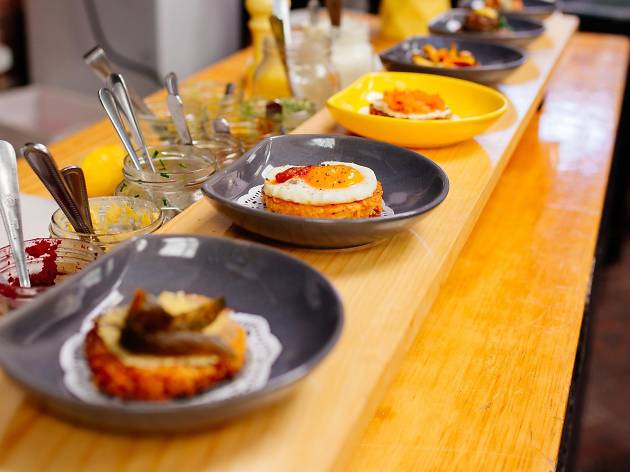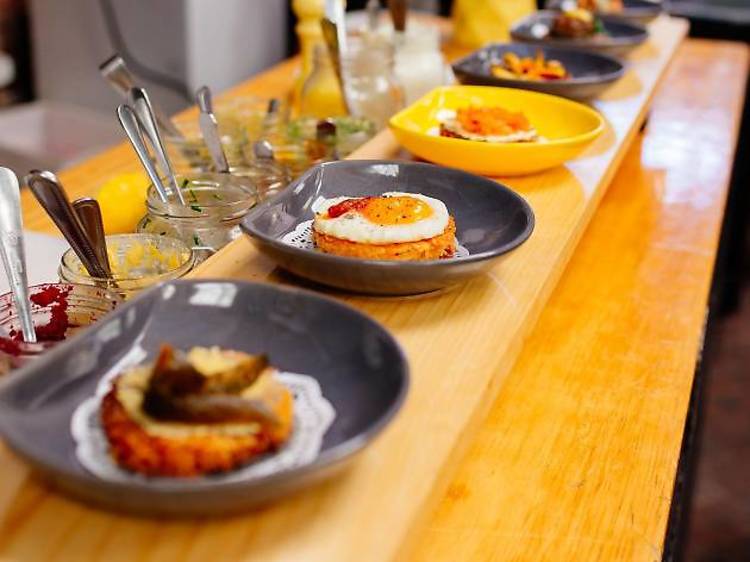 Photograph: Biesmeillah
What is it? Get a taste of Cape Malay cuisine's full range at this Bo Kaap restaurant with unassuming furnishings and keen prices. The extensive menu swerves from grilled cheese to "Biesmiellah spicy pasta" (their quotes) but stick to the traditional chicken curry and maybe some samosas and you'll be laughing.
Why go? An authentic taste of the Bo Kaap Muslim community's cuisine.
Price: Bargain
9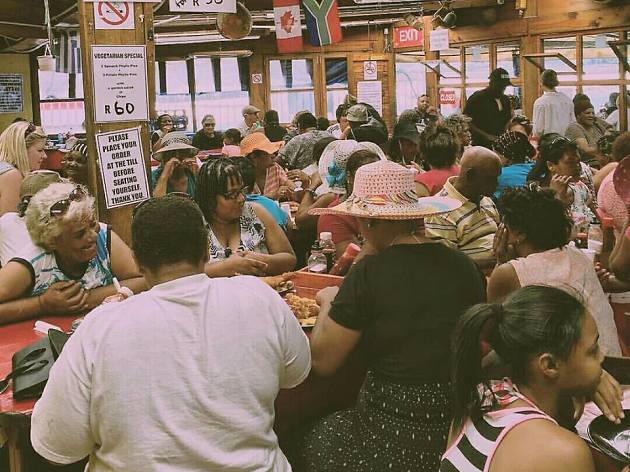 Photograph: Kalky's
What is it? Water, water everywhere and loads of incredible fish to be eaten. End your day of window shopping in Kalk Bay with a chippy from Cape Town's favourite fryers. Bring cash, but not much – the prices are small fry. You may have to queue but the people-watching opportunities are ample, and the fish here is well worth the wait.
Why go? A reminder that fish and chips can be good (or even better) beyond the British Isles.
Price: Bargain
10
Photograph: Haas Collective
What is it? Capetonians are serious about brunch, and this chic, coffee-obsessed cafe has all the croissants, muesli, muffins and eggs to prove it. Their menu also features a rare appearance from bunny chow, a Durban speciality that's a must-eat if you enjoy curry and bread. Because it is curry served IN bread. As Gabrielle once said, dreams really can come true.
Why go? Sometimes your caffeine obsession needs extra attention.
Price: Average
11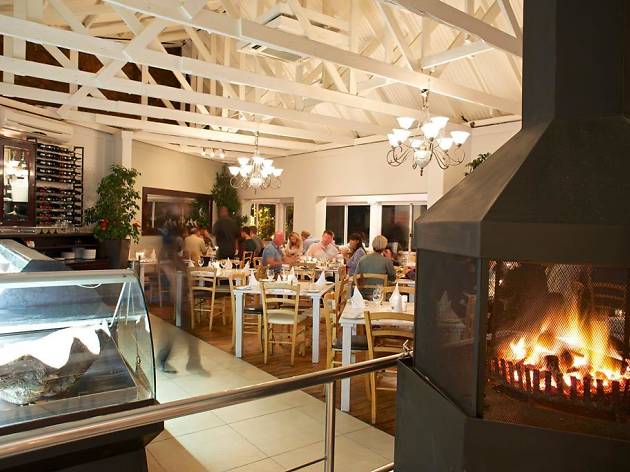 Photograph: Codfather Seafood and Sushi
Codfather Seafood and Sushi
What is it? Beautiful Camps Bay is the city's celeb hangout, but the Codfather has little of its district's showy nature. Choose from a wide array of the ocean's harvest from the chilled counter or pick dishes from the sushi belt, but whatever you do get a table near the windows so that you can watch the sunset.
Why Go? The pun. But also the superlative seafood.
Price: Pricey
Discover Time Out Market: the best of the city under one roof
Looking for must-dos in Cape Town?
You've got culture, history, nature and fantastic restaurants all in one affordable bundle and all under a sunny-but-unchallenging weather forecast. Here's your guide to the best things to do in Cape Town.