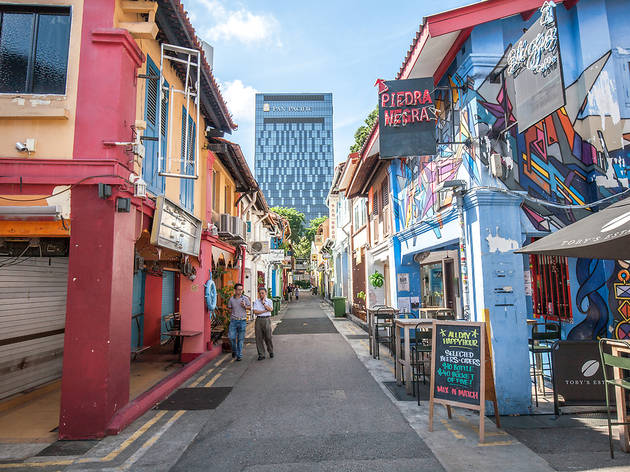 The 30 coolest streets in the world
We quizzed 27,000 city-dwellers and asked local experts to rank the top streets in the world for food, fun, culture and community
What makes a street cool (particularly in 2021)? To sum it up: food and fun, culture and community – and a rooftop bar doesn't hurt either. In fact, it's probably all the same things that we took into account when ranking the world's coolest neighbourhoods and the greatest cities in the world. Streets make neighbourhoods make cities. Makes sense.
Every year we poll thousands of people around the globe to discover the coolest places to live, work and play. But in this year's Time Out Index, we decided to drill down a bit and go even more local, asking 27,000-plus city-dwellers which specific streets they think are the coolest too. Once again, we consulted our global network of Time Out editors and experts to weigh up the candidates and make the call on their city's number one hotspot.
And boy do all these streets have great stories to tell. They are microcosms of everything we love about cities – destination-worthy dining, vibrant local culture, tons of history – and in a year when travel dreams were dashed and we had to stay closer to home, they helped us feel like we were a part of something bigger as well.
They let us sample food and drink from all over the world. They let us fill up on all the art and culture we needed – often along just one small stretch. And above all, they were places where people, community and businesses helped each other through really, really rough times: places that represent the soul of the city.
So without further ado, here are the coolest streets in the world right now: from buzzing major arteries to pedestrian-only backstreets. Let them inspire your next international jaunt – or just your next staycation.
Share your favourite streets and local spots with us via the #LoveLocal hashtag – and follow Time Out's Love Local campaign as we celebrate and support the independent food, drink and culture venues that make our cities great.
The world's coolest streets in 2021
More street life from around the world
Vibrant or empty, jubilant or downcast, the results are a buoyant celebration of streetlife worldwide – in all its glory and contradictions.
These faithful cooks may be working with small kitchens, but the food they're slinging is brimming with soul.
Best selling Time Out Offers