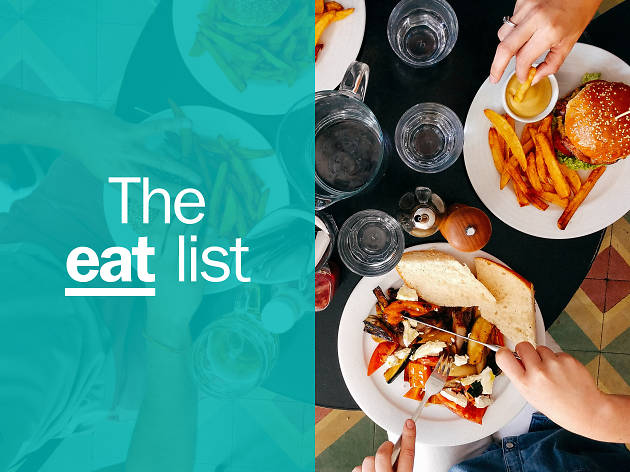 The 13 best restaurants in Charleston
Filled with highly regarded, award-nominated and -winning chefs, the best restaurants in Charleston deliver
The city of Charleston is known for a few things: white sandy beaches, endless activities and things to do, a rich cultural history and a culinary scene that's on par with both Paris and NYC. The city is home to a number of James Beard Award-winning and -nominated chefs and restaurants, which means that you have plenty of opportunities to have an amazing meal within the Holy City. No matter what you're craving—from fried chicken to pizza to tacos and everything in between—there's loads of great food to be eaten at the best restaurants in Charleston.
Best restaurants in Charleston
What is it: An upscale cafe helmed by chef Vinson Petrillo that's one of the most romantic and under-the-radar restaurants in Charleston. On offer is a luxurious prix-fixe, six-course menu that's creative and plated like a work of art. The restaurant's setting, within a boutique hotel, affords it a one-of-a-kind ambiance that has diners feel like they're consuming a meal right in the chef's home.
Why go: If you think of food as an experience that involves all five of your senses, then Zero George is the perfect place to dine. Chef Petrillo takes molecular gastronomy and makes it approachable, while also inviting you to think of food in a whole new way.
Price: Blowout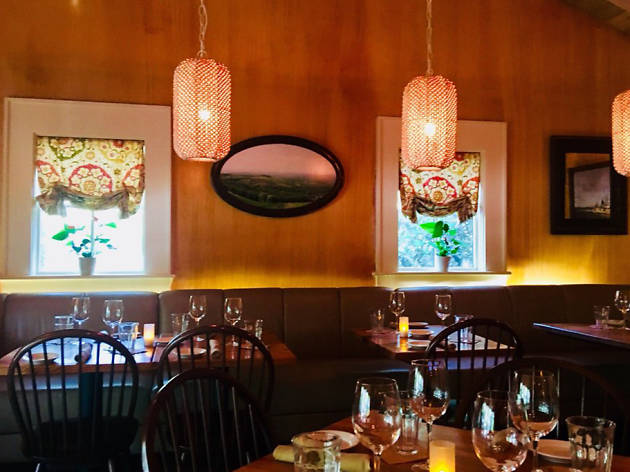 Photograph: Courtesy Yelp/Abby C.
What is it: This cozy Italian eatery has a homey, rustic feel, making it the perfect place for a weeknight get-together with friends, a casual date night or dinner with the whole family. The wine list is extensive and the food menu is so large that you could return here regularly and never eat the same thing twice.
Why go: Italian food is pretty universally beloved and Wild Olive serves it in a way that's comforting, approachable and just darn delicious. The chicken parmesan is not to be overlooked—always perfectly prepared and perpetually a crowd pleaser.
Price: Pricey
What is it: A lively, homestyle Greek kitchen serving meze and Mediterranean fare. The restaurant is a neighborhood favorite and is always crowded, so you'll definitely want to make a reservation ahead of time. The menu is a great combination of classic and modern Greek food, which pairs perfectly with the specialty cocktails and Greek wine list.
Why go: It's the perfect place to visit with a big group, as the menu is so extensive that you'll want to try everything on it. Since the specialty are the mezes, the more people you visit with, the more things you'll get to try.
Price: Pricey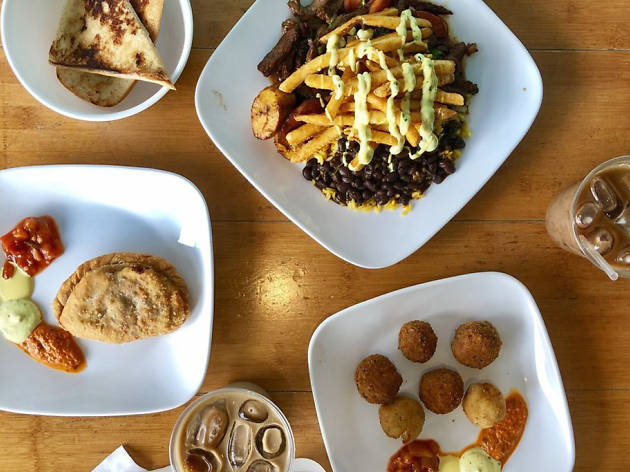 Photograph: Courtesy Yelp/Scotty C.
What is it: From humble beginnings in a food truck, Cuban Gypsy Pantry now has its own permanent residence on Calhoun Street. Alright, so it's fairly intimate, but that only adds to the experience.
Why go: Hands-down, the food. Treat your tastebuds to a trip to Havana with Cuban favourite, such as lomo saltado (Peruvian stir fry) and ropa vieja (pulled beef). Plus, at ten bucks a pop, it's a very affordable option.
Price: Bargain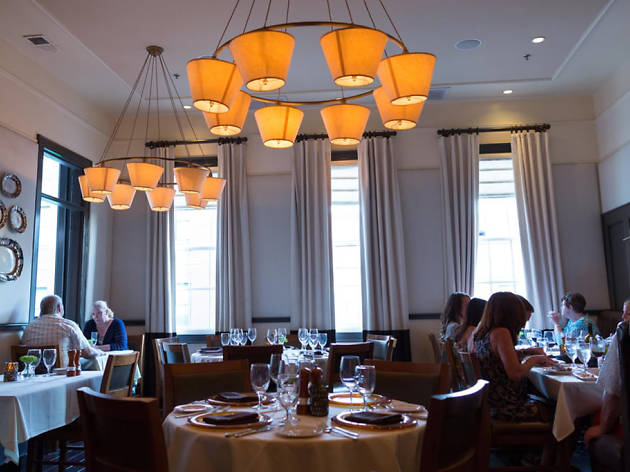 Photograph: Courtesy Yelp/David R.
What is it: An upscale steakhouse in downtown Charleston offering some seriously good cuts of meat. When it comes to steak, you'd be hard pressed to find a better one than the one served at Halls. The food, coupled with the restaurant's dark wood features, muted lighting and emphasis on hospitality, make it the perfect place to celebrate a special occasion.
Why go: Whether for dinner or brunch on a Sunday, a meal at Halls Chophouse is always cause for celebration.
Price: Blowout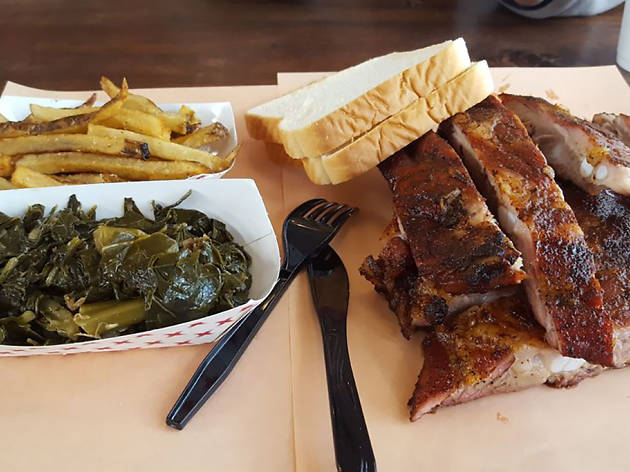 Photograph: Courtesy Yelp/Cathy H.
What is it: Proper South Carolina barbecue that goes the whole hog – literally, over a wood-stoked fire pit. Expect a fun and relaxed vibe, with high quality cooking.
Why go: Pitmaster and namesake Rodney Scott has been cooking since he was 11. With that much practice, it's no surprise he took home a James Beard Award this year. Food at Rod's comes hot and fast, but this will be the finest fast-food you've ever had. The succulent pulled pork and ribs are testament to the skills in the kitchen.
Price: Bargain
What is it: Charleston's newest rooftop bar opened just in time to usher in summer weather. The space is quaint and cozy, with lots of natural browns, blues and wood elements to complement the restaurant's ocean theme. The menu itself changes daily based on what's available, although the tuna nachos seem to be a set standard—and for good reason, too. The combination of poblano queso, blackened tuna and guacamole with their house-made tortilla chips is a real winner.
Why go: There's something about sipping a craft cocktail and eating fresh seafood on a rooftop that just makes it seem like you're living your best life. And with food this good, you'll never want to leave.
Price: Average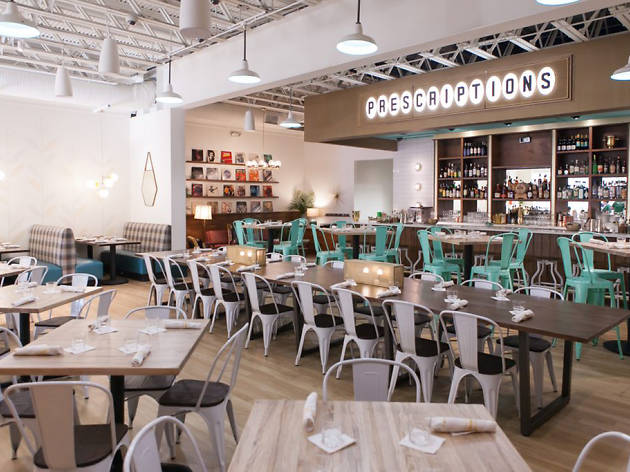 Photograph: Courtesy Yelp/Millers All Day
What is it: Millers All Day is the perfect place for those who think that brunch should not be limited to just the weekends. Millers serves a great menu full of favorites—think waffles, biscuits and gravy, and a rotating grits bowl—every day of the week. And since it's not really brunch without a proper drink, the venue's specialty cocktails (like the super popular brunch punch, a frozen concoction that's deceivingly delicious and easy to drink) make the perfect pairing with any menu item.
Why go: The restaurant itself feels like a midcentury modern diner, complete with a coffee bar, bakery and an old school photo booth. If you like breakfast foods and quality cocktails, you'll absolutely love it here.
Price: Pricey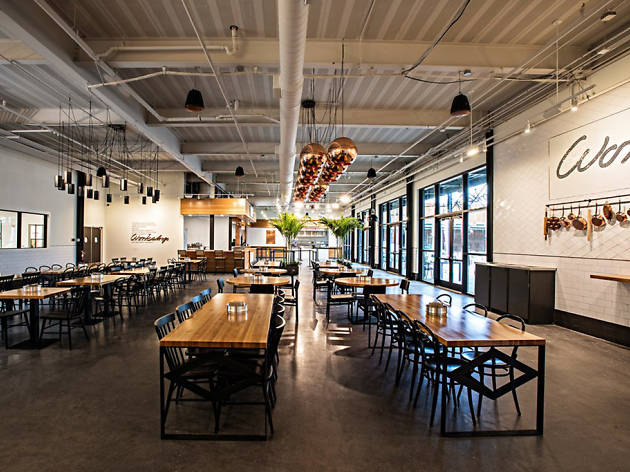 Photograph: Courtesy Yelp/Workshop
What is it: Charleston's first (and, as of now, only) food hall is in Wagener Terrace downtown and features a rotating residence of innovative (and sometimes experimental) restaurants and pop-ups. It's infusing some much needed variety into Charleston's culinary scene, with flavors and cuisines that had previously been missing from the city's dining options.
Why go: Since the restaurants change every few months, there's always something new to discover. Think of it as an adult food court where you can get your hands on a burrito, some Cuban croquettes, a banh mi, some sushi and a frozen cocktail all at the same place.
Price: Average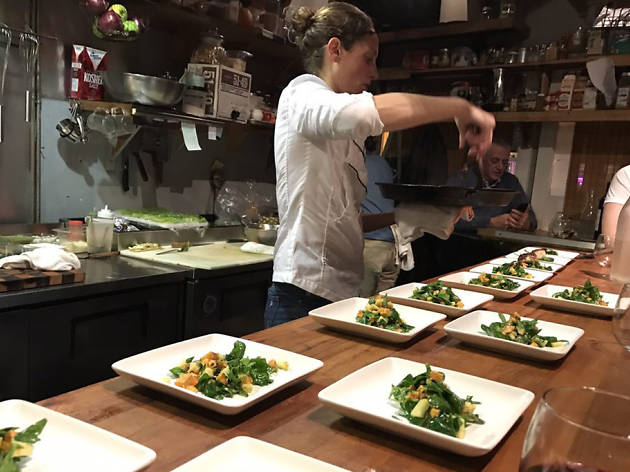 Photograph: Courtesy Yelp/Ups C.
What is it: Fancy a seat at the chef's table? You got it! At R Kitchen (the R stands for Rutledge), every table belongs to the chef as the intimate room – which is basically the kitchen – seats just 16.
Why go: Aside from the earthy settings, a big draw for R Kitchen is the affordable set-menu. Five courses cost $35 per head and the menu changes every night. They're also very amenable to changes due to dietry requirements, so don't be nervous to ask for your preferences.
Price: Pricey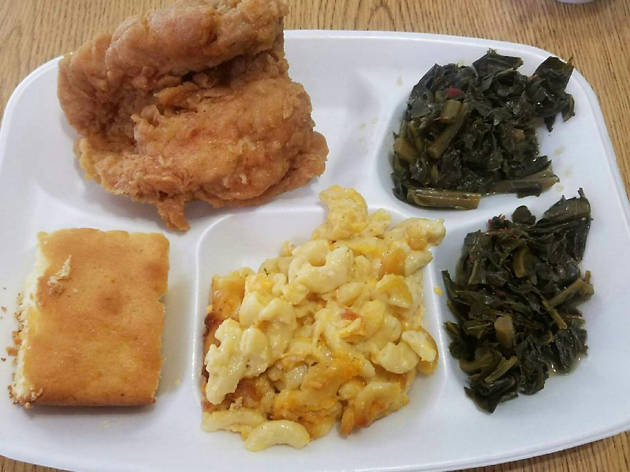 Photograph: Courtesy Yelp/Kimberly T.
What is it: This downhome, bright pink cinderblock building has been a staple of Charleston's NoMo neighborhood since before it even had a moniker. Martha Lou and her daughters have been serving quality, no-frills soul food for years, and they don't show any signs of stopping. It basically feels as if you dropped into someone's grandmother's house for dinner and have been greeted with a whole lot of excitement. That sort of hospitality is contagious.
Why go: The fried chicken is definitely the standout here and totally worth the wait for a fresh batch.
Price: Bargain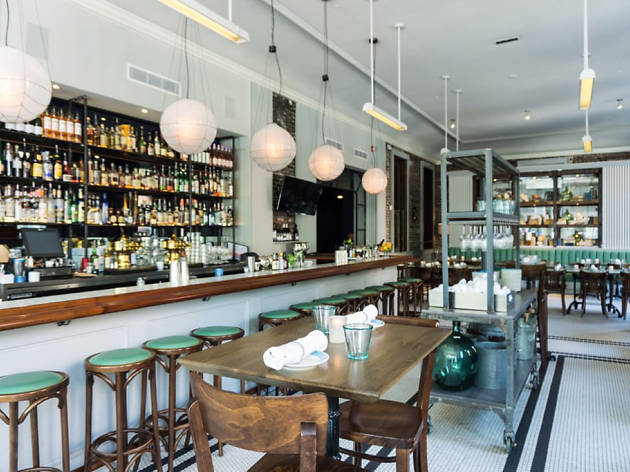 Photograph: Courtesy Yelp/Lisa Marie K.
12. The Darling Oyster Bar
What is it: With a gorgeous vintage-style dining room and a lively raw bar, The Darling is a seafood lover's dream restaurant. The menu is full of creative and popular seafood dishes (like the hand-cut French fries topped with house-made clam chowder) that are sure to impress even the pickiest of eaters.
Why go: While dinner and the raw bar are mainstays, the brunch service—including the "Captain," a Bloody Mary topped with a lobster claw, crab leg, olives, pickled shrimp and hushpuppy—is the true reason you should be running here.
Price: Average
What is it: With a menu comprised mostly of small plates and shareable items, Sorghum and Salt's locally-sourced and Southern-inspired cuisine is meant to be enjoyed amongst friends. The trendy and hip vibe inside the restaurant is a fun backdrop to chef Tres Jackson's creative and impressive menu that'll make you feel like you're gourmet dining without the gourmet price tag.
Why go: The menu changes seasonally, which means there's always a reason to come back and try something new. We suggest you take a seat at the chef's table for $75 per person to revel in a truly one-of-a-kind experience.
Price: Pricey
Discover Time Out Market: the best of the city under one roof
Planning a trip to Charleston?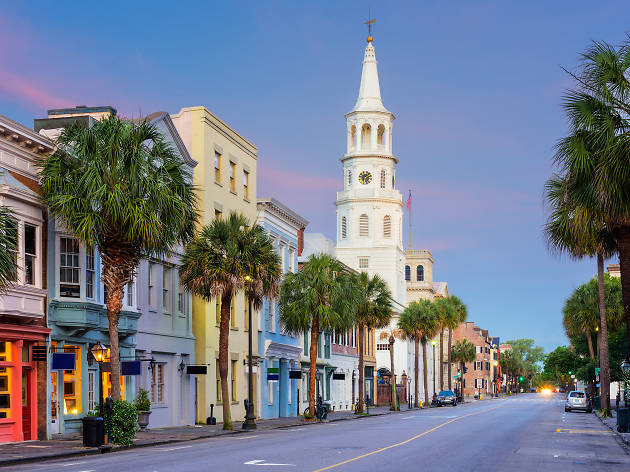 One of America's most atmospheric and inviting cities, Charleston is easy to fall in love with.
Best selling Time Out Offers