Anna Clyne | Interview
The CSO composer in residence opens the doors to her studio.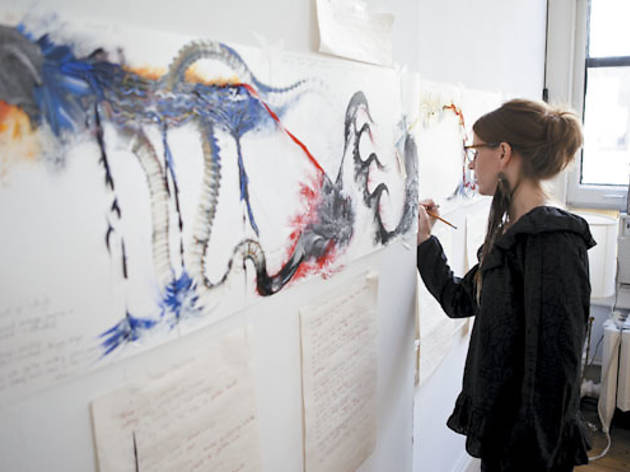 Anna Clyne's music studio is an ideal creative hideout. The cozy room, on the seventh floor of the Fine Arts Building, is packed with artistic fuel: a ukulele on a rocking chair, a tea-making station, piano scores, an open packet of cookies resting against a laptop. The walls are plastered with the English composer's own colorful collages and paintings—she picks up the brush to visualize her musical ideas during the writing process.
It's in this studio that Clyne, known for her edgy and adventurous electro-acoustic compositions, gives private lessons and takes care of her duties as the Chicago Symphony Orchestra's co–composer in residence, a role she shares with San Francisco–based Mason Bates, who just scooped up a $250,000 Heinz Award for pioneering the use of electronics in the symphony orchestra.
"Mason and I are such a good team," says the mellow 32-year-old, dressed for autumn in a thrifted green cardigan with a black fur collar. "He's become one of my dearest friends. We're able to harness a wide spectrum of musical styles, which results in really eclectic programs. [Riccardo] Muti somehow knew that we'd work well together. Throwing two composers together could have been a total disaster!"
In addition to penning commissions for the CSO, the pair hit its stride with MusicNOW, a popular series that fuses some of today's most exciting composers with diverse collaborators including Mouse on Mars, Hubbard Street Dance and superDraw artist Joshue Ott. DJs spin in the lobby before and after each hour-long concert, program notes are digitized, and audience members can chow down on free pizza and beer after the show. "We really want to tap into all the exciting things going on in Chicago," says Clyne, a native Londoner, as she busts out a quintessentially British beverage—Earl Grey tea from Fortnum & Mason.
The first MusicNOW performance of the 2012–13 season, October 29, features Clyne's own "Roulette"—a neo-romantic piece for strings and tape from her 2011 album, Blue Moth. It's coupled with Chicago composer Edmund Finnis's "Unfolds" and Finnish master Magnus Lindberg's epic, 25-minute "Souvenir" for chamber orchestra. Artwork by local muralist Jason Brammer, whose work is in the season brochure, will be on display in the venue.
The duo's two-year contract with the CSO was renewed in February. "I wasn't expecting it, but it makes sense because the changes that we're bringing to MusicNOW feel like they need more time to come to fruition," Clyne says. Meanwhile, the River North resident, a self-confessed workaholic, has plenty of other fish to fry. Besides work with Alzheimer's patients during music therapy sessions at the Music Institute of Chicago, she also has an upcoming Chicago premiere of a double violin concerto, Prince of Clouds, to be performed by the CSO in December, and an upcoming MusicNOW world premiere of Voices, inspired by an Emily Dickinson poem. "It's sort of baroque meets contemporary meets otherworldly," she says with a grin. "I haven't written much vocal music before, but one of the joys of composing is that each new project presents its own unique challenges."
MusicNOW kicks off their season October 29 at the Harris Theater for Music and Dance. The Chicago Symphony Orchestra premieres Prince of Clouds December 13 at Symphony Center.