Avalon Quartet takes on Beethoven
Avalon String Quartet teams with the Art Institute of Chicago to tackle all of Beethoven's string quartets, paired with paintings.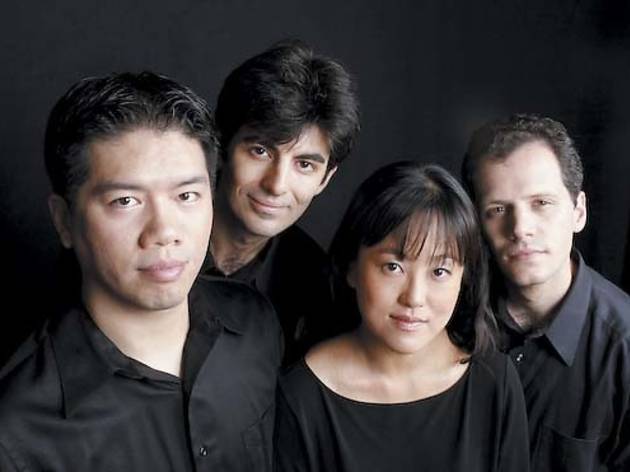 To celebrate its 50th anniversary in 2002, the Lyric ran through three complete cycles of Wagner's 15-hour Ring. Ilya Gringolts trounced the six Ysaÿe violin sonatas, originally intended for six soloists, in one fell swoop. The endurance required for such undertakings is staggering. This year, the esteemed Avalon Quartet is upping the ante. The local foursome is tackling Beethoven's mighty quartet canon—16 string quartets and the Große Fuge—in its entirety. Three times. Not all in one sitting, of course, as that would be insanity.
Avalon is teaming up with the Art Institute of Chicago to perform the canon in nine monthly installments, which began in late October and will run through June 2012. Avalon will reprise the concerts in six-gig cycles at Mendelssohn Performing Arts Center and at Northern Illinois University, where it is the ensemble in residence. Part two, "Night and Day," a juxtaposition of Quartet Nos. 1 and 11 with Gerhard Richter canvases, occurs Sunday 13.
Planning for the endeavor took more than a year. "But we've been building towards it, gradually but deliberately, for about five years," violist Anthony Devroye says. The quartet met with the AIC's Mary Sue Glosser and Kathleen Burnett to pair each piece with one of the museum's paintings. We asked Burnett, who leads a gallery walk after each concert, and Devroye for three good reasons to climb this summit.
Because Beethoven is several composers rolled into one.
Anthony Devroye: "Musical contrasts are amplified, not diminished, when looking at the diverse work of a single composer, as opposed to the more obvious differences between music by different composers. In no one's case is this more true than Beethoven's. His quartet output is so varied and original that at times it's hard to believe it's all by the same person. His progress through quartets encapsulates his progression as a composer overall, from spirited Classical sensibility and form, into defiant rule breaking, and finally into deep intellectual and emotional exploration."
Because there are surprising parallels between Beethoven's opuses and AIC paintings.
AD: "I'm particularly excited about pairing [1826's] Op. 131 with Max Ernst's self-reflective works [May 20], thinking of Beethoven's late quartets before his death as self-portraiture. Also, Op. 130 [on April 15], paired with Giorgio de Chirico's The Philosopher's Conquest, both absurdist mash-ups of unrelated elements forced into a unified whole."
Kathleen Burnett: "It's about creating a greater context for the audience. For this project, we were exploring the question, 'What is Beethoven doing in this particular piece?' Gerhard Richter is an artist of extreme variety, not tied to a particular style. Beethoven's Op. 95 and Op. 18, No. 1, are all about contrasts. It's for everyone, but this is not Art History 101. It's a deeper probe."
Because it's actually kind of fun.
AD: "Rehearsing for us is always largely about poking fun at each other's excesses, missed notes, errant squeaks and [violinist] Blaise [Magniere]'s tattered, coffee-stained copy of the cheapo Dover edition score to the Beethoven quartets, with the front and back covers ripped off. Next up? When it's over, we'll probably think of things we could have done better. And then open up the Bartók string quartets."
Avalon Quartet performs Beethoven, Op. 95 and Op. 18, No. 1, Sunday 13 at the Art Institute. See Listings. Find the group's complete Beethoven quartet schedule at avalonquartet.com.