Christine Goerke | Interview
The Grammy-winning soprano makes her Lyric debut in Elektra.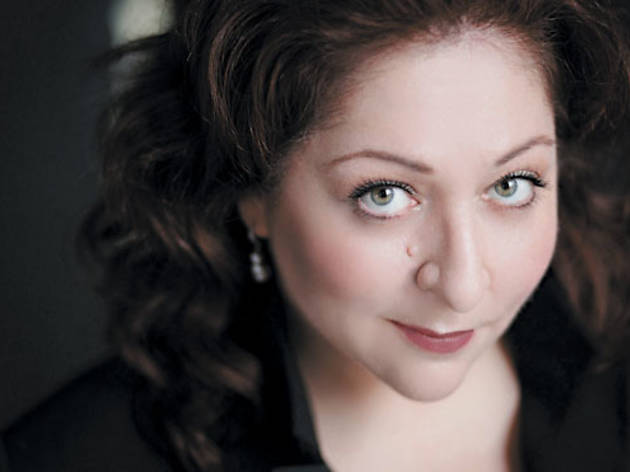 Christine Goerke likes to laugh. A lot. Within three minutes of meeting me, she's cracked several jokes and confessed to being a rampant shopaholic. "You got this in South Africa? Shut up!" she says, gleefully fingering a red wool necklace belonging to one of Lyric's staff members. She turns to me, cocking an eyebrow: "Don't you just hate it when people say that?" A little while later, she reels off rapid banter with her fellow cast members as they giggle over photographs of themselves being "idiot tourists" on the Ferris wheel at Navy Pier.
It's hard to imagine that in two weeks, the bubbly 43-year-old, who carries a Louis Vuitton purse and a mass of chestnut curls, will be storming Lyric's stage drenched in blood. Known for being one of the toughest roles in the dramatic soprano repertoire, Elektra's menacing heroine is required to be onstage for the entire 100-minute duration of the one-act opera. Staged four years after his equally gory and groundbreaking Salome, Richard Strauss's 1909 masterpiece expands on themes of obsession and jealousy as the grief-stricken Elektra avenges her father's murder.
"It's an exhausting role emotionally, let alone physically," says Goerke, taking a swig of water as she settles into a chair in her dressing room. "You have to bring every single possible emotion to the table. It's very demanding. I need a steak and a banana before going on stage!" The New Yorker says she rides high on adrenaline for a while after the curtain falls, then unwinds with a hot shower and glass of wine. With a role this intense, performances are purposefully spaced out with a couple of days between each one.
Although Goerke, a stellar interpreter of Strauss, has performed as Elektra's sister Chrysothemis "countless times," she's sung the role of Elektra just once, at Madrid's Teatro Real last year. She says her voice, known for its squillo (an Italian term for a vocal tone that can cut through large orchestras), is well suited to the role of Elektra, whereas Colorado soprano Emily Magee's "chocolate pudding" pipes are a perfect match for the milder sibling.
Goerke agrees with director David McVicar's opinion that Elektra is the perfect opera for first-timers. "A lot of people would recommended La bohème," she says, "but Elektra is a great choice for young people. It's the length of a movie, the action is nonstop, it's emotionally powerful. There are almost a hundred musicians in the orchestra. It's so exciting, and the sound just blasts you. The first time I saw this in the audience, back in the '90s, I was exhausted. If we do our job right, the audience will be, like, whoa. I want to shock, exhaust and uplift. I want to send everyone home completely drained."
The soprano says it's impossible to sing one role the same way twice in Lyric's new production. "A lot of people think that opera is park and bark," she says. "Sometimes we get that, but this happens to be a cast of absolute actors. You never know what kind of emotion you're going to receive from someone, and your reaction can change at any moment. That's live performance."
After our interview, Goerke sneaks us onto the darkened stage to take a peek at the set. "Don't step on the Xs!" she whispers as we scurry over the foam board rubble and gaze out over the empty auditorium. "I just can't wait for this," says Goerke, eyes blazing with anticipation. "I've got the best job in the world!"
Elektra runs Saturday 6, Wednesday 10 and October 13, 19, 22, 26 and 30 at Civic Opera House.