Countertenor Iestyn Davies | Interview
Iestyn Davies went from Britpop wanna-be to opera star. Kind of the opposite of Damon Albarn.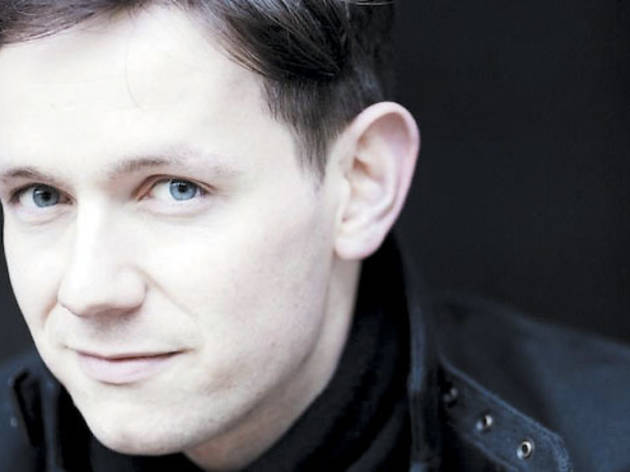 Iestyn Davies strolls into a downtown Intelligentsia coffee shop looking more like an indie rocker than a rising opera star. Sporting a disheveled chestnut crop, well-worn tweed blazer and an easy smile, the 32-year-old British countertenor is enjoying a day off after spending a night with his Rinaldo cast members sampling high-voltage margaritas at Frontera Grill.
Davies isn't a stranger to rock & roll. Although he's spent the last decade building a career as one of opera's most sought-after countertenors—widely admired for his rich, luminous timbre—his teenage years were spent fronting a Britpop band, Cage. While at school in the small town of Wells, England, young Iestyn dreamt of being the next Damon Albarn and gracing the pages of NME. Just as the group was on the brink of signing to Epic, his mom pulled the plug and persuaded her son to study for university instead.
"In retrospect, I'm glad it didn't work out," Davies says, taking a sip of black tea. "Epic wanted to draft in songwriters and change our sound. It turned out to be a bit too much like X Factor." The closest Davies got to rock stardom was working at Glastonbury Festival in 1997, ushering photographers in and out of the pit. He stood onstage for Suede, had Blur sign his coveted Parklife CD and shared a smoke with Joe Strummer. "I also got right to the front of the crowd for Pulp," he reminisces. "I saluted Jarvis and he saluted back. It was amazing!"
Davies graduated from Cambridge with an archeology degree while working as a choral scholar. He discovered his countertenor voice—a male singing voice that, using falsetto, sings in the range of a female contralto or mezzo-soprano—at age 17. He jokes that his motivation to sing in the range was to hang out with the girls at the front of the pews.
In 2011's Rodelinda, he became the first British countertenor to grace the stage at the Met. "It's inevitable that I'm going to be the first countertenor to do something or other," he says humbly. "There aren't that many of us around, full stop. Singing at the Met was really cool, though. I've listened to Andreas Scholl for years, and suddenly I was singing next to him."
Davies's buddy and collaborator, composer Nico Muhly, weighs in on his friend's mass appeal via e-mail: "Iestyn's voice is the perfect combination of the emotional restraint it requires to be a choral scholar with the expansive, expressive necessities of opera. It's learned and natural, gorgeous and precise. He's the best."
Davies recently bought a house in York, where he lives with his girlfriend, a French teacher. Chicago audiences have the chance to hear his exquisite voice in two programs this month. He stars alongside fellow countertenor David Daniels as Eustazio in Lyric's upcoming run of Rinaldo, the rare opera to feature two countertenor leads. "Handel was only 21 when he wrote the opera, so the music is crazily exciting," Davis notes. "It's cool aria after cool aria."
In the midst of those gigs is a special three-concert collaboration with Baroque Band. The all-Handel bill contrasts arias written specifically for countertenor voice against those for castrato. Davies says the early-music revival that has spread from Europe to America has been good for business: "There aren't castrati anymore. Thank God! Countertenors get a lot of work, as we can replace them."
Davies performs in Lyric Opera's Rinaldo through March 24 and with Baroque Band Friday 9, Saturday 10, Wednesday 14.