Joshua Bell | Interview
The Grammy-winning violinist returns to Ravinia.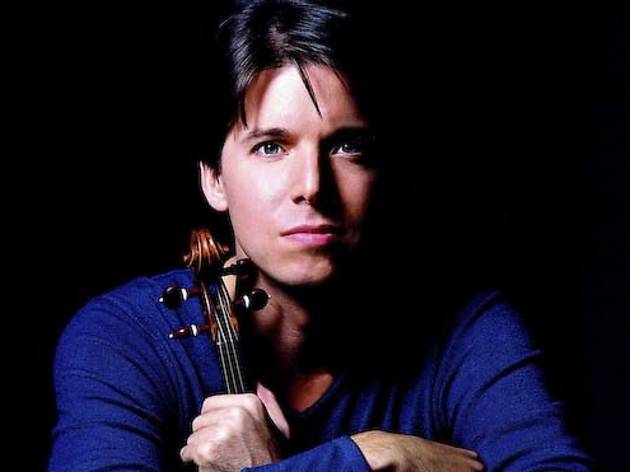 "You only live once, so I try to say yes to everything," says superstar violinist Joshua Bell. "I've been touring for 25 years. I'm used to it, so I love it. Although I feel the tug of home as I have three little kids, I don't suffer like some artists who constantly complain about how much they hate traveling."
The warm, energetic Grammy-winning fiddler is chatting on the phone from his Manhattan digs, where he's enjoying a rare break from the road before tackling an onslaught of summer festivals. Despite his bustling New York home life and international career, the Bloomington, Indiana, native loves to revisit his Midwestern roots and often makes a summer pit stop at Ravinia—this year marks his tenth appearance since 1989.
"I love the outdoor festival feeling," says the 44-year-old. "When I'm on stage, it's very gratifying to watch people on the lawns enjoying the music with a glass of wine. There's less sense of people being there for status reasons, and the atmosphere is casual and fun. It reminds me that classical music is nowhere near being dead. That rumor has been going around for 200 years! It's not going anywhere."
For this year's Ravinia appearance, Bell will team up with the CSO and conductor James Conlon for Samuel Barber's lush Violin Concerto. The work, which was penned at the outbreak of World War II, caused a stir upon its premiere. "It wasn't taken seriously by the intellectuals because it was almost too beautiful," Bell says. "Avant-garde was in, and the Viennese School was stretched to its atonal limits. You weren't supposed to write beautiful music at that time. In the last 20 years or so it's become incredibly popular, and rightly so, since it's such a gorgeous piece."
Bell's ties to the CSO run deep. In addition to performing with the orchestra many times over the years, the child prodigy's first big concert as a soloist occurred at age 14, alongside the Philadelphia Orchestra conducted by Riccardo Muti. "That concert was such an important force in my memory," reminisces the violinist. "For Muti it was a minor blip! I was surprised to hear that he even remembered it. He was very kind and gentle with me. My only quibble was that I wanted to play a fantastic, showy piece by Tchaikovsky or Mendelssohn in the audition, but he insisted on a more subdued Mozart concerto. It turned out to be at my benefit! I'll never forget the sound of a great orchestra behind me."
Before hitting Ravinia, Bell will take the stage at the Hollywood Bowl and Massachusetts's Tanglewood Festival, where he'll perform the premiere of a concerto by double-bass whiz Edgar Meyer. Although the piece was delivered to him only two days before our conversation, Bell isn't breaking a sweat.
"I was struggling with some of the notes when you called. I'm cramming to learn the piece in the next two weeks," he laughs. "I'm in a position where, theoretically, I could play the same ten concertos and make a very good living bouncing around playing Mendelssohn, Tchaikovsky and Barber, but I really think artists should keep pushing limits and trying new things. I've also been doing a lot of composing and directing recently. I feel like I've started a new chapter."
Bell and the CSO play Ravinia Pavilion Wednesday 25.