Lesley Nicol | Interview
Downton Abbey's chef transforms into Dame Myra Hess in Admission: One Shilling.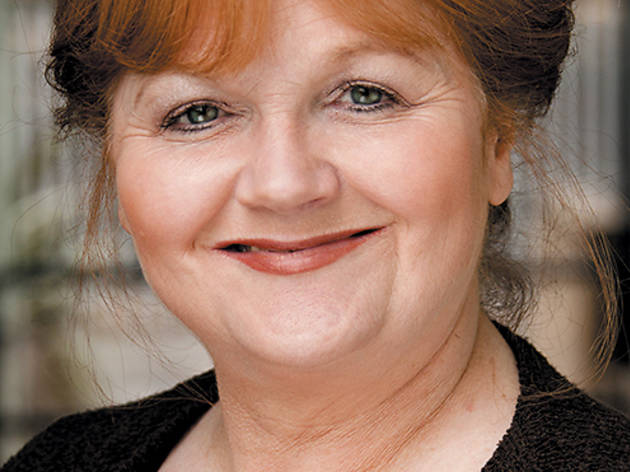 Actor Lesley Nicol is best known for lording over Downton Abbey's gossip-riddled kitchen as the estate's lovable, apron-clad cook, Mrs. Patmore. Prior to this recent brush with cult fame, the Manchester-born veteran spent close to four decades tackling diverse roles in television, theater and film. Her latest gig? A theatrical performance inspired by the life of Dame Myra Hess, the steadfast British pianist who famously organized a series of lunchtime concerts at London's National Gallery during the Second World War.
"I always admire people who have passion," says Nicol, 59, in her broad Northern accent, a slightly leaner version of the Lancastrian dialect she beefs up for the role of Mrs. Patmore. She's speaking over the phone from Los Angeles, where she's promoting the third season of Downton. "Myra Hess put her own ambition aside and brought pleasure to people during an incredibly difficult time," she notes. "You don't do something like that without being an exceptional person, do you?"
The pianist was in her forties and on the brink of an international career when storm clouds gathered over Europe. She set her dreams aside and drove an ambulance before arranging her first concert in October 1939. With a soundtrack of Hess's favorite music by Chopin, Beethoven, Schubert and Schumann, Admission: One Shilling tells the story of the pianist in her own words, using diary entries and letters compiled by her great-nephew, composer Nigel Hess. These personal documents illustrate the highs and lows of the 1,698 morale-boosting concerts Hess both organized and played in alongside 700 other musicians throughout the Blitz and subsequent bombings of England's capital. Despite the calamity surrounding her, Hess had a robust sense of humor. "She wasn't a fuddy-duddy," confirms Nicol. "She was really funny, and that shines through in this play."
Nicol's father encouraged his family's appreciation of music by playing classical records at the end of the day, but learning to play an instrument proved tricky for the budding actress. "I wish I could play the piano," she says with a resigned laugh. "I started when I was four and finished when I was five. I got bored. I couldn't tell my left hand from my right back then!"
Thankfully, the musical side of Admission: One Shilling will be left in the capable hands of New York–based pianist Inna Faliks, who plays between Nicol's monologues. "This performance is very special to me, as one of my beloved teachers, Ann Schein, studied with Myra," writes Faliks via e-mail. "I love the nobility, directness and communicative nature of her playing. I definitely feel a link to her."
Chicago has its own special bond with the pianist. The Dame Myra Hess Memorial Concert Series, held every Wednesday afternoon at the Chicago Cultural Center, has been a cornerstone of the city's classical music scene for 36 years. It's apt, then, that the one-night-only U.S. premiere of the play will take place beneath the Cultural Center's Tiffany Dome. "It's wonderful, because the play will really mean something to the audience in Chicago," Nicol says. "It's the perfect place for the premiere."
Faliks, who has been a regular performer at the Myra Hess concert series over the years, agrees. "The way Myra brought thousands of people together through music during WWII remains, in my opinion, one of the most inspired ways an artist has influenced history. That she continues to do so posthumously, on another continent—that is truly special."
Nicol and Faliks appear in Admission: One Shilling Tuesday 29 at the Chicago Cultural Center, which presents the Dame Myra Hess Memorial Concert Series on Wednesdays.