14 new acts to watch out for in 2014
Say hello to the bands and artists set to seduce your ears this year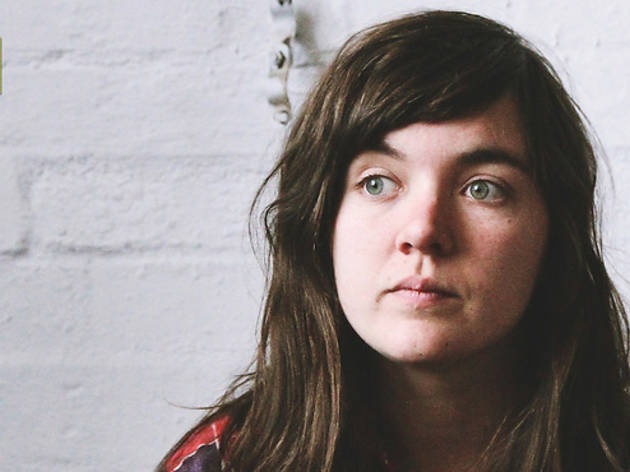 1/14
Courtney Barnett Think nothing can touch you when you're 25? Not so for panic attack-sufferer Courtney Barnett, who hyperventilates while gardening at her home in Melbourne. At least her strained, stoner existence makes for some fine charming indie-rock yarns (that last episode crops up on the excellent Avant Gardener), accompanied by lazily brilliant guitar riffs and delivered in Barnett's half-awake purr. After last year's A Sea of Split Peas double EP, we're sure that 2014 will bring plenty more wit and wist. Jonny Ensall In a nutshell: Like a young, female, Australian Kurt Vile—but funnier.Catch her at Empty Bottle on February 18.Key track: 'History Eraser'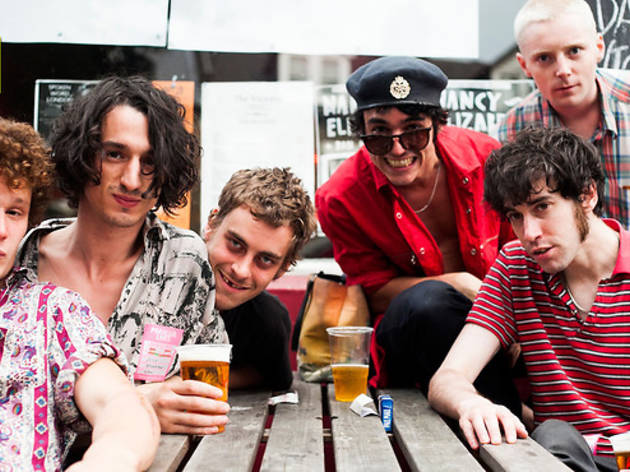 2/14
Fat White Family Lyrics about class war, grotesque videos featuring offal, song titles including "Bomb Disneyland"—if you've been finding music too cuddly, then Fat White Family demand your attention. The six-piece have so far created more buzz for their 'tude than their tunes. Unfurling a banner from their Brixton squat declaring THE WITCH IS DEAD on the day Thatcher died will do that. A listen to their debut LP Champagne Holocaust however reveals they're both in thrall to the grinding chug of Captain Beefheart or the Fall, and also blessed with the ability to bring a bit of absurdity and silliness to music too.—Oliver Keens In a nutshell: Slight whiffy, rabble-rousing rock.Key track: "Who Shot Lee Oswald?"
3/14
Jessy Lanza Genuine word-of-mouth buzz is a precious commodity, but this Canadian singer's name was whispered more last year than those rumours about Benedict Cumberbatch. A graduate in jazz and a music teacher in her hometown of Ontario, Lanza put her encyclopedic knowledge of R&B to stunning use on her breathtaking debut LP Pull My Hair Back. Like a woozier Jessie Ware or a less arch Grimes, her crystalline vocals and deal-with-it sense of sexuality should make J-Lan's name go from whispered to roared over 2014.—Oliver Keens In a nutshell: The future of future R&B.Catch her at  Lanza visited Smart Bar in January. You missed it. But she'll be back, in a bigger space, likely.Key track: "Kathy Lee"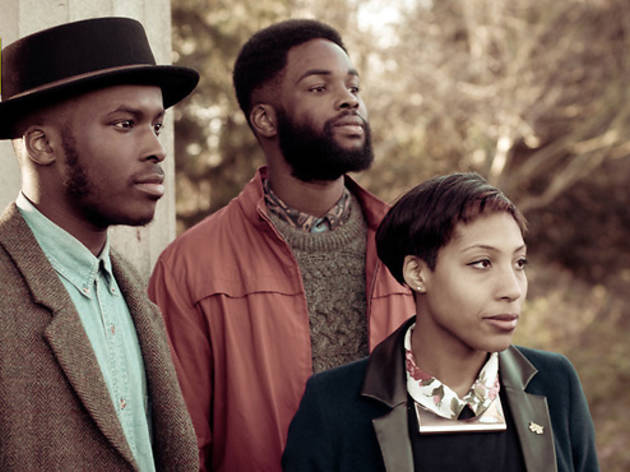 4/14
Hawk House British hip-hop went a bit weird in 2013. Dizzee Rascal released a song about his love of arses, while Tinie Tempah penned the charming couplet "Looking at a MILF / Thinking 'bout filth." Don't despair though—the London rhymers in Hawk House look set to bring a hefty dollop of class back to the genre. Their two guys (Sam and Eman) and one girl (Demae) dymanic may remind of the Fugees, but they're closer in spirit to smokey new-schoolers like Joey Bada$$.—Oliver Keens In a nutshell: Beats, rhymes and London life distilled.Key track: "It's Everyday"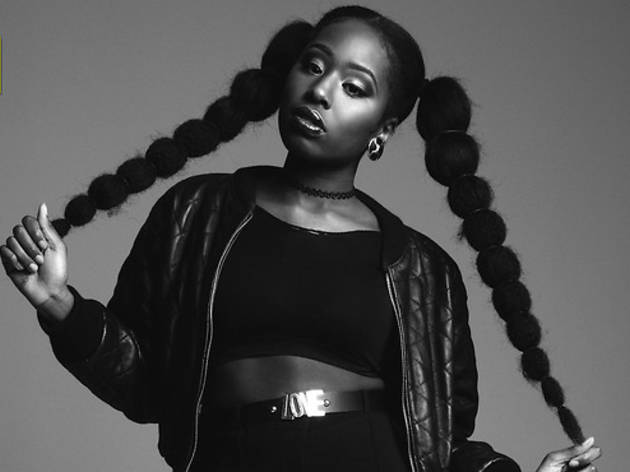 5/14
Moko Only south London could produce someone like 21-year-old soul singer Moko. She grew up in New Cross in the '90s absorbing the house, garage, gospel, trip hop and soul of the city's airwaves, and now she's pumping out standout track after standout track, rolling those sounds into some of the most strikingly passionate electronic music of recent years. Expect to see a lot of copycat pigtails when she gets big.—James Manning In a nutshell: The new sound of south London.Key track: "Hand on Heart"
6/14
Teleman Plenty of bands have indie-rock skeletons in their closets, though that doesn't mean they can't start anew, and be genuinely great. Just as fuzzed-up act Toy was formerly Joe Lean's Jing Jang Jongs, and Fat White Family was perky indie-pop wastrels the Metros, Teleman also has history as another group: three of them used to strum for middling crew Pete and the Pirates. Now, however, they've shed the spiky guitars and have hit upon a more eccentric, driving and elastic take on indie whimsy, with songs that tend to stick firmly in your head. Fans include Suede guitarist Bernard Butler, who likes them so much he produced their upcoming debut album.—James Manning In a nutshell: Oddball pop that's already swayed Suede.Key track: "Steam Train Girl"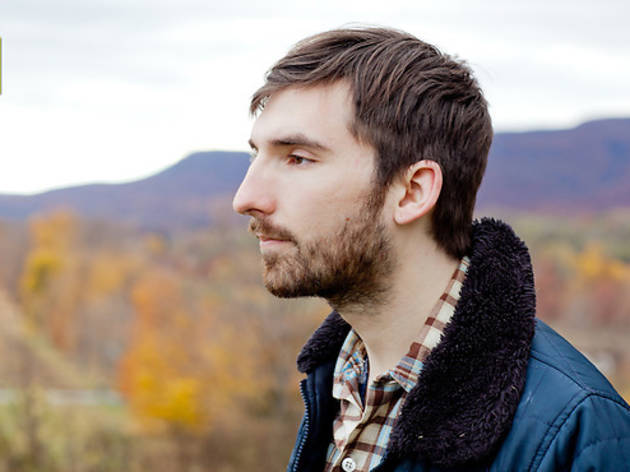 7/14
Mutual Benefit Mutual Benefit is Jordan Lee, a songwriter who produces tender, generous and richly orchestrated tunes, and who is undoubtedly the new star of the American alt-folk movement. Last year's debut album, Love's Crushing Diamond had the same, "Whoa—where did that come from?" sense of awestruck enjoyment attached to it as Bon Iver's seminal For Emma, Forever Ago LP. It also shared much of that record's sense of wonder at the vastness of the whole wide world, and quivering anticipation at the sheer range of emotions that can be bestowed upon the humble singer-songwriter. Rousingly beautiful.—Jonny Ensall In a nutshell: Log cabin music for beard wearers and admirers.Catch him at Lee was an opening act at January's Tomorrow Never Know fest. He should be headlining soon.Key track: "Advanced Falconry"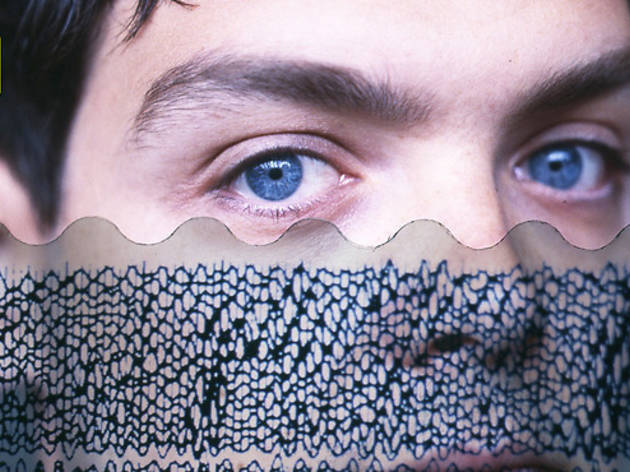 8/14
Sivu You've just moved to the big city from the countryside and you're trying to make it as a successful singer-songwriter— how do you catch people's attention? Sivu, a.k.a. James Page, chose to film the video for his first single inside an MRI scanner. The track was "Better Man Than He," which not only had one of the videos of 2013 (basically a journey through the singer's mind), but was also full of fluttering pop piano, wistful snare rolls and Page's wonderfully brittle falsetto. Together it was all enough to attract Alt-J's producer Charlie Andrew, who's currently working on the debut Sivu album, set for release this coming year. Danielle Goldstein In a nutshell: Think Bombay Bicycle Club, but more forlorn.Key track: "Better Man than He"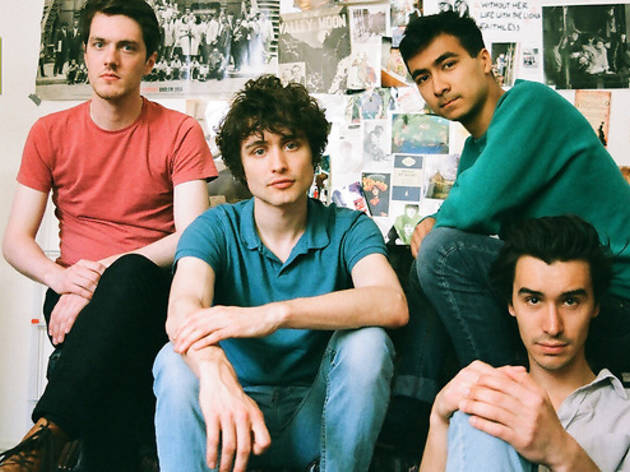 9/14
Flyte Just like a litter of puppies, Flyte can be an uncontrollably happy bunch. In fact, these British boys could probably out-pep any pup with their wholesome and upbeat indie tunes. Take the foursome's three-track Live EP, for example—it's packed full of chirpy guitars, close harmonies and sprightly percussion, designed to get even the grumpiest yupster dancing. Make a resolution now to listen to more happy music, and get 2014 off to a buoyant start with this infectiously energetic outfit.—Danielle Goldstein In a nutshell: Echoing the best of Mystery Jets, in charmingly trendy fashion.Key track: "Over and Out"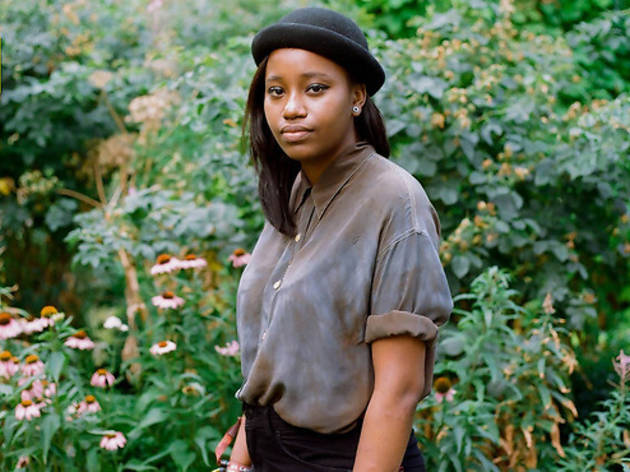 10/14
Denai Moore Jamaican-born Moore is one Londoner who focusses less on style and more on substance. In her case, that substance is a mesmerising mix of soul and folk, which speaks of Moore's varied influences (from Lauryn Hill to Bon Iver) as well as her own unique talent. She can be upbeat, as on last year's two excellent EPs, but (unluckily for her) miserablism is her forté. When Moore cranks up the melancholy she becomes a talent to rival King Blubber James Blake. We can't wait to get to crying over a full album of her powerful, piano-led songs.—Elizabeth Darke In a nutshell: Un-Denai-ably brilliant ballads.Key track: "Wolves"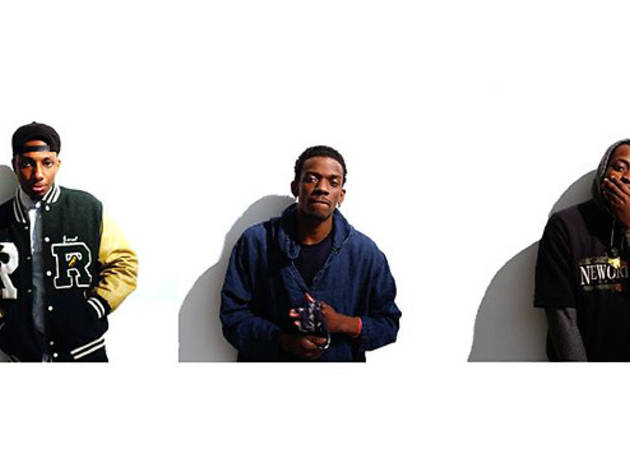 11/14
Jody P.M. Dawn dressed like hippies, but it took two decades for soul music to get truly psychedelic. Even mainstreamers like Miguel smears vocals atop a swirl of synthesizers. Last June, we said this upon our first impression of the Chicago R&B trio—it croons seductively through smoked-out, chopped-and-screwed porno joints. Fans of Rhye and the Weeknd take note. Local electronic act The-Drum handles production on K-hole slow jams like "The Long Goodbye."—Brent DiCrescenzo In a nutshell: The Weeknd meets Dru Hill.Key track: "The Long Goodbye"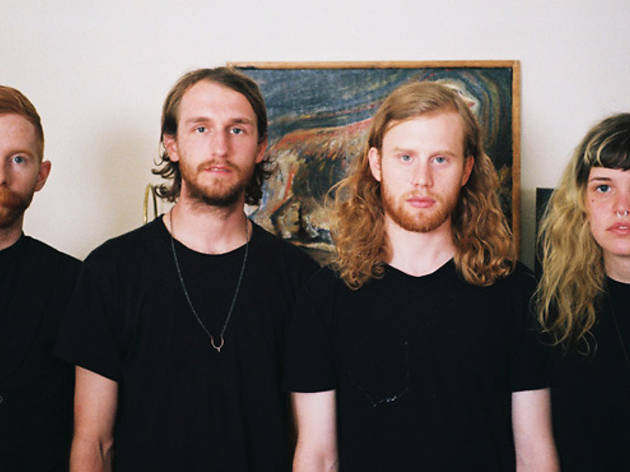 12/14
Saintseneca Like it or not, ubiquitous songs like the Lumineers' "Hey Ho" and Mumford & Sons' "I Will Wait" have become part of the American folk-music cannon. Midwesterners Saintseneca cut their teeth playing house shows around Columbus, Ohio, and as such, the group's stage presence is at once intimate and commanding. Standing on raised wooden platforms (amplified for maximum foot-stomping enjoyment) the quintet channels the infectious melodies of Neural Milk Hotel and the earnest harmonies of Fleet Foxes. The band drops its debut for Anti- Records this spring.—Zach Long In a nutshell: Harmonic neo-folk that doesn't make you want to punch people wearing suspenders.Catch them at: Empty Bottle on March 7.Key track: "Uppercutter"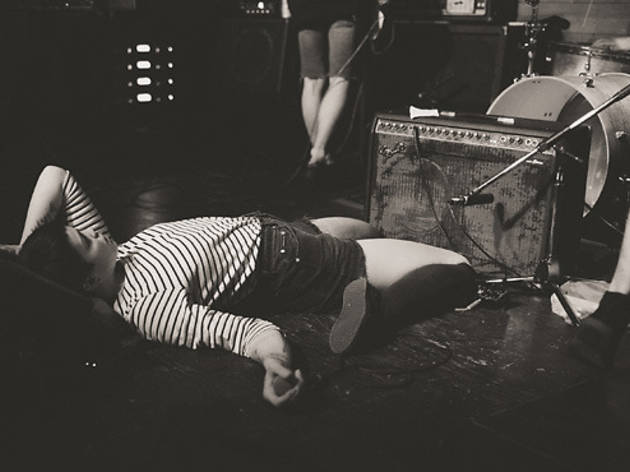 13/14
Perfect Pussy With a provocative name, impatient rage and '90s zine aesthetics, Meredith Graves fronts Perfect Pussy, next in the line of great frontwomen that gave us Kathleen Hanna, Karen O, Marissa Paternoster and Jehnny Beth. The Syracuse band's ripping cassette-tape debut, I Have Lost All Desire for Feeling, was a dozen-plus minutes of perfect, passionate hardcore, a bit of Bikini Kill meets Iceage, with songs only branded with Roman numerals. "My best friend is back in town…her eyes fell low with shame and cum," Graves howls to open I. If you ever loved punk, this will remind you why. The band has signed to the très hip Captured Tracks, who will release Say Yes to Love in March. The first single, "Driver," offers a touch more clarity.—Brent DiCrescenzo In a nutshell: Hardcore riot grrl ripped from an old HeartattaCk zine.Catch them at: At Township on Apr 1. Put money on Pitchfork Fest, too.Key track: "Driver"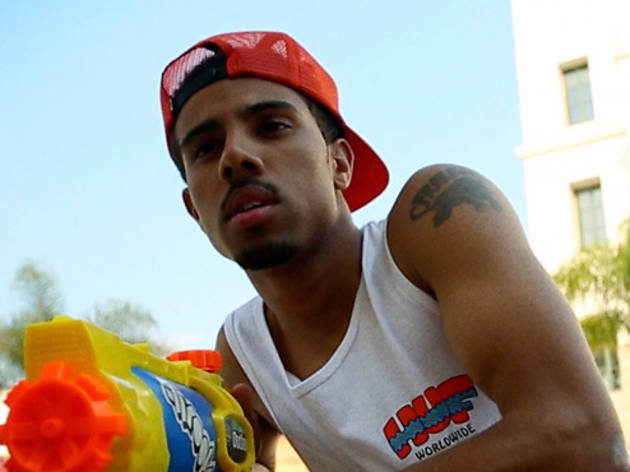 14/14
Vic Mensa Chicago rapper Mensa got his start with Kids These Days, an upbeat high-school group that came off as a Disney act and had Jeff Tweedy produce its record. Lately, he's been boosting his profile via guest spots on Chance the Rapper cuts. He's not as progressive as Chance, so labeling as this year's model is wrong. There's a more commercial lean to his mic skills. Last year's Innanetape aspired to Drake and Wiz, while holding onto the live instrumentation of his Kids era.—Brent DiCrescenzo In a nutshell: Chicago's answer to Wiz Khalifa. The earlier Wiz.Key track: "Holy Holy"