Adam Ant | Interview
The King of the Wild Frontier on fame, Bedlam and the Blueblack Hussar.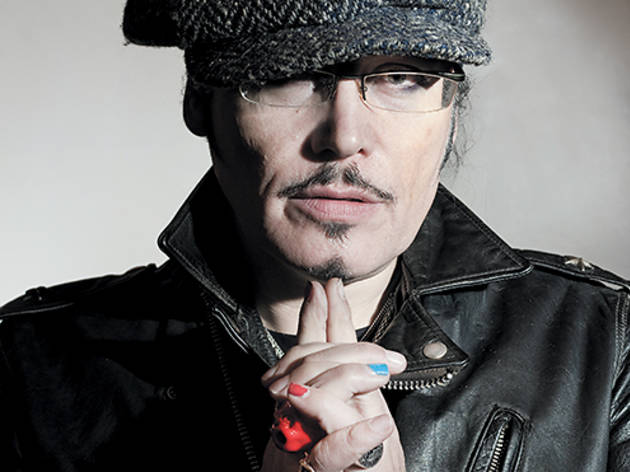 In 2011, Adam Ant returned after 15 years in the pop wilderness with his new band the Good, the Mad and the Lovely Posse. Time Out London's Tim Arthur interviewed the 57-year-old King of the Wild Frontier, who opened up about fame, Bedlam and the Blueblack Hussar.
Your look was heavily influenced by Native American culture. Why did that resonate with you?
I was just a kid from a council flat that grew up watching films about cowboys and Indians. Then somebody gave me a book called The Gospel of Redman. It was a kind of Edwardian publication, which explained the philosophy of Native Americans, and I felt that their attitude towards nature and towards everything appealed to me more than any orthodox religion. I liked their ideas of honor. We were critically slaughtered when we started—we were the band you loved to hate. So even before [Kings of the Wild Frontier], I felt we were outsiders and we had to come out fighting like warriors.
Have you always been that single-minded and determined to succeed?
I was then. From the outset I wanted to make records that people bought; I didn't want to make cult records that no one ever heard.
But when you did find fame you fired the band and went solo…
The primary reason we split up was we were just exhausted; we were kind of sick of the sight of each other. We'd been working nonstop from Kings to Prince Charming straight—it was like work, work, work. There's also a kind of lead-singer-ism problem. I was very focused: That was all I had—it was my baby, my life. I was the one doing the interviews, I was the one doing everything, really, and that leads to a bit of boredom and a bit of isolation. You just need a girlfriend or two to walk in, or people backstage creeping in that you don't know, and maybe some drugs and then things change.
Was it tough to talk so openly about your [mental] condition, as you did in your autobiography?
You have to be pretty brave to have a nervous breakdown and admit to it. A lot of people don't because it's a taboo and they are ashamed of it. It's not like alcoholism or drug addiction, where there's empathy or sympathy. There's nothing like that with mental health issues. You certainly find out who your friends are when you're sectioned because people are fucking terrified: They don't want to go into Bedlam. And believe me it hasn't changed a lot since. Though in Bedlam you probably had more people come and see you for their own entertainment.
And throughout this period you stopped writing music?
I didn't write a line or pick my guitar up for several years because, in my case, the antidepressants that were necessary for a time reduced me to a zombie. I very slowly weaned myself off them, and the things that made me happy that I had lost started to return. I'd wake up in the morning and I'd write down a lyric, then another, then another. And so the [forthcoming] album Adam Ant Is the Blueblack Hussar in Marrying the Gunner's Daughter has sort of literally come out of a void.
Who is the Blueblack Hussar?
I thought, just imagine a scenario where it's 32 years later from where I started. What would that person be like? What would he still be wearing? He'd still be uniformed up but there'd be a lot more in the eyes, the hat would be a bit more battered up. The eyes have gone, he's wearing glasses. That's the Blueblack Hussar.
Are you happy now?
I think I've found a serenity. I'm kind of thinking: You know, Adam, you've survived—start concentrating on the guitar-playing, the songwriting and enjoying yourself. What doesn't kill you only makes you stronger, and I'm still around after all these years!
Adam Ant plays Cubby Bear Saturday 13. Adam Ant Is the Blueblack Hussar in Marrying the Gunner's Daughter is due in early 2013.