Q&A: Afrojack
The superstar Dutch DJ chats about Sting, soccer, jacking bodies and ignoring critics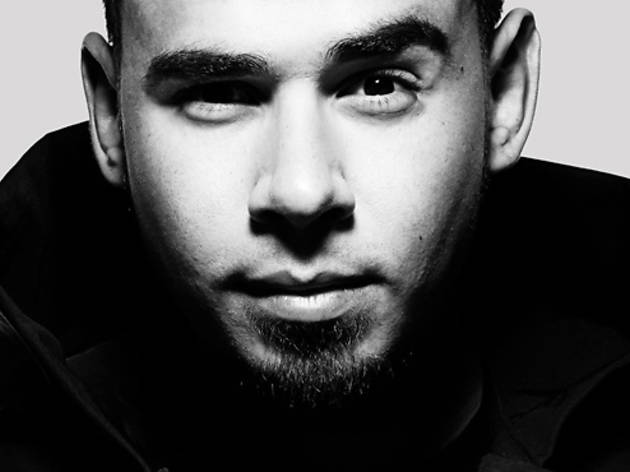 For the last few years, Afrojack has ranked in the top ten of DJ Mag's Top 100 DJs, a sort of BCS rankings of electronic music. He has been featured in New Yorker profiles and a Super Bowl ad. Though only recently did the 26 year old Holland native, born Nick van de Wall, finally drop his debut album, Forget the World.
Def Jam, label that brought the world Run DMC and Public Enemy, released the record. Afrojack is the only EDM act on the world's most famous hip-hop label. Fittingly, the LP features Wiz Khalifa, Snoop Dogg and, er, Sting. Oh, and it has "Ten Feet Tall," a song which you've undoubtedly heard, at least in a Bud Light commercial. At the moment, as house music continues to crest, van de Wall is one of the biggest producers of pop on the planet, though you may not realize it. Perhaps he is not a household name, but your mom has tapped her toes to one of his hits, probably a Pitbull track.
We spoke with Afrojack via email.
What is it about the Dutch that makes Dutch DJs have such a distinctive and popular sound?
Holland is a really small country, but with a very strong club and festival scene. Dance music has been huge in Holland since the late eighties. So there were a lot of opportunities for producers and DJs to release records and play live. Guys like Tiësto, Armin Van Buuren and Ferry Corsten were some of the first artists to have international success and we are now almost getting a third and fourth generation of artists with DJs like Hardwell or Martin Garrix. Holland is to dance music what Nashville is to country.
How do you rate the Netherlands' chances in the World Cup?
Did you see the [Mexico] game? We're killing it. Holland isn't slowing down, and I'm with them all the way to the finals. It's time we finally win a World Championship! Every player seems to be all about the team this tournament and that is one of the reasons they are doing so great.
Teammates Robin Van Persie and Wesley Sneijder have famously never been friendly to each other. Do you think your music could make them get along?
Not sure about my music making people get along. But if I have to choose a song, I'd like to put them in a room together with "Dynamite" and see what happens.
You are the rare electronic artist on Def Jam, one of the coolest brands in pop history. Why did you align yourself with a hip-hop label?
Initially, Def Jam and Island were one company when I signed there. When those two labels recently split up, Def Jam wanted to keep working with me, which made me very happy. Def Jam is an iconic label, which has always had its ears to the street. Def Jam has recognized that dance music is now an important part of what's going on culturally and I feel at home there.
Can you see yourself producing a full-on rap album?
As a producer and artist I will try and work more in the hip hop world, mashing up elements and sounds of dance music with hip-hop beats and artists. I feel being signed with Def Jam Records will help me to grow and evolve even more in that hip-hop market.
Chicago is the birthplace of house. Do you have a favorite old-school Chicago house track?
A lot of people in the USA are, in a way, rediscovering house music. Dance music was after all "born" in the States, went away, and now it's back with a vengeance! Classic labels from Chicago like DJ International Records and the early innovators of dance music like Steve "Silk" Hurley or Frankie Knuckles created a sound that conquered the world and that forms the root of what everybody in dance music is doing today. I don't really have one favorite track, but I love to play some old school mixes in my car when I'm in the mood. "Jack Your Body"!
Elaborate stage sets have become a part of the live EDM experience—pyramids, giant heads, spaceships. You seem to focus more on your work up there. Is that intentional?
For me, putting on a show or not really depends on the set I choose to play that day or on the event where I play. Sometimes it's cool to stay basic and just focus on the music in a dark club. And sometimes I want a huge production, like the solo show I will play in Amsterdam in October. That's gotta be huge! For me, the show and the spectacle should reflect the music, and that's what I try to do with every one of my sets.
Do you feel any pressure to come up with a spectacle?
I have been fully involved in designing my stage shows, it's important to me to do something really unique and almost off-the-wall to bring the music and the visuals together. I love design and actually went to school for a bit for graphic design, so it isn't so much "pressure" for me, it's a way to be creative and I really enjoy it.
In what ways are Snoop Dogg and Sting alike?
Apart from them being extremely successful and respected in the music industry, they both have a unique style to creating their music and they both have a lot of ideas and experience. Without those things, they wouldn't be where they are today. "Dynamite"and "Catch Tomorrow" are two completely different tracks that I think are a great representation of both of the artist's individual sounds. Perhaps the main thing is they are both extremely pleasant people to work with, super friendly, professional and creative geniuses. I really loved having the opportunity to work with them.
Hey, we will see what we can do, but that would be amazing and I'm sure the fans would love it! We performed together on Good Morning America from central park in NYC and we had a blast, would be great if we could repeat it!
What was your reaction to the rather bitter "Night Club Royale" piece in The New Yorker? It painted EDM as a vapid and cynical.
​
We can't please everyone; people are going to have their opinions and I respect that. This scene has good sides and bad sides; some people love it and some people hate it. I don't let any of that affect my work or how I feel. My debut album, Forget the World, is all about not listening to the negativity around you and to continue to do what you love, no matter what people think. I love what I do. Dance music is my passion, my life. There is no greater feeling than being one with my fans, partying to the music we love.
Afrojack plays Navy Pier on July 5. There will be fireworks.